FoW – Expanding from Open Fire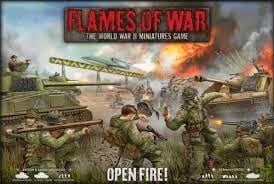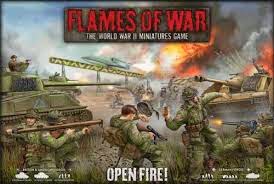 Hi all it's Coxer from Breakthrough Assault again, one of the common threads I've seen on a few people asking where they go with a force after the 'Open Fire' starter set.


Firstly for those of you who are unaware 'Open Fire' is the starter box for flames of war. It has a decent German sized force of StuG assault guns, grenadiers and Pak40 Anti Tank guns, whilst the allies get British Shermans and US paratroopers. So as a new player and having this where do you go next?

Expanding the Germans
You're lucky with this box as you have the core of a Grenadier/Panzergrenadier force, and in all the major hard back books you'll find a these companies.
Let's start, in my opinion the first thing you need is smoke, I think this because you will not always be able to be squirrels away in your foxholes, and when you move you need some cover – and that's where smoke comes in. The two choices for this are mortars or Nebelwerfers in my opinion, you could consider artillery but that is a lot of points just for smoke… The nice thing for the mortars is that it's 4 dice to range in, and can direct smoke if needed, whilst the Nebs are cheap as they have no direct fire option.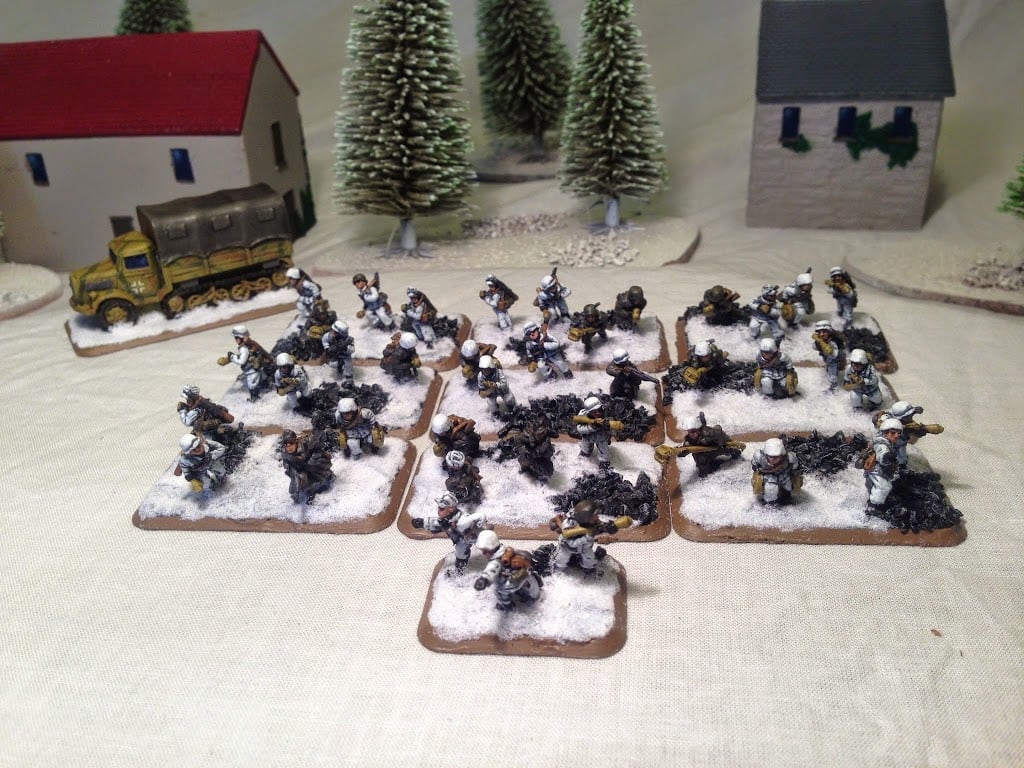 some grenadiers from my winter collection
What next? Well currently you only have 5 guns which can realistically hurt tanks, and in my experience you need a few more shots. You can't go wrong with more PaK40's IMHO, often you can have regimental and divisional Pak40's so up to 7 guns, but a box of 4 will give you two nice platoons of three. Or possibly you'll want some more tanks, StuG's, Panzer 4's maybe something bigger like Panthers or Tigers, if you go for these always consider then branching out into a tank list like those found in 'Desperate Measures' which mix and match tanks – also don't forget how many other companies make 15mm ww2 models like Plastic Soldier Company or Skytrex. But back on point I think you need a mix of the Pak40's AT12, and some higher AT14+ to deal with heavier soviet units and US Jumbos. I tend to prefer mobile high end AT over static AT as another nice thing to have in a force is a bit of mobility to chase objectives or alternatively outflank enemy units with high front armour.
Finally to expand I'd look at reconnaissance units, now these really can vary from list to list, some people like recon which pack a punch (Puma's for instance) or alternatively go for something cheap and cheerful like 8-rad armoured cars of infantry recon. Either way this should give you a nice little force which should look a little like this, for any of you who know the game I realise I'm on odd number platoons (bad I know!) but as a german there's always the option to kampffgruppe.
Confident

Veteran

Panzergrenadierkompanie (Lehr)




Motorised Infantry Company

German

Late-War

Infantry Company
Platoon
Qty
Unit
Points
Headquarters

| | |
| --- | --- |
| Panzergrenadierkompanie HQ (Lehr) | p.23 |

2
Cmd Panzerfaust SMG team
65
Combat Platoons

| | |
| --- | --- |
| Panzergrenadier Platoon (Lehr) | p.23 |

1
6
Cmd Panzerfaust SMG team
Panzerfaust MG team
245

| | |
| --- | --- |
| Panzergrenadier Platoon (Lehr) | p.23 |

1
6
Cmd Panzerfaust SMG team
Panzerfaust MG team
245
Regimental Support

| | |
| --- | --- |
| Panzergrenadier Scout Platoon (Lehr) | p.26 |

1
2
Cmd Kübelwagen Panzerfaust MG team
Kübelwagen Panzerfaust MG team
135
Support Platoons

| | |
| --- | --- |
| Panther Platoon (Lehr) | p.9 |

3
Panther G
560

| | |
| --- | --- |
| Assault Gun Platoon (Lehr) | p.27 |

3
StuG G
285

| | |
| --- | --- |
| Anti-tank Gun Platoon | p.27 |

1
3
Cmd SMG team
7.5cm PaK40 gun
155

Volks Rocket Launcher Battery

Reluctant Trained

p.33

1
1
1
3
Cmd SMG team
Observer Rifle team
Kubelwagen
15cm NW41
70
Company Points:
1760
Some people reckon the easy way to expand the British is with a second Open Fire set – that's not a bad shout. You get more fireflies and more Shermans – pretty good for an armoured force – alternatively check the manufacturers mentioned above. But as mentioned you need some other units supporting them, if you're ever taking tanks you need a little recon, once again there is the fighting recon (stuarts), vs non fighting recon (universal carriers). One of the other keys is to make the most of national rules, for the Brits that's Semi indirect fire – sit back over 16 inches and shoot, that synergises well with air support – which whilst erratic at times is damaging like artillery.
One of the things I mentioned in the last bit on Germans is that it's good to have even numbers of platoons, that's as you frequently deploy as defended half on the table, half in reserve – and so if you have 7 platoons you end up with 3 on 4 off… the one exception is 9 platoons, as in scoring it allows you to ignore the first platoon lost. This frequently means sacrifices for having a cheap slightly useless platoon which is there to just fill a spot, or alternatively dropping an effective more mobile platoon, for two less effective static ones. In the list below I think an artillery unit would be good like Sextons, however that leaves me on an odd number of platoons, so it's instead a static unit (heavy mortars) and a chaff unit (self propelled AA)
Confident

Trained

Armoured Squadron (3RTR)

British

Late-War

Tank Company
Platoon
Qty
Unit
Points
Headquarters

Armoured Squadron HQ (4)

Confident Veteran

p.91

2
Sherman II or V
Combat Platoons

Armoured Platoon (4)

Confident Veteran

p.92

4
Sherman II

Armoured Platoon (4)

Confident Veteran

p.92

4
Sherman II

Firefly Platoon (4)

Confident Veteran

p.92

4
Firefly VC
Weapons Platoon

Armoured Regimental Recce Platoon (4)

Confident Veteran

p.93

3
Stuart V
Support Platoons

| | |
| --- | --- |
| Lorried Heavy Mortar Platoon (11th) | p.110 |

1
1
4
Cmd Rifle team
Observer Rifle team
ML 4.2″ Mortar

| | |
| --- | --- |
| Light Anti-aircraft Platoon (SP), RA (11th) | p.119 |

2
Bofors 40mm SP
5
Limited Air Support Typhoon
Company Points:
1750
Expanding US Paratroopers
Well you just have options – but you probably need more money than any other of the above – as you only get a couple of short platoons. But the rules mentioned above hold true, it's smoke, anti-tank, recon and artillery – but with so many lists to choose from there are really no hard and fast rules, but getting the above will help massively whichever you go for.
So there you have it some ideas of how to expand from open fire, these may not be tournament winning lists, but they'll get you to learn the rules and also give you a feel for the bigger game. Obviously these are not the only options but they should hopefully give you an idea.