The DiRT – Everything We Know About Operation:Icestorm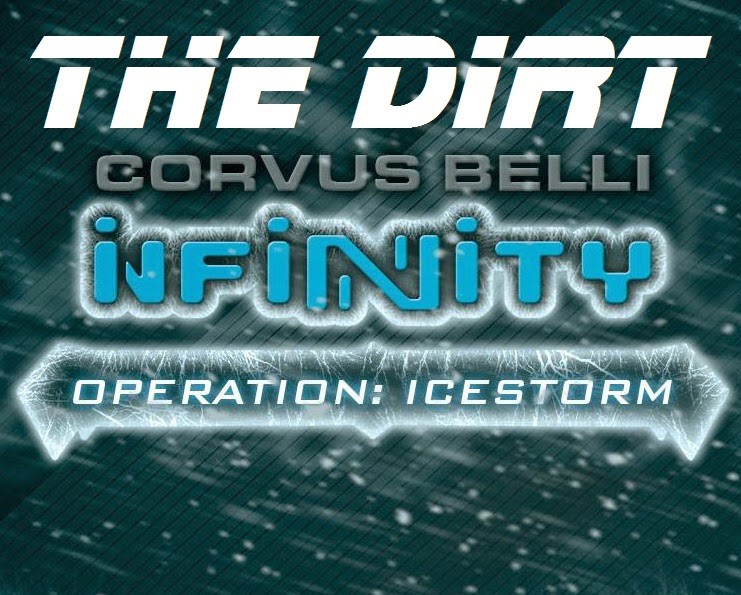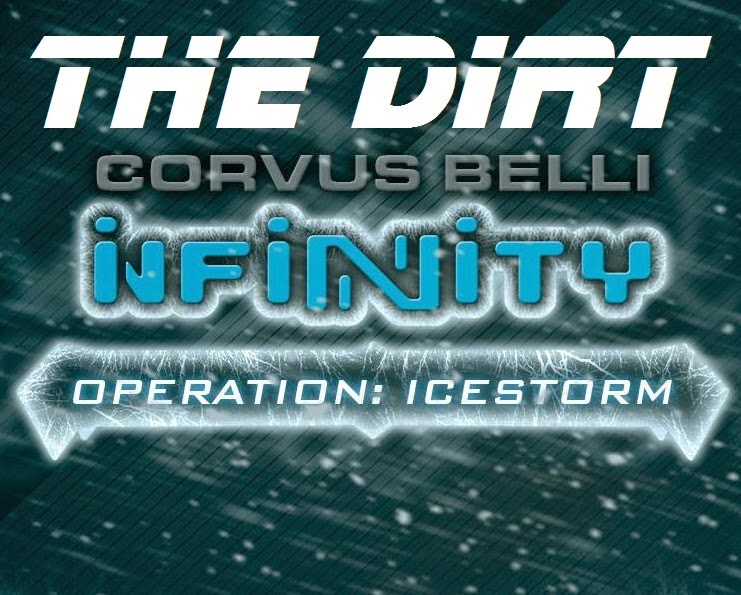 Last week, Corvus Belli teased about Operation:IceStorm. But just maybe, they left us bread crumbs to follow.
The News – Operation:Icestorm Daily Images
Last week on Corvus Belli's Facebook page and here at BoLS's Gamewire, fans of Infinity were treated to a daily dose of images leading up to the announcement of Operation:Icestorm. If you have not seen the images yet, let me go ahead and post them all here right now. That way, when you get to the Skinny, we can talk about what we should expect to see from Operation:Icestorm.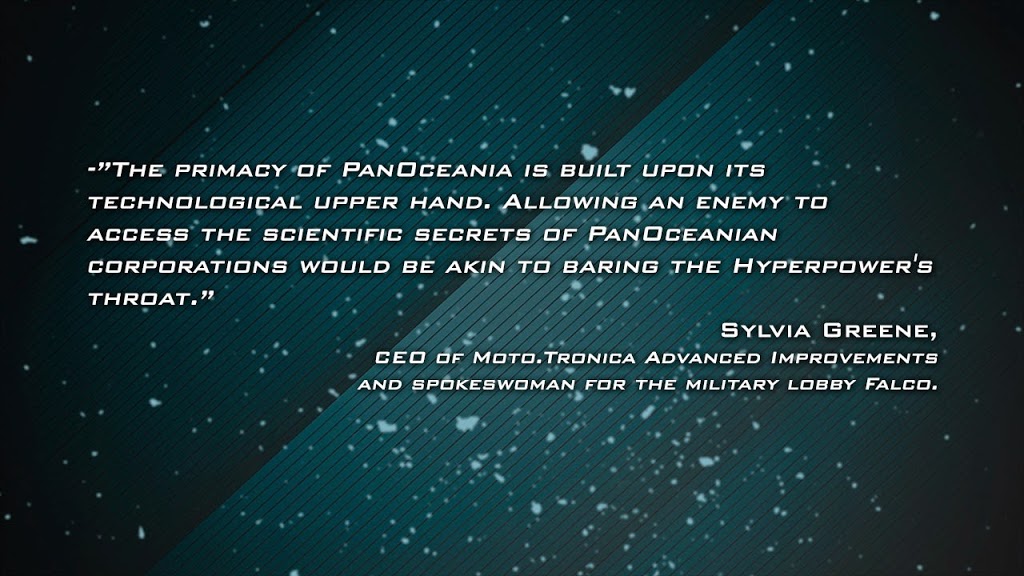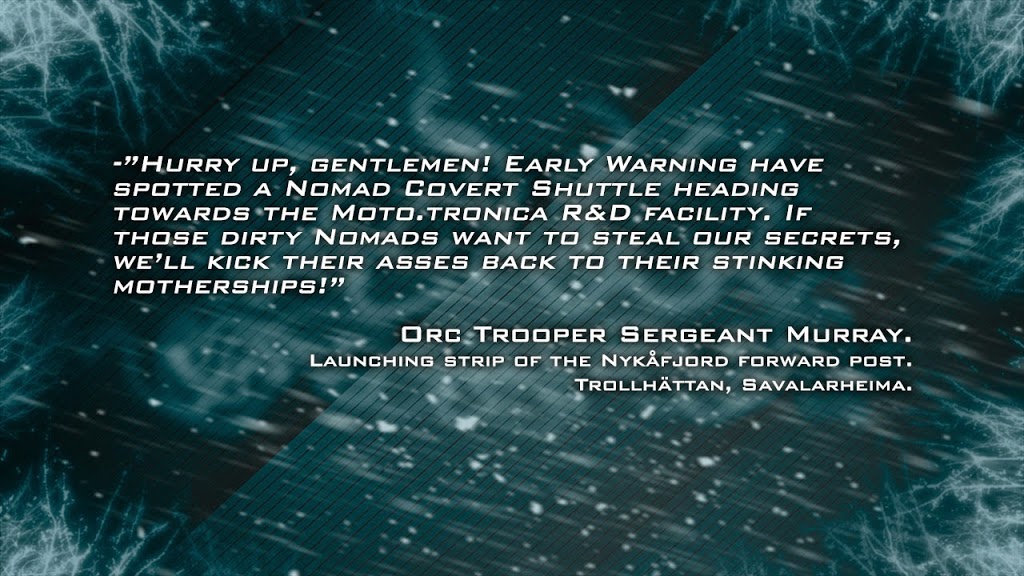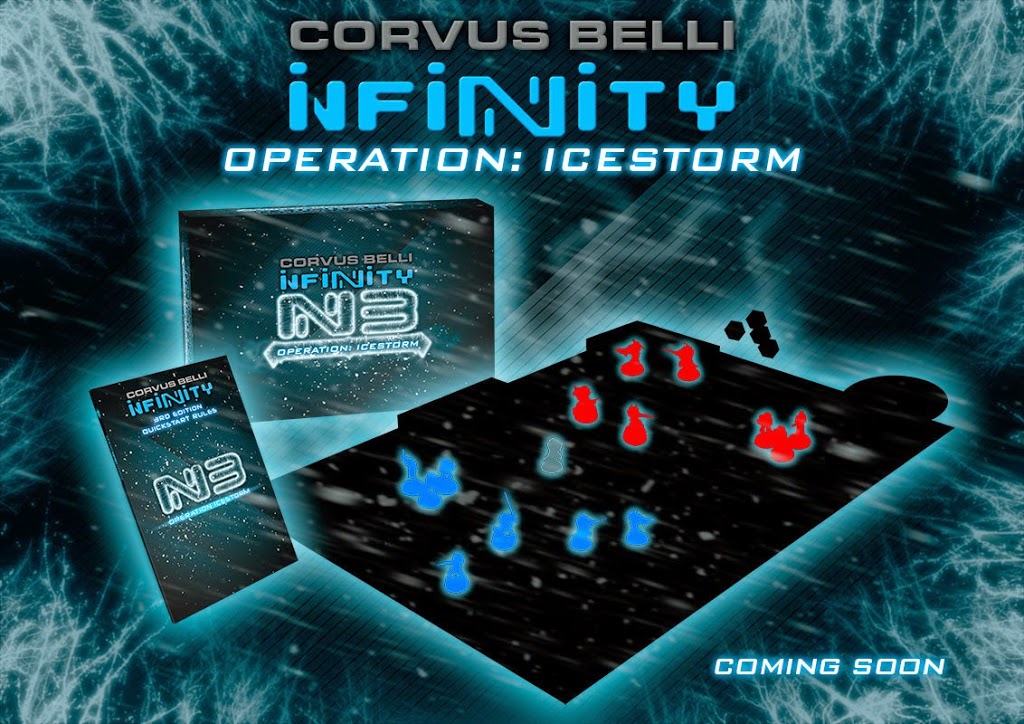 The Skinny – Deciphering the Transmission
So what is Operation:IceStorm? Before I answer that, please know that I did not receive a line item list of what's in the box. None of what I'm going to reveal is officially Corvus Belli, so I could be wrong. But my years of making predictions on the RTD (Round Table Discussion for long time Doremicom YouTube followers), I'm pretty confident in what I'm predicting here.
Operation:IceStorm is a 2 player starter box with PanOceania and Nomads. This seems very straight forward given the first two panels that speaks from PanOceania's point of view in regards to an approaching Nomad force. The fact that the most recent images shows unit's masked with blue and red (generally speaking the most predominant color for PanOceania and Nomads) makes this seem even more logical.
Update: Since writing this article, two more images have been posted on BoLS Gamewire. You can find those images here and here. This assumption is set.
Expect New Sculpts in this box. If it's Nomads and PanOceania, and more specifically their Vanilla (non-sectorial) starter box, we will see new sculpts. Again, reference an earlier issue of The DIRT where we mentioned that there will be new Fusilier sculpts for the Angel Giraldez painting seminar. This falls right in line with the fact that there will be an update to the models. You add even more fuel to this fire when you consider that there has been a push in recent months to re-sculpt some of the older models (like the Assault Pack, Tarik Mansuri, Kum Bikers, etc). The Nomad and PanOceania starter boxes are some of the oldest models produced by Corvus Belli. While they are not bad models, they definitely show their age in comparison to some of the newer starter boxes.


The current PanOceania Starter Box

Probably Ready For GenCon. This is something I was trying to get a definitive answer before posting this article. I figured being a part of the actual demo team for the Corvus Belli booth at GenCon would have given me some insight here. But alas, no. Even without knowing for certain, there was buzz around this time last year for the art book and the Anaconda TAG which appeared at 2013's GenCon. So I think GenCon is a really safe bet for this two player starter box.
Coming packed with Infinity 3rd edition Quick Start Rules. This one is not based on research or eagle-eyed keen observation. It's CLEARLY recognized in the last image from last week. If anyone wants to dispute this prediction with a little wager, I'd be happy to accept.
Much more than just two starter sets. Just like chefs who do not put stuff on the plate that you can't eat, I've found that even when CB keeps things hidden from us, that there is more to see. What do I mean by this? Reference the picture below that I zoomed in on for more detail. You may want to open it up in another window to expand the image more.

7 models per army vs the typical 6 in starter boxes. Feel free to count the number of red and blue covered areas, you'll see that there are seven instead of six. You'll also note that there's a grey blob….
1 VIP Model. Which one is too hard to tell, but the grey blob is definitely another model. The lack of red or blue would imply a model that would represent a neutral party or objective of sorts. This trend falls in line with what came in the dire foes packs as well.
Dice. This one actually surprises me, but the four hexagons near the top-right corner of the image… that looks like they're covering 20 sided dice to me.
Terrain included? Always needing terrain for Infinity, it would be huge if they included a terrain piece or maybe even two. Notice the black floor of where the models are. Along the top left edge, you can see the shadowed area is raised. Why put that in there unless it's covering something. Now notice that there's at least two raised edges (one behind the group of three blue shadows and one in the corner behind the two single red shadows).
The DIRT
There are some more things that you can see in that image, but I fear that my speculations get even more crazy when I think about it. There is a half circle coming off of the play area, did CB add templates to the box too? I'm thinking not, but it could be that there are paper templates that you can cut out of the Quick Starter Rules. What about the fact that the models are on a huge shadowed area. While I think there's some 3d terrain in there (as I mentioned above), could there be more? I really can't say. But even if we stop with what truly believe will be in the box….. there's a lot to get excited about.
Infinity Images
As I said in previously, as I continue to get Infinity pictures I will add them to my articles. Send your Infinity pics to
[email protected]
The New Tarik Mansuri model painted impressively well
So that's the news, the skinny, and The DIRT on Operation:Icestorm. What models do you think will be in the Operation:IceStorm boxes? Fusiliers are a pretty safe bet. There's one blue shadow with a sword in the air which to me just seems like a PanOceania Knight. Until Corvus Belli pulls the shadow back and reveals all their Opeartion:IceStorm plans, drop your guesses in the comment section below.
As always find me here, my YouTube Channel, or drop me a line with Infinity photos at my new email address
[email protected] .
[mepr-active memberships="290601, 290602, 290603, 290604" ifallowed="hide"][/mepr-active]