Bolt Action! Fielding Tanks on the Cheap, Part 2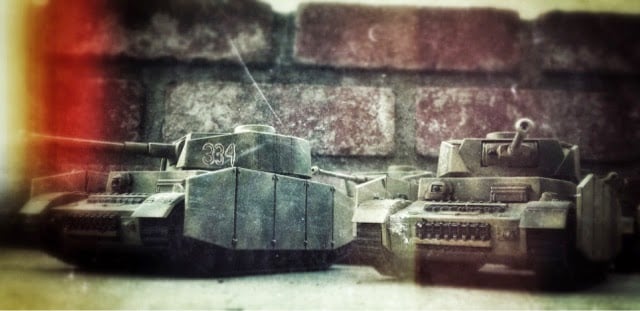 Hi, SC John from Santa Cruz Warhammer with part 2 of a two part series on how to keep costs down when fielding tanks in Bolt Action. If you caught the first installment of this series, you will remember the low cost Revel Pnz IV kits.
I decided to pick up five of them after finding an ebay seller that gave me a good combined shipping
deal.
These kits are decent but not perfect, so I decide to make a couple simple changes to make them a bit more realistic.
First detail that was missing was the round vent on the top of the turret. Adding a simple detail like this really goes a long way and brakes up the empty space, also this one detail is one of the Pnz IVs iconic identifying features.
I used a hole punch and some plastic card and a smaller punch to make a smaller disc that is under it to raise it up a tiny bit.
The second change I made was to trim the rear lower skirt to a taper as it should be, when flipped over to the correct height the corner that is cut off becomes the bottom rear. Check out the difference between the first two images in the post.
After that a quick scuff over the graphics some primer and base paint,
I decided not to paint the track sections, they come black and I just brushed on the yellow to the hull side and wheel centers.
Then it was off to the airbrush for a Normandy style three color camouflage pattern.
As you can see I masked some of the skirt panels to keep the camo off them to represent replaced sections as they were lost or damaged frequently, I may even cut one or two off at some point and have them missing a few.
after that, painting in the tracks, muffler and tools, painting the tank numbers (these were painted by hand by the crew) and a tan drybrush to pick up some highlights and blend it all together.
Now I have a finished German Pnz IV zug for Bolt Action Tank War for under $50. They are not perfect, but it will get me on the table for some games and didn't have to rack up the credit card.

Hope this inspires!
SC John