Let's dive into the first expansion to
High Command: Faith and Fortune
, focusing on the new releases for Highborn Covenant and Four Star Syndicate.
As mentioned in Part One of this review
,
Escalating Conflict
takes the format of your typical High Command expansion with a new warcaster and five copies each of four new reinforcement cards. Every warcaster is of the "epic" variety with a cost of 5 CMD/WAR to rush. This review will focus specifically on the new releases for the Highborn Covenant and Four Star Syndicate.
Highborn Covenant
Ashlynn, Heart of the Resisitance –
The Highborn Covenant's new warcaster in Escalating Conflict is what seems to be a new and unique iteration of Ashylnn D'Elyse, perhaps acting as a preview for a future epic variant in the Warmachine Miniatures Game. She rushes for 5 CMD and hits for 4 Power and has the special ability Llael Will Rise Again, stating that when you rush Ashlynn, return all Warrior cards from your discard pile to this location, and then discard them at the end of the turn.
Her special ability obviously seems to be best used for denying capture attempts by suddenly overloading a location with Warrior cards, but since they are discarded at the end of the turn, they will not be of much use for capturing unless you already have several cards at the location. However, a smart player will seek to destroy cards that were not brought to the location via her special ability. You can mitigate this by taking advantage of cards like the Ogrun Bodyguard whose Shield Guard ability can force the opposing player to attack a returned Bodyguard over an occupying card without Shield Guard.
I particularly like the way that Ashlynn's cost and special ability do not work against each other, since CMD resource Warrior cards can be used to rush her, then brought to the table via Llael Will Rise Again.
Ashlynn competes for space in the green detachment with her original variant, sacrificing cheap cost and flexibility for straight-up hitting power. In the purple detachment, she shares space with Nicolene Beaudrie, who both have mechanics valued on the volume of Warrior cards in the discard pile. Again, Ashlynn is giving up the cheap cost of the 2 CMD warcaster for incredible damage output.
Duelist –
The Duelist warjack is another apparent preview for the miniatures game, as it is not a model currently released. With its most-excellent rush margin, the Duelist is obviously a card that you should seek to rush over purchasing at any cost, and with its solid resource value, it is a card that you will want to keep in your deck if at all possible. While its stats are not exactly thrilling, it scores a Victory Point and Powerful Attack works quite well in tandem with warcasters or Hammerfall War Marshals for their abilities to trigger said ability.
The Duelist is available for both the green and orange detachments. In Green, the Duelist is competing hard with the other scoring warjacks, namely the Talon and Vanguard, most likely acting as an alternative to the former over the latter since the Vanguard is simply a beast with its high Health and 2 VPs. The orange detachment, however, is extremely light on warjacks prior to Escalating Conflict, with only have three Talons available originally. This allows the orange detachment to become much more balanced while also bringing three more VPs as well.
Wroughthammer Rockram –

The second warjack that Highborn receives in Escalating Conflict is the Wroughthammer Rockram. The Rockram has the expected unpalatable rush margin of 5 WAR to purchase and 10 to rush, but in exchange for this, it scores a VP, has decent stats at 2 Power, 6 Health, has Assault for +2 Power the turn it is deployed or rushed, and brings 1 CMD/2 WAR in purchasing power. With its appropriately rough rush margin, the Rockram is making me eagerly await the introduction of cards that will reduce their rush cost, although I am not entirely sure that it will ever be taken in that direction as a faction.
Available in the yellow and red detachments, it fits quite well considering the yellow detachment's generally low selection of scoring cards and the red detachment's low volume of currently available warjack cards.
Ogrun Assault Corps –
The Ogrun Assault Corps is the first of the new warrior cards in Escalating Conflict. While its lack of Victory Points and 4 Health leave something to be desired, its 3 Power, Concentrated Fire rule, and manageable purchase and rush costs make it a rather attractive option, especially with its typical, solid resource values at 2 CMD and 1 WAR.
The Concentrated Fire rule works particularly well to allow players to combine the Rhulic-exclusive red, yellow, and blue detachments with the other available detachments as it pairs particularly well with the Nyss Refugees card that also carries the Concentrated Fire rule.
Dannon Blythe & Bull –
Finally, Dannon Blythe & Bull is a character card that works best when deployed or rushed to locations inundated with multiple enemy warrior cards thanks to the Bounty Hunters rule, which reduces their purchase and rush costs by 1 CMD for each enemy warrior card the location they are being rushed or deployed to. While it is unlikely that this card will replace a slot otherwise occupied by the always-excellent Amethyst Rose Gun Mages in the purple detachment, they do present a faster-deploying option over the rather-expensive Precursor Knights card. In the green detachment, they do not particularly stand out among the other available non-scoring warrior cards, particularly in a detachment otherwise inundated with solid scoring warjack cards.
Four Star Syndicate

Magnus the Warlord –

The epic incarnation of Asheth Magnus presents as a strong denial option against expensive enemy cards like colossals, gargantuans, and battle engines thanks to his ability, Kill Box, which allows him to a return an enemy card at his location to their hand. Since it costs 5 WAR to rush Magnus, you will want to make sure that you get good value out of him, as his cost is rather prohibitive where warcasters are concerned, particularly considering that he doesn't hit all that hard at 3 Power.
Magnus is available in both the blue and red detachments, and has some interesting competition for space there with Drake Macbain, Broadsides Bart, and Magnus the Traitor. This card is rather the opposite in application of Broadsides Bart, whose special ability makes him strong against swarmed locations, which Macbain simply handles better if his location is inundated with friendly warriors. Magnus the Traitor, on the other hand, is more of an offensive card to the Warlord's denial/defensive application. To me, I feel that Magnus the Warlord can find a place in decks, but he is far from a card that will automatically find its way into every Four Star deck.
Mariner –

The Mariner warjack is a bit of a budget card at 3 WAR to purchase and a tempting 4 WAR to rush. While it does not score and its stats of 2 Power, 3 Health leave something to be desired, it is worth 2 WAR in resource and the Loader ability plays into Four Star's gambling mechanics with its Loader ability, granting the warjack +2 Power if the revealed top deck is a warrior.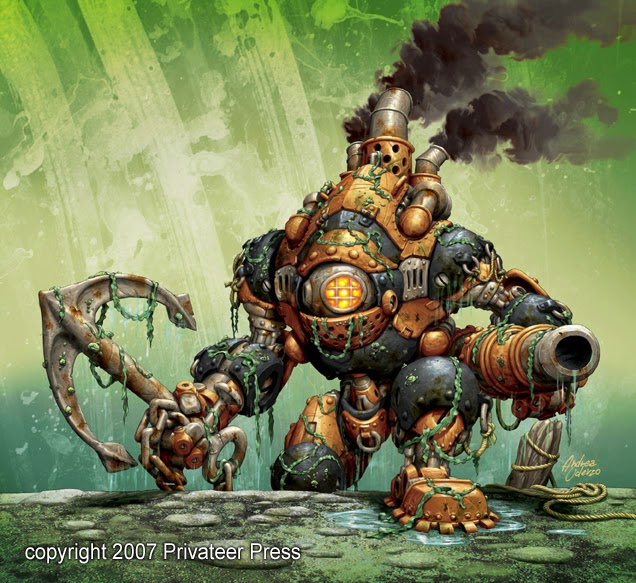 The Mariner is available in both the yellow and blue detachments. It will swap in rather well for the Freebooter in the blue detachment, but might be a difficult pill to swallow if you are using it over the scoring Toro card. The yellow detachment is a bit of a tough sell for the Mariner, however, where it competes against multiple scoring warjack cards that are also quite excellent.
Mule –

The Mule is a warjack that arguably feels out of place in Four Star with its high rush cost at 9 WAR, but this is not to say that it should not be considered. Not only does it score a single VP, but it also effectively attacks at every location thanks to its Steam Pressure ability, allowing the player to pressure a capture at one location while still lending aid to another. It does not hit terribly hard at 2 Power, but again, its a multiplicative stat based on the number of actively contested locations. It also brings 2 WAR in purchasing, reducing pressure on early deck thinning.

The Mule can be taken in either the orange or red detachments. The orange detachment is a welcome place for Mules given its general lack of warjack options with only two cards from the core set being scoring options. The red detachment is already full of scoring warjack cards, but given the Mule's unique ability, it will certainly find space in red detachments based on overall deck makeup and need.
Warrior Thrall Mob –
The Warrior Thrall Mob is effectively an upgraded version of the Risen Thrall Mob from the core set, costing 1 more CMD to purchase but with higher Power and Health. The addition of this card makes necromancy-heavy compositions more of a possibility when stacked with the original Risen Thrall Mob and Wandering Necromancer cards. Being able to deploy from your discard pile is an extremely strong ability with lots of possible applications. Stack this with the Wandering Necromancer, and you can effectively rush a 3 Power, 3 Health card to a location for only 4 CMD. Sure, the Warrior Thrall Mob does not score, but it allows you to potentially put a lot of pressure on a location really fast.
The Warrior Thrall Mob is available precisely where you would want it to be: in the purple and yellow detachments where it can be appropriate combined with Risen Thrall Mobs and Wandering Necromancers.
First Mate Hawk –

Four Star's new character warrior card is really interesting and generally feels pretty inspired in both concept and execution. She hits fairly hard at 3 Power, scores a VP, is worth 2 CMD, and has decent purchase and rush costs at 4 CMD and 5 CMD respectively. While her Health value of 1 is a big concern, the Object of Desire rule makes her invulnerable to being destroyed provided there are any other friendly Pirate cards at her location. This means that her inclusion will largely be predicated on overall deck theme and not based simply on her power in the a vacuum.
Hawk is available in both the orange and green detachments, which is rather fortunate given their generally high volume of other available Pirate cards.
Closing Thoughts

Overall, I feel like both Highborn and Four Star made off really well in Escalating Conflict. Highborn gained some solid scoring cards and great pressuring cards, while Four Star gained a solid pair of warjacks and two warrior cards that drastically increase the ability to run thematic decks around necromancy or pirates. If you picked up the Core Set for Faith and Fortune, I highly recommend picking up Escalating Conflict.
Stay tuned for our upcoming review of the next High Command: Faith and Fortune expansion, Engines of Destruction.