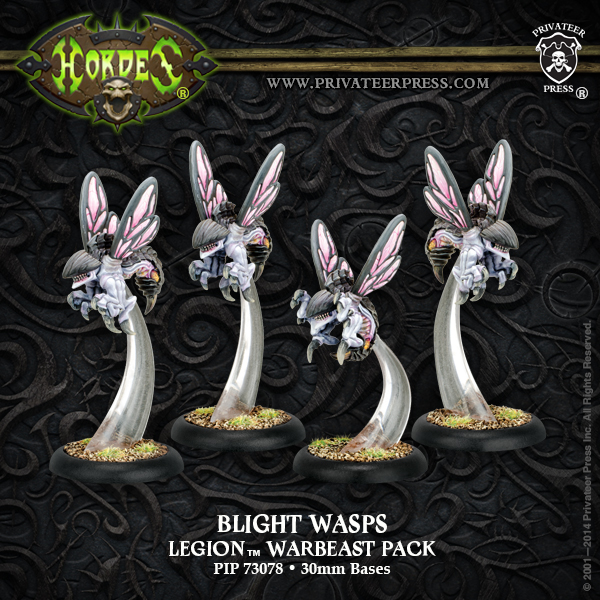 Beasts pack are the new thing in Exigence. These nasty little Legion Wasps have some cool models. With some interesting rules.
The Blight wasps come with:
4 little annoying guys with 5 boxes a piece.
High Speed, Low MAT, Avg DEF, and low ARM!
Meaning these guys aren't exactly designed to kill warjacks. They are there to kill light infantry…and not much else.
Annoyance: Living models w/ 1" are -1 to hit.
Your normal legionesque stuff: Blood Creation, Flight, Crit Poison and Soulless.
Hunting Pack is like a mini gang for the unit: +1+1 for each wasp engaging the same model. This buff's their MAT to something respectable but, still leaves something to be desired in the POW department.
The animus will let them get a little deeper into units with 1" move after killing a model and attacking again.
Who wants the bugs?
Epic Thagrosh is a great beast caster and can get some use out of these guys. Manifest Destiny will make up for their lack in the stats department and you can generate more attacks vs 2 shredders if your using the feat as an alpha. The animus means these guys can really get going with manifest.
Aby 2 is another great beast caster and she too can boost their stats to something resepectable for at least a turn.
Another interesting point is that for tiers requiring multiple beasts it has been rule that the wasps count as multiple models for that purpose.
What do you do vs bugs?
Well they die if you look at them funny. Gun mages can 1 shot these guys so most players won't have much trouble shooting them off the board. Watch out for the Speed 7. Don't stack up low armor infantry around these guys, that is the only thing they can really excel at killing.
So BOLS, What do you guys think of beasts pack? Have you played or fought against them yet? Like them or don't? Please share your comments below.