The Las Vegas Open Cometh!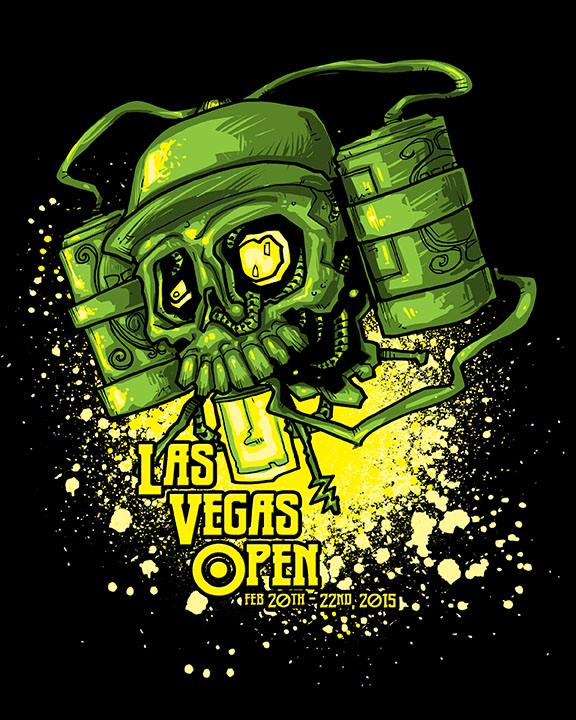 We're just over a week away from the big event!
For those not in the know, the Las Vegas Open is a 3 day gaming tournament and convention held in Las Vegas, February 20th-22nd. It's an event all about celebrating the hobby with fellow gamers from all around the world while also enjoying Las Vegas! This year, we're at the Flamingo hotel and casino, right on the strip. What's not to love?
We've got tons of vendors coming, whom are listed at the end of this post, with all kinds of fun goodies on display to purchase and just admire.
We're really excited to be hosting such a wide variety of fun events! Last year we had 15,000 square feet of fun, this year we've doubled that!
We've got the ever popular Beerhammer (40k Drinking Game) run by Adam from The Dice Bide blog. Last year was crazy good fun, this year promises to be more of the same! The first 50 players get a custom Beerhammer bottle opener, and the winner gets a sweet, engraved mug!
But that's not all we've got for 40k! We've also got a sold out 40k Friendly, about laid back, long rounds, themed armies and fun! We've also got a 40k Highlander event that still has plenty of room for anyone wanting to attend (it's on Sunday when the championships is over, so tons of table space available!), where you can't spam out units and is played at 1,500pts to ensure, fast, fun games with lots of variety.
Subscribe to our newsletter!
Get Tabletop, RPG & Pop Culture news delivered directly to your inbox.
And, of course, the 40K Championships, our flagship event! We have 270 registered players, so it's a whopper! This promises to be an awesome competitive event, and we can't wait to see who wins it all! We'll also be crowning the ITC (Independent Tournament Circuit) champions at the LVO. The ITC is a year long season that tracks the scores of players in various, independent events around the world. It's been a ton of fun this year and the winner of the ITC will be going home a VERY happy person!
We've also got some 30k hotness going, too. The first 30 players signed up, get custom 30k Dog Tags.
Square basers will be happy too, with our Fantasy Championship. I can't wait to see the beautiful Fantasy armies this year, always seems like they have the best looking stuff.
Warmachine and Hordes players have a ton to do! 6 different events in fact, and the LVO is both a Masters event AND a Warmachine Weekend Qualifier. In addition to awesome cash prizes, trophies and other goodness, we're also giving away a $500 travel voucher to the winner of the WMW Qualifier to help get them to the event! Also, the gorgeous Colossals and Gargantuans pictured above are being given away at the event to some lucky Warmachine players!
We're very excited to announce that Dave, creator of Dropzone Commander, and Simon of Hawk Wargames will be at the LVO for our Dropzone Commander event! Be sure to come by and check out this awesome game.
There will also be tons of hobby events, with seminars, paint and takes, painting competitions such as the Draconic Awards and Crystal Brush, too! You can get your hobby on between games of black jack if that appeals to you!
We've also got a sold out Malifaux event, and room in our Infinity, Flames of War, Warzone, Super Dungeon Explore, open gaming and all kinds of fun stuff!
We've also got tons of social events like the infamous LVO Pub Crawl, the West Coast Podcast Alliance pod casters, Screaming Heretics party, among others.
We'll also be debuting a BRAND NEW F.A.T. Mat at the LVO, too! Those there get first dibs at it! In addition, every table will have a F.A.T. Mat on it for gaming on. There will also be tons of product there for sale at a nice discount as well.
In all, it's going to be an incredible time, and we can't wait to see everyone there. Only a week and a half to go!