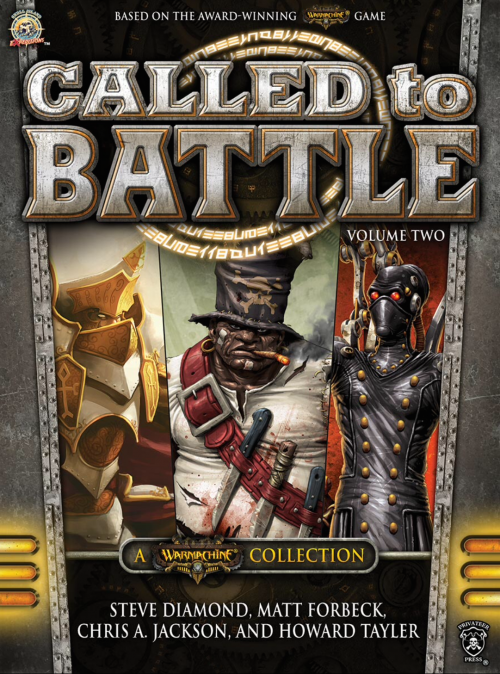 Skull Island Expedition's second volume of short stories is released, granting a glimpse into the lives of several of the Iron Kingdom's colorful denizens.
Called to Battle: Volume Two is a quartet of short stories set in the Iron Kingdoms, better known as the setting for the Warmachine and Hordes miniatures games. These short stories are all unique not only in the characters being chronicled, but in tone and flavor as well.
The first story, Mind Over Matter by the always-excellent Howard Tayler, is a captured Trencher squad's descent into madness at the hands of their captors, a Cephalyx and his ever-expanding cohort of mind-slaved drudges. I have made no secret of my enjoyment of Mr. Tayler's writing in the past, particularly in regards to the collected tranche de vie works of the Iron Kingdoms Expedition series. Fortunately for the reader, Mind Over Matter is no exception. There is something decidedly cerebral about Howard Tayler's writing (no pun intended in this case), perhaps a result of his most-excellent use of first person perspective as well as internal monologue. Those who have read the Machinations  storyline have had some exposure to characters who are actively engaged in a conflict with the Cephalyx, but Mind Over Matter is decidedly different than that story, focusing less than on the daring heroics of long-followed heroes and instead following a group with distinctly less plot armor.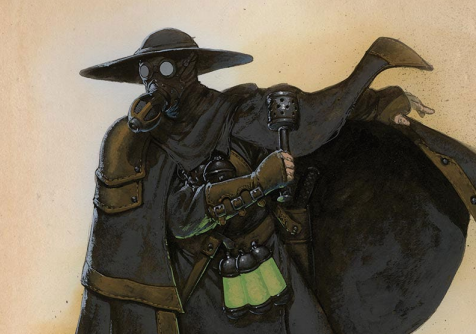 Matt Forbeck's story, A Casualty of Science, is somewhat of an anecdote from the life of the infamous rogue alchemist, Gorman di Wulfe. Under scrutiny for the murder of a woman found dead in his laboratory, Forbec's story gives you a bit insight not only into di Wulfe's remarkable intellect with an ego to match, but of his sense of morality and profoundly pragmatic approach to the problems he encounters. Forbeck has done a fine job with this story, so much that I found myself wanting to read more about Gorman di Wulfe provided it was written by said author's hand. Hopefully we will see more from Mr. Forbeck published by Skull Island in the near future.
The third story from the second volume of Called to Battle is Conviction by Skull Island-newcomer, Steve Diamond. Conviction is a tale immediately following the events of Apotheosis when Lich Lord Asphixious's plot to open a conduit to Urcaen is ultimately foiled, albeit at the cost of the Harbinger of Menoth's life. Dartan Vilmon, charged with her protection, is making for Imer with her body accompanied by the Testament, the Avatar of Menoth, and the modest remains of their detachment. This generally felt like standard Protectorate of Menoth fair in terms of the mix of story and action, faith and determination, and Vilmon's sense of failure in his charge. While I have always liked the concept of the Order of the Wall, a minority faction within the extremist theocracy, the nature of these characters might not make for the most profound storytelling, but Diamond is in tough company here when compared to the other three stories. This is not to say that I did not enjoy Conviction, or found it tedious, but rather that it had big shoes to fill, particularly after the clever A Casualty of Science and horrifying Mind Over Matter.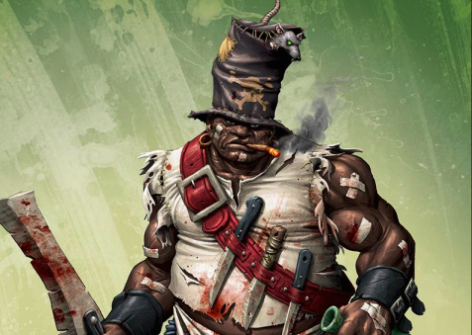 Flesh & Bone, the origin story of the pirate surgeon and chef, Doc Killingsworth, was written by Chris A. Jackson. While Jackson's works are mostly nautical in nature, Flesh & Bone takes place principally on dry land as someone of immediately indeterminate relation to Killingsworth tracks his previous movements through several locales throughout Western Immoren, giving an otherwise disregarded Warmachine character an interesting, if ultimately tragic, backstory. Somewhat of a departure from Jackson's previous pulp action Blood & Iron, which was mostly about Captain Phineas Shae, Flesh & Bone is not without action but is strong in its catharsis.
Overall, I found this collection to be largely quite excellent. I will read anything with Howard Tayler's name on it at this point, and the other three authors did not disappoint. Anyone with even the vaguest  of interests in any of the followed characters should find reading Called to Battle: Volume 2 time well spent.
Stay tuned to Bell of Lost Souls for more reviews and coverage of Skull Island Expeditions.