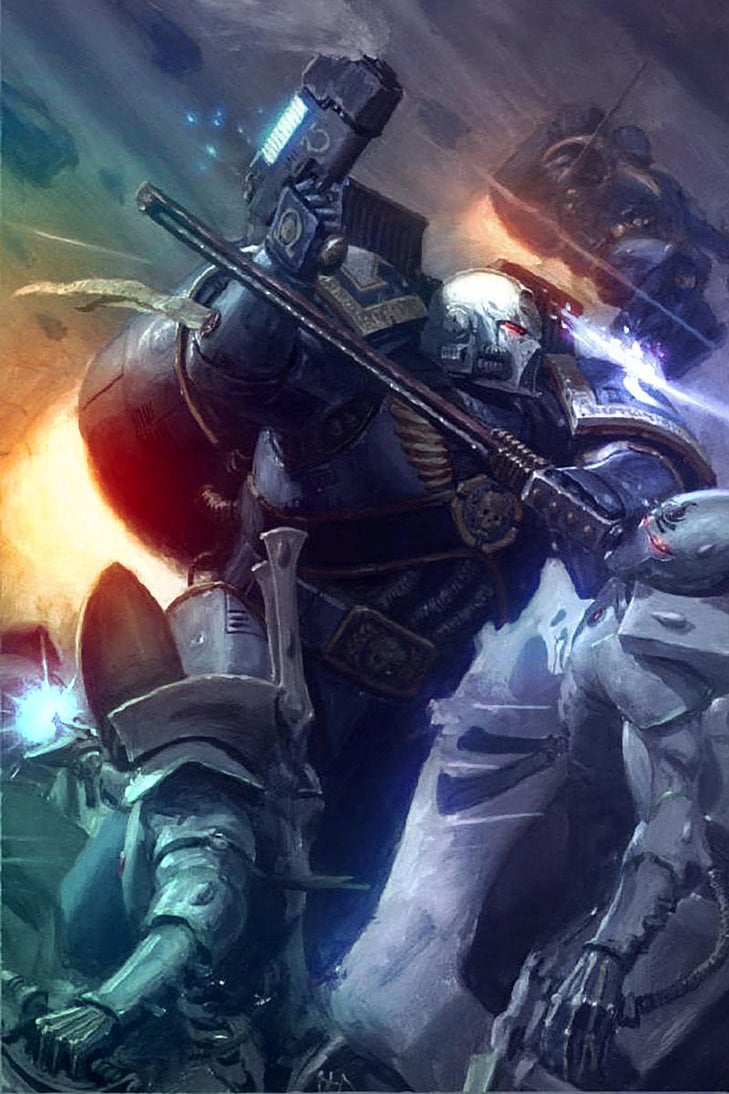 Pimpcron explores the idea that 40k is a "shooting game" now. Where does melee fit in?
Salutations Earth People! I hear over and over that this edition of 40k is more shooty than ever. That melee armies are at a disadvantage. That my pen name is stupid and should be changed.
While all of that may be true, I'm going to focus on the shooty-vesus-stabby part. And I like my ridiculous pen name.
Realistically, Melee Will Be Outdated in The Future
This is something science fiction writers don't think of very often apparently, but I imagine that in the far future close combat would generally be a thing of the past. Obviously melee would come in handy in delicate circumstances, but I imagine Orbital Bombardments and planet-wide extermination would be much more efficient in a lot of ways. Just the logistics and costs of transporting all of those troops to a battlefield and keeping them fed would probably outweigh a couple nuclear weapons to wipe the planet clean. Melee would still happen of course and probably frequently, but only as a last resort, if you can't kill them from orbit, or shoot them to death. And defending a place would clearly devolve into close combat at some point, given that the enemy doesn't just nuke you from orbit instead of putting boots on the ground. In the future, there is no limit to what technology or mass genocide tactics would be employed that would be easier, safer (for your side), and much cheaper than invading a planet full of enemies.
So in summary, I'd say that the rules are completely in keeping with the setting that shooting would be better and more powerful than close combat. To me this is a no-brainer, but it makes for good story telling even if it doesn't always make sense, and a war game without melee would be lame.
 The Rules Are Just Clearly Against You
If I look objectively at shooting, I find a bunch of benefits over melee combat.
First off, you can target whoever you want and there is (arguably) nothing they can do about it. In close combat, you are locked in with some unit that you may or not want to be in combat with, and have no option to attack another unit until this thing is resolved.
Second, you get to attack and they get no recourse until their turn. It's not like they also get to shoot at you when you shoot at them. In close combat your opponent gets to attack each time you do, which is a huge disadvantage compared to shooting.
Another benefit is that there is no Initiative in shooting. The unit with -76 Initiative gets to shoot just as much and as often as the unit with Initiative Infinity. In close combat, whoever is slower has to take it on the chin before striking back, whether it's their owning player's turn or not.
Also, close combat doesn't have cover like shooting does. Those 6+ save Ork Boyz can tell you all day how they wish there was cover in close combat.
And It's Not Getting Better
Over Watch clearly made life harder for close combat-oriented armies. I literally have buckets and buckets full of tears at home I've collected from my Genestealers since Overwatch came to be. It is a neat idea, and little fluffy, but why oh why did someone look at this game and say, "Gee, I think shooty armies need a little boost against assault armies". Overwatch is rarely game-changing but it is a little boost that put shooting armies even farther over the top. And when my Genestealers heard they couldn't assault from Outflanking anymore they just started crying harder. They are a bit melodramatic.
So What Are We Really Saying?
If a gun will always beat a knife in a fight, and shooting out-performing close combat is also fitting for the setting of our game, what is our real gripe? I think that we aren't really complaining that this is a shooty game, we are complaining that this game gives us close combat units without the means to be as effective at melee as shooty units are effective at shooting.
I think Genestealers are the number one example of melee units getting screwed with the new rules. They are decent in melee if they can get there without dying with their 5+ save. They are too expensive points-wise to have no assaulting from Outflanking, no assaulting from Infilitration, Overwatch chewing them down, and almost any common weapon in the game is AP 5. If they were much cheaper, we could run them as a swarm like Hormagaunts and just know that we will be taking handfuls off of them table at a time. But the way they currently are is a recipe for a unit that will rarely see the light of day. I have over a hundred Genestealers and I haven't played them for almost a year. I used to run them as Ymgarl Genestealers because they had a 4+ armor save and could assault from Infiltration with their special rule but they have been taken out of the current Tyranids Codex. Go figure.
Having said all of this, I am not completely in the camp that claims this is a shooting man's game. My Orks would beg to differ, as would my Dark Eldar and even my other Tyranids. So in my opinion I actually think the game is fairly balanced between close combat and shooting, with shooting having a little bit of an edge on close combat. But shouldn't it be that way anyway? Whether you're talking about modern day combat, or futuristic combat, gunners shoot before stabbers shank someone.
So let me hear it in your own words, does this game unnecessarily cater to shooting armies?
Want to witness my slow descent into madness first-hand? Check out my blog at www.diceforthedicegod.com