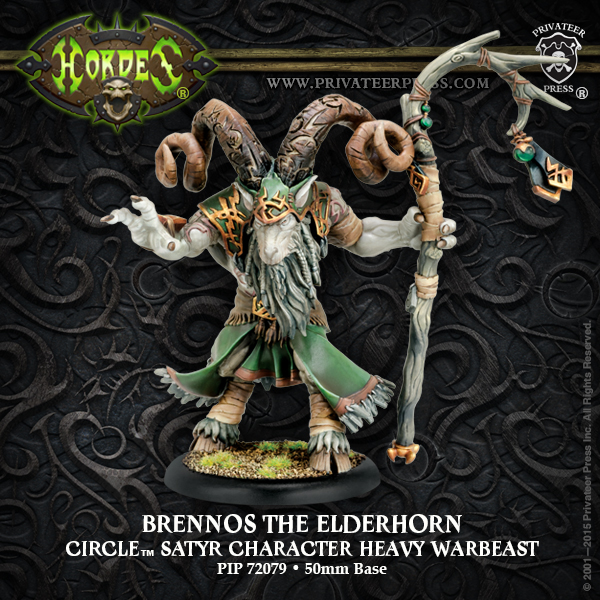 Circle has a new character beast in town.  He is a old goat and has some neat tricks for the tabletop.  He is not the melee monster like Ghettorix but, he has some interesting properties we can fool around with.
Stats:
Brennos is as fast as the rest of the circle heavies.  His MAT, RAT, DEF are a little lackluster and has below average armor for a heavy.  He is a little pricey for what he bring to the table at 9 , but a boostable ranged weapon in circle is hard to come by. He has a decent range gun similar to a handcannon.  His melee is kinda lackluster with a POW13 and a Reach POW15. He is fury 4 and Threshold 10.  He can run pretty hot and still not frenzy.
Abilities:
Brennos' card is full of abilities which make him one of the weirdest situational beasts ever.
His animus makes other beast animus cost one less.  This is nice ability but, requires Brennos activating before other beasts.
Affinity Morv lets him heal Morv when he kills enemies and Morv heals when he is getting damaged.  Morv2 can definitely use this guy to give her even more rerolls!
Primal Magic lets Brennos cast other non character beast animus.  Which means more sprints and accelerations if you need them!
Sacred Ward:  Well circle's colossal is a little  jealous I bet. You can't debuff Brennos…unfortunately you probably don't need to haha!
Weapons:
Arcane Winds with RNG 12″ and POW 11 is magical and has thunderbolt.  A critical knockdown is kinda scary ability in circle if you ask me. And being able to push a model is always useful in scenarios.
Brennos horns have critical pitch. Very situational ability but can be nasty when there are same sized based models near the enemy caster.
His reach staff has mage killer. Meaning he is a psuedo weapon master vs spell casters.  This makes his pow a little more respectable vs wizards but still will have a hard time vs heavy warjacks.
Using Brennos:
I think Morv2 will consider fielding Brennos.  There is a lot of Naysayers that believe Brennos won't see the field but he has some unique abilities.  Adding a ranged threat besides the Pureblood is nice and the critical knockdown or push on the gun paired with Morv2's reroll ability can definitely cause some issues.  Brennos with primal can still kill casters if he can get there, but he might need to boost the hit unlike Ghettorix in the same position.
Kromac can make Brennos killy with wild aggression and he can get into weird spots with warpath.
Krueger2 might like the ability to push a model into a certain spot before or after feating.
Brennos can take the spot of the wilder since he has Primal Magic.
Fighting against Brennos:
Brennos defensive stats are pretty low so if you can get to him you can probably kill him.  Watching out for crits when he is around. He can knockdown models or throw them with him weapons.  Consider keeping out of range your caster to Brennos.  If you are not Butcher type armor level a primal'd Brennos will still hurt most casters.
What do you think BOLS? Will you field the new circle character heavy?  Have you come up with a list he fits perfectly in?  Tell us your opinions in the comments below.