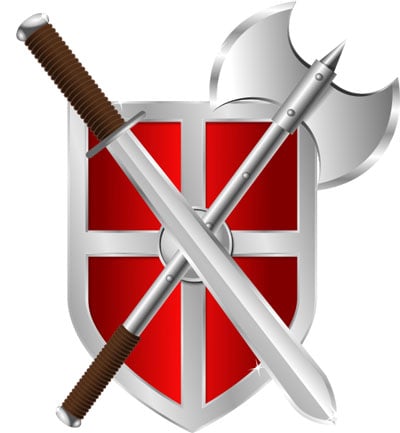 Balance. It's on everyone's lips when it comes to games, and 40k is the biggest sinner of them all when it comes to it, but why is that? My theory: They don't know how to build a wall.
Hey everyone, Dr. Bored here for another fun-filled argument over who is more right in a matter of total opinion! In this case though, I actually WANT you all to argue, because I think it'll be rather insightful, so get your pitchforks and torches ready. Here we go!
Warhammer 40,000 is one of the biggest tabletop games (if not THE biggest tabletop game) in the world. I don't even mean in popularity, I mean in the breadth and depth of product line, books, rules, and time consumption potential. When it comes to games, even video games, the more options you put into the game, the more chances you'll fudge something up and a few options will stand above the rest as being better (aka, broken, cheese, spam, etc). If a unit in Starcraft 2 has more health, more armor, a higher rate of fire, better damage, and costs less than other units, it'll stand out as better, and people will gravitate to using that unit. Fortunately, in strategy video games, one a unit shows its true broken colors, the developers can hammer it back down with a good nerf, and business continues as usual. Unfortunately, with Warhammer 40k, Games Workshop has deigned competitiveness a non-issue, has a hodge-podge approach to FAQ's, and their basic tool to fix broken units is to replace that unit with an even more broken unit.
But when we think of something that's really broken from 40k, we typically compare two attributes: It's Offensive capability, and it's Defensive capability.
Put simply, if a unit can pump out a ton of shots at high Strength and low AP, then it's offensive ability is high. Alternatively, a unit with greater defense in the form of better cover saves, higher toughness, and more wounds will last longer on the table, and so even if it's equipped with a sub-par gun, it will get more Shots-Per-Game than another gun that dies first turn.
My theory, and the major talking point I'd love to address today, is that Games Workshop knows how to make great offensive units, but when it comes to defense, their knowledge on the matter is… lacking, and what's worse is that the defensive outlook of armies is… getting worse.

The D.
The big D that everyone's talking about. The giant D that's been thrust about as the greatest thing since sliced bread. D-strength weapons are an answer to a problem that never needed to exist in 40k: Superheavies and Gargantuan Creatures. Get out of my 40k, Apocalypse! Go home! I'll un-shelf my titans and land raiders when I'm good and ready!
Games Workshop saw that they had created something tough. Superheavy Walkers. Imperial Knights. They saw this even before they were released, I imagine, and had a good conversation about how people would deal with these monstrosities that they were inflicting upon their own fanbase. "Give things more ways to deal with Superheavy Walkers!" was the answer, and lo it came. Grav weapons, more ap3, ap2, and str 8 than we've seen in a long while (remember when your choices were either a Lascannon or a Melta Gun?). High rate of fire, more pie plates, bigger pie plates, bigger melee weapons on more things, and even the Knight's own weapons could be used against other Knights. That was the plan, after all. Make Knights a must-have and when one Knight creams the opponent's army, the opponent will go get a Knight and they'll have Knight battles.
Don't believe me? Look at your local hobby shop. How many Knights can you count? How about the last bundle of tournaments? Even if Knights aren't in every list, the lists that have them either have one, three, or even five.
I know what you're thinking. "Dangit Dr. Bored, I didn't come here to listen to you whine about Knights and D weapons!" And you're right. It's just an example.

Offense vs Defense
Let's look at the list of weapons in the current Space Marine Codex. Do you know how many there are? 55. Fifty-Five. That's not even counting the different modes that some of those weapons have, like Missile Launchers firing Frag or Krak. That's not even counting the relics.
Do you know how many different kinds of armor there are in the Space Marine Codex? 4. Four. Again, I'm not counting relics, but really, there's one suit of armor, and one shield. Oh, I guess we can count cloaks and storm shields, and throw the narthecium in there too, and just for shiggles, let's add cluster mines, they're kind of defensive. 10. Ten different options, versus 55 different weapons that other Space Marines can kill you with.
Now, I'm not saying that we should get more armor types (that would just complicate the game much further) but it shows a lack of depth! The weapons span the gamut, from low strength and high ap with high rate of fire, to one-shot, long range high strength low ap weapons. A different weapon for each kind of defense that's out there, some with poison or special rules that ignore your toughness, others that refuse any save that you might have, and still others that have so many shots that even 2+ armor saves wither under their rate of fire, but what answer does a person have if he wants to defend against a certain type of weapon? Pick your poison, a 2+, 3+, or 4+.
The increase in weapons that Ignore Cover, coupled with the reduction of the types of terrain that actually, technically give you cover. The inclusion of weapons that wound regardless of toughness, even though there really aren't that many high-toughness threats. Interceptor and Skyfire that, since downing fliers wasn't enough, they also applied to enemy skimmers as well. The amount of ways that you can kill an enemy far outweigh the options you have for defending against an enemy.
I suppose, in the end, that's the plan though, isn't it? You should be removing models off the table, that's how the battle evolves. There are many arguments counter to my points, and I'd like to hear them in the comments below. Please keep the discussion civil (there's no need to be rude when it comes to opinion), and also feel free to let me know about your own thoughts on how the game might be better balanced, or features that you'd like to see included, or removed!