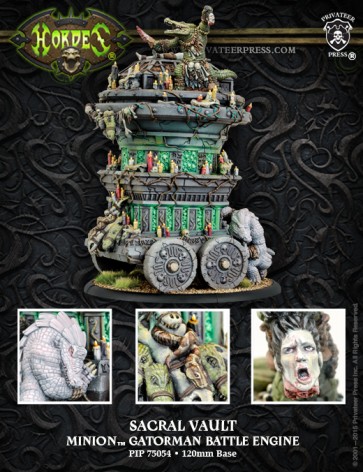 So you're in the market for a new Battle Engine? Here's one that just rolled out of the swamp.
The first thing you should know is that this is easily the best Battle Engine you can buy. We can all argue over whether that title really belongs to the Vessel of Judgement, or the Arcantrik Force Generator, or the Transfinite Emergence Projector (jeez these all have long names) or maybe even the Storm Strider, but I can't imagine anyone disputing the fact that the Vault is in the running. If you play Legion, Circle, or of course Blindwater, you owe this model a look.
So what is it that makes these battle engines so effective? They all have at least one of two things in common: Either they have easy ways to boost their Attack and Damage Rolls, or they do something good for other models in the army. The Sacral Vault is one of few that does both.
Like certain Cryx models you're probably already familiar this thing can grab the souls of models that die around it. And it's not picky – friendly or enemy, if it's a living model this thing will grab it's soul. It doesn't have a stingy little 2″ radius like Cryx Soul Cages though. Anything that dies in this model's impressive 10″ command will send it's soul your way. Of course closer models that can also collect souls take priority as usual. Since the model is already on a nice fat Huge Base, that 10″ goes even further. And for those rare occasions that neither you or your opponent lose any living models within 10″ of this thing, the vault will generate d3 new soul tokens each turn just because. The only downside is you max out at five.
You can use the soul tokens for lots of things. Boosting attack and damage rolls for the Vault's Spectral Fury attack is a good way to spend them. With D3 shots at RNG 12 and POW 13, this gun is strong enough that with boosts from the souls, it can really soften up heavily armored targets before the rest of your army gets in there. The Vault is only RAT 5, but with Eyeless Sight you don't need to worry about concealment bonuses to defense or, y'know, forests or clouds at all. Boosted attacks should hit most targets without a DEF buff – especially if the Vault doesn't move.
To add to the body count, you can take control of living models killed with Spectral Fury by spending a Soul Token. They get to move, make a melee attack, then they are removed. My experience with abilities like this is that they frequently fail to yield good results. The melee attack won't be boosted in any way, and you can't even get a backstrike since it's an out of activation attack. I guess what I'm saying is make sure this really is the best way to spend your soul token. You might want to keep it unless the model you hit has high mat, someone nearby has low def, or there's a particularly juicy target that makes spending it worth the risk. There are too many other good uses for those souls to waste them.
Arcane Vortex is a great use for those souls. This ability allows the Vault to negate spells targeting it or any model within 3″ of it by spending one of them. Since the caster of the spell still has to spend the focus, having even just one soul on the vault can be a huge deterrent to spell slinging warcasters. There is a big caveat though – you have to declare the use of this ability before your opponent measures range. If you carelessly allow your opponent to do so, you have forfeited your opportunity to use Arcane Vortex so be wary. Particularly obnoxious players may seek to exploit this by rushing through the steps so they can cry "too late." Things will already be moving in a hurry in timed competitive events. Never forget that checking control area is not the same as measuring range so this is one way to give yourself an out in the ugly event that such a situation should arise. Many people skip the measuring step if a control area check shows the model is in range since it seems implicit.
There's one more reason to make sure you always keep a soul token on the Vault. That reason is Soul Storm. You don't even have to spend the token – as long as it's there, Soul Storm is active. Any enemy model entering within 2″ of a model with soul storm up suffer a damage point. The same goes for any models that end their activation there. This means the Sacral Vault can almost completely disregard one wound infantry that might want to kill it. Couple of units of Doom Reavers or Bane Thralls threatening to charge the Vault? Let them. Even if they brought a UA the Tough ones will be knocked down.
Our last use for Souls is Blindwater only: friendly faction Warlocks can nab a soul from the Vault to use as Fury.
Even with all that out of the way, there are still some things to think about if you want to run a Sacral Vault. Soul token generation triggers on the word "Destroyed" so it is very important to be aware of all those things that remove models from play. In fact the Deathly Dominion ability on Spectral Fury triggers on the "boxed" step then removes the model from play when it resolves its attack. Anyone you reanimate with it won't return the Soul Token you spent to do it. Then there are spells like Carnivore. Great to cast if you want to increase your odds of hitting and have those Gatormen heal themselves, but any models they do kill won't feed souls to the Vault since, you guessed it, those models will be removed from play.
Additionally the Vault can only collect souls from living models. Be careful of who you Zombify or cast Hollow on, since if your troops have even the slightest craving for brains their souls are already long gone. And watch out for all those turncoat Witch Doctors in other Hordes lists Zombifying your foes. Maybe they should be your Vault's primary targets.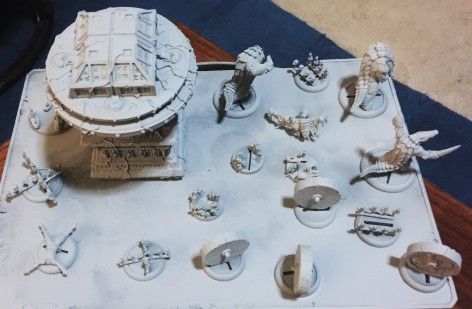 ~Hope you enjoyed the article. As you can see I've just begun to prep mine for painting. I hope to come back to share some WiP shots once it's finished, and if I have time I might do another article with some ideas about what lists to run it in.