Hordes: Painting the Sacral Vault Part 2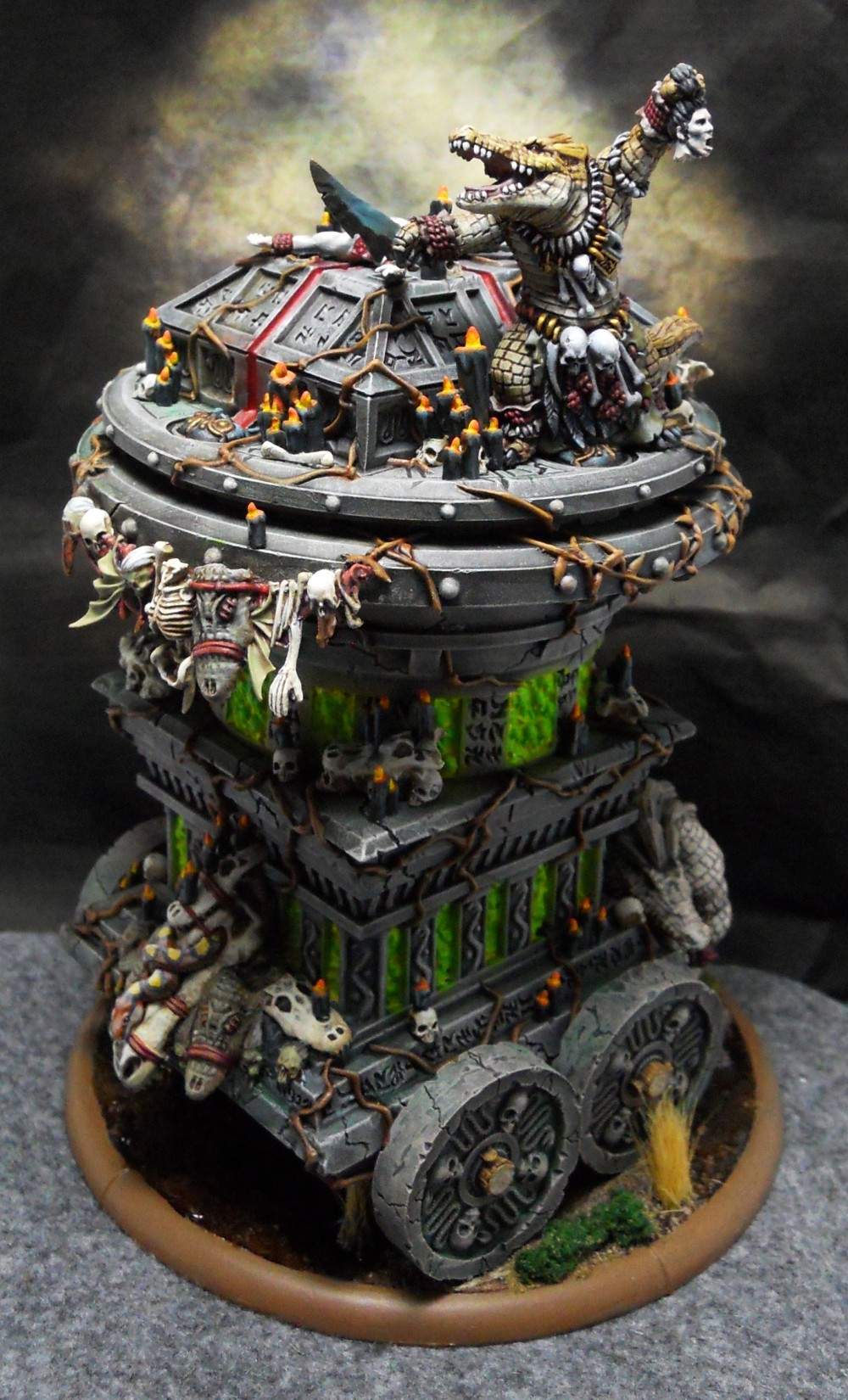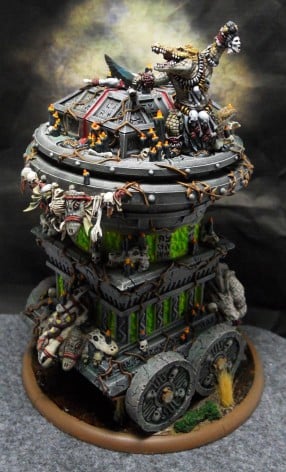 Last time I worked on rocks – even glowing rocks – but what about the gentle swamp creatures for whom the sacral vault is home?
For part 2 of Painting The Sacral Vault we'll be giving the cold blooded gators some love. Well, not the albinos. Just the guy riding around on the thing. It's important to note that while I've separated the article up into portions, everything in Part 2 here was painted more or less simultaneously with Parts 1 and 3. There are a ton of washes involved, so while I was waiting for the wash on the vault to dry I was working on this guy. And when he was drying I might have been working on painting candles. If you have something else to work on while another part of your project is drying you can save a ton of time.
There are three colors used to start out this bad boy. We've got Guncorps Brown with a litttle bit of Beaten Purple dabbed in a couple places to add some color. The belly is a mix of Thrall Flesh and a very small amount of Ordic Olive. I guess that's four colors isn't it.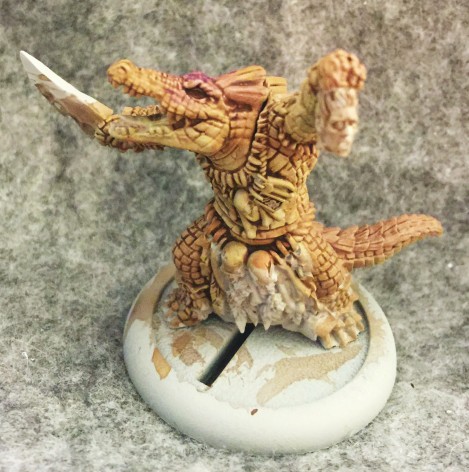 Then it's a wash with everybody's best friend: Agrax Earth.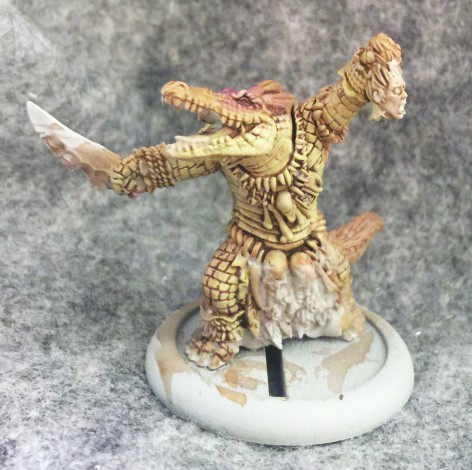 Next I drybrush back overeverything with the original base color. Not the purple though, in case you couldn't tell.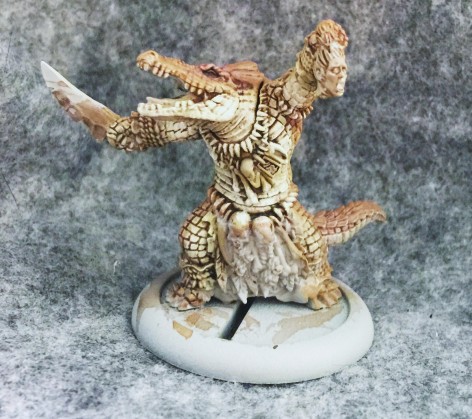 I get the belly a bit more pale by drybrushing on some Menoth White Highlight.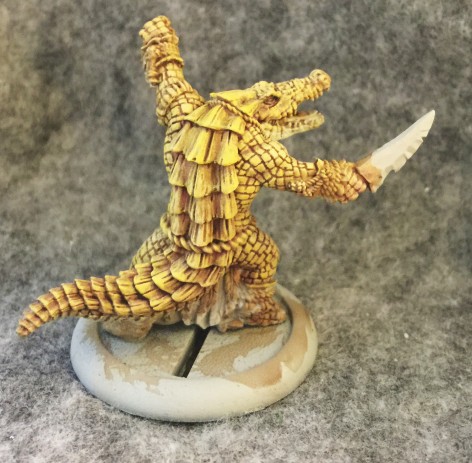 Subscribe to our newsletter!
Get Tabletop, RPG & Pop Culture news delivered directly to your inbox.
The brown scales are drybrushed with some Sulfuric Yellow to lighten them up as well. Then it's another round of drybrushing with a Sulfuric/Menoth White Highlight mix.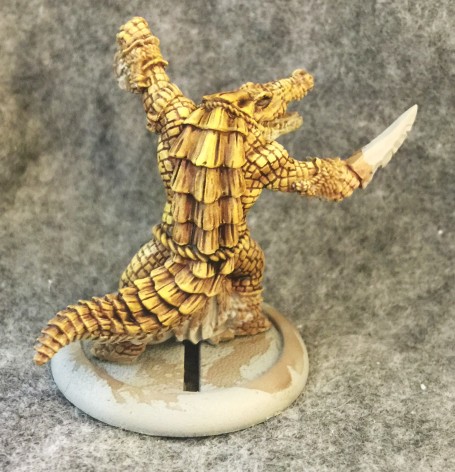 Then I use some Agrax Earth to add some shading. It works great for scaly things like this. I just paint some on along the base of the triceps… under the legs… on some of the scales along the back… anywhere that needs some shading.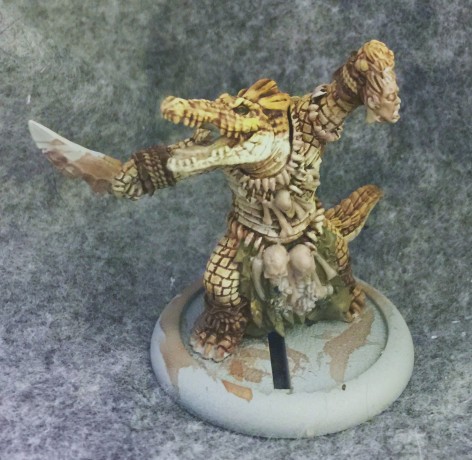 Now for the tedious part of working out all the stuff he's wearing. It's Traitor Green for the tabard, Trollblood Highlight for the bones and teeth, and Umbral Umber for the leather cuffs.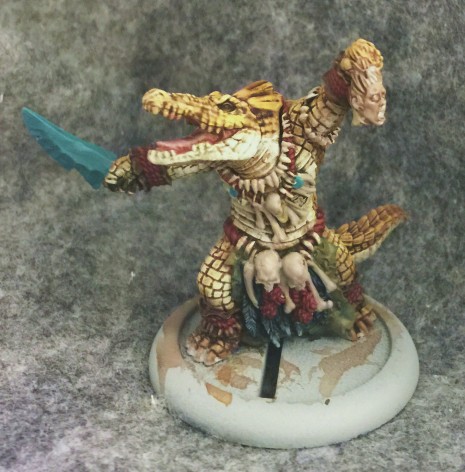 The ropes are painted Sanguine Base while the dagger and the discs on the necklace are Trollblood Base. I did some extra work on the feathers down there at the bottom. They get a Coal Black Base which is highlighted with some lines of Coal Black lightened with Underbelly Blue to define the barbs.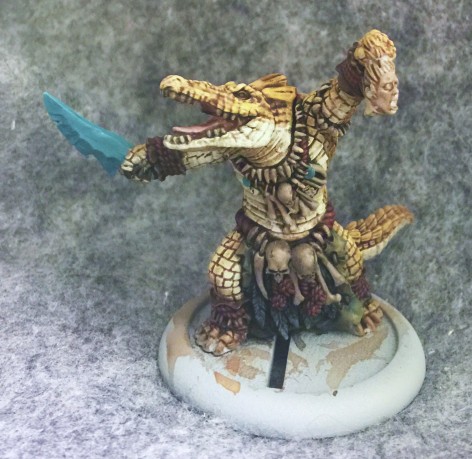 Then all the accessories get a wash of Nuln Oil.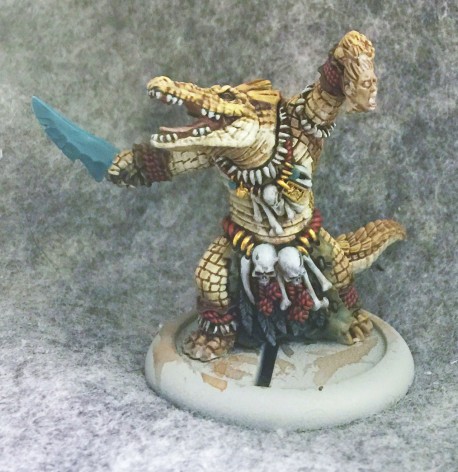 Then I go back and start picking out all the little details. The bones and teeth are drybrushed with Frostbite. Normally I would go with Menoth White Highlight but there is already so much of that color on this model. I don't want these elements to disappear on this guy's belly. As a cooler color, Frostbite makes them stand right out. I also go over the rope and pick out every thread with Sanguine Highlight. You might be able to get decent results with drybrushing here but I really wanted them to pop. And I also give him some gold here and there.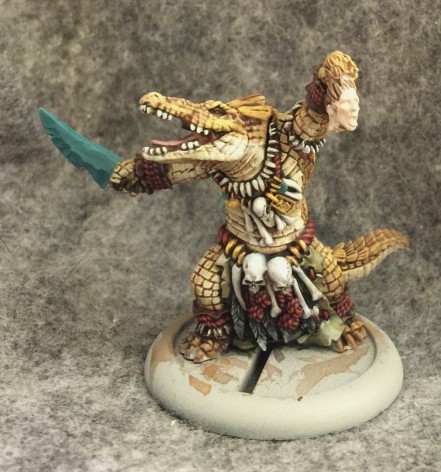 The bones get drybrushed with some pure Morrow White. Then I notice I never got back to the tabard. The Traitor Green basecoat is highlighted with Frostbite and shaded with Exile Blue.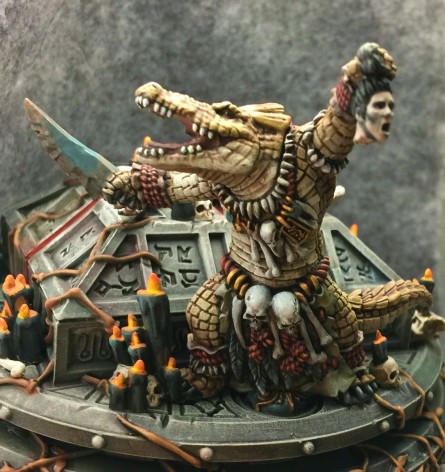 And here he is up on his perch. There were just a few more steps. The dagger was drybrushed with Molten Bronze and washed with Nuln Oil. The claws, which I'd also kind of forgotten about were done with the same colors as the feathers: Thamar Black blended up into Coal Black blended into Underbelly Blue. I gave added one more highlight step to the ropes by mixing some Sulfuric yellow in with the red – it's the same progression as the ropes from the last article. The hair is Thamar Black highlighted with Greatcoat Gray, then with more highlights from a Greatcoat/Frostbite mix.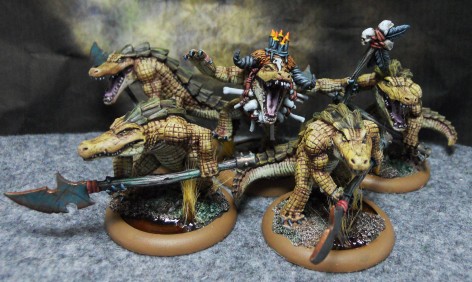 I liked the paint scheme enough I used it on these sports fans.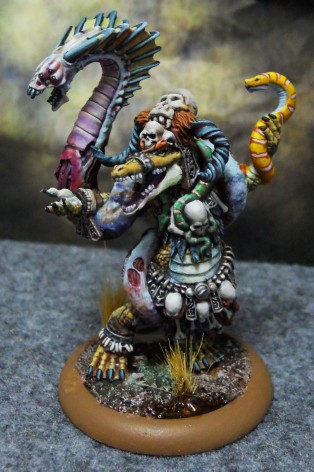 And Jaga too – although you can barely see her gator skin under all that Death Snake. You may have noticed by now I'm not a fan of gators wearing feathered headdresses so I did something about that. The new headgear was all custom sculpted. If you like the conversions you should definitely check out this article.
~Hope you enjoyed part 2. I'll finish up the rest in part 3 soon!