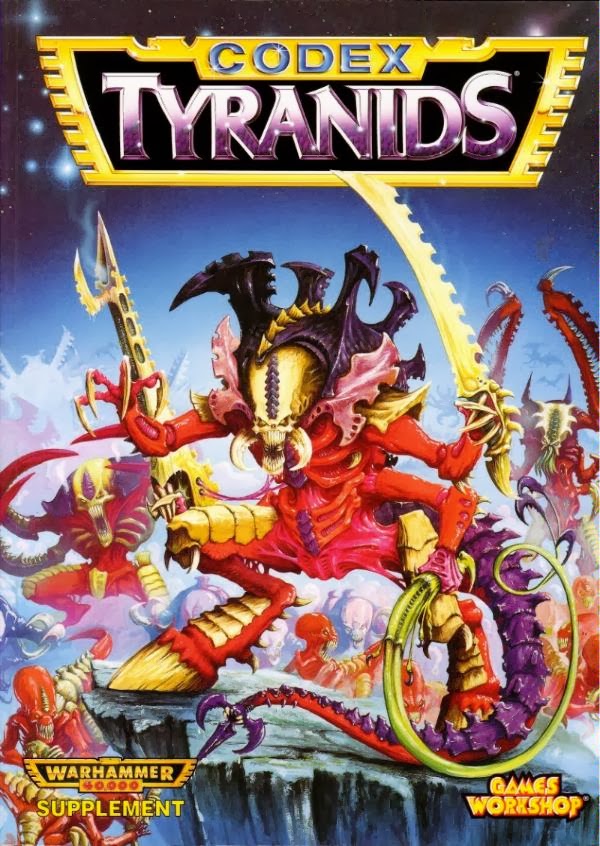 Bugs! Bugs? Yes – Bugs need love too! Here's how to get the Hive fleets back on their feet!
1) Pyrovores – Their flamer needs Torrent. Suddenly the laughing stock of the Tyranid Codex is worth looking at. The Pyrovore shouldn't have to rely on a Pod to even be considered for a list. It's still has to compete against the other Elite choices but now it's got a chance. Maybe…
2) The Trygon / Trygon Prime – Give them the Escort Rule. Seriously, that's what the intent of the Subterranean Assault rule is – The Escort rule is just a cleaner version of it. It would be nice to be able to nominate one other unit that comes on with the Trygon on the same turn. The trade off is you lose the board edge thing and the option to have more units arrive – but I'm okay with that.
3) Zoanthropes – Their Warp Blast needs to just be a shot, not a psychic witchfire attack. Why? Lets map this out. First, the unit has to pass a Psychic Test for 2 Warp Charges. Next, the target unit gets a chance to Deny the Witch. Then, they roll to hit and then roll to wound/pen. Now the target unit gets to take any applicable saves. That's 5 points of failure for Warp Blast. If one of those goes wrong the whole attack is wasted. Just simplify it and make it a single shot per Zoanthrope.
4) Crushing Claws – The Unwieldy rule needs to be removed from them. Other than the Tyrant Guard, this biomorph is only available on 3 Monstrous Creatures. On one of those creatures  it's not even optional, it's mandatory. They already have Smash which gives them AP 2 attacks. So you're basically paying 15 points to get +1 Str and Armorbane and to strike at Int 1… not worth it.
5) Genestealers – They need an Assault Grenade type of ability. This used to be Flesh Hooks but aren't available to Genestealers. On top of that Flesh Hooks have additional special rules now so they don't fit the bill. Genestealers were one of the best assault units in the game but now you can defeat them with the "Shrubbery" defense. A change to the Broodlord's Psychic 'attack' would be my suggestion. Suddenly he's worth the extra 60(!!!) points…
6) Haurspex – This Monstrous Creature should not have mandatory Crushing Claws and have WS 4. It's a giant assault beast that wants to eat models whole! At least make it viable in close-combat.
7) Ravenors – These should be slightly cheaper and have a 4+ armor save. Why? When was the last time you saw these guys in a serious list – that's why.
8) Tyrannofexes and Hive Guard – should have the Symbiotic Targeting Rule like the Exocrine. Not moving to get the bonus BS would really help these units be more attractive to take vs the other options in their already crowded Heavy and Elite slots.
9) Tyranid Warriors – need a different way to avoid being S8+ fodder. Eternal Warrior or T5 were fixes from previous editions – I don't know if those are the right answer, but sticking a Prime in every unit of warriors isn't an answer either. These guys have the potential to be down right scary. But the scariest part about these guys is how fast they die when a stiff breeze hits them.
10) The Strangleweb is useless – Why? Because unless you're a Tyranid player, you probably didn't even know that it exists. The Strangleweb is an upgrade to Termagants. For every 10 T-Gants you can take 1 Strangleweb which is an Assault 1, Pinning template. Sounds good so far, right? It's only Str 2… Yeah. If it was Str 3 it might actually be worth the 5 points to upgrade.
Bonus: Formations – A player should not need feel forced to run formations to 'fix' the inherent flaws with the core book. The Formations should add options and character – they should NOT be (basically) mandatory.
Wishlist? Sure! Necessary? Debatable! What do you think BoLS Readers? What's your biggest issue with the Tyranids and how would you fix it?