Tactica: Khorne Daemonkin – Part 4 – Fast and Furious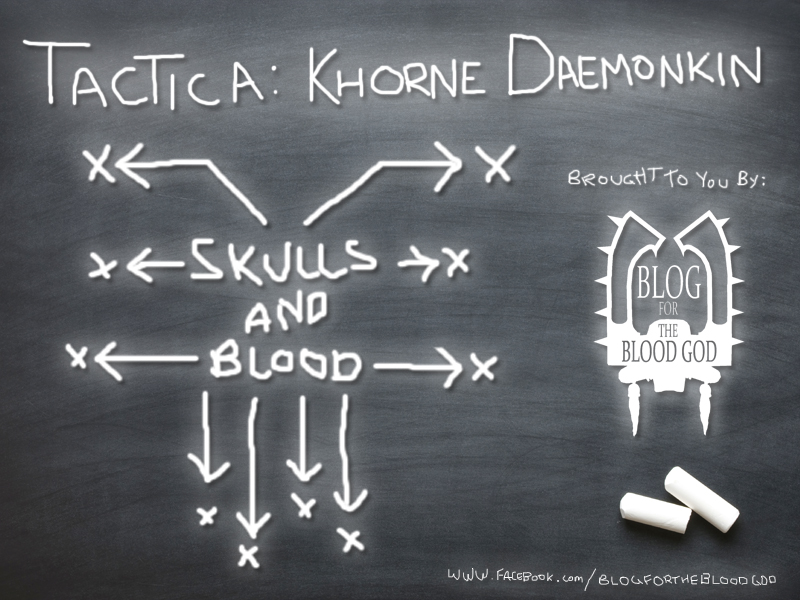 Welcome back for the fourth instalment of Tactica: Khorne Daemonkin! 
Brought to you by Blog for the Blood God
In this instalment of Tactica: Khorne Daemonkin I will be sharing another fun and competitive army list, this list works well in both Maelstrom of War missions and Eternal Crusade, as well as custom missions and simple killfests! it is fast and like all Khorne Daemonkin it is furious in combat! so with that being said I give you…
Fast and Furious
One of the main strengths in this codex is its speed and ferocity in close combat. Having two of the best fast attack units (bikes and hounds) available in a formation frees up Fast Attack slots in your CAD meaning you can take hounds, bikes, heldrakes, spawn all in the one list with ease.  Almost all of the units available have some way of moving 12″+ and that is often the best way to
Claim objectives fast – This is particularly important in Maelstrom of War as you never know what your next objective will be, spread out the objective markers during setup and watch your opponent walk around while you zip from one objective to the next.
Get into combat fast – Most of the units in this codex have a pretty reliable turn 2 charge, sure you will take a hit in their turn 1 shooting but it will be worth it when your units get choppin
Respond to threats fast – This for me is the most important benefit of fast units, deploy roughly central and no matter where your enemy deploys you can respond, if they deep strike something where you don't want them to you can respond fast, if a combat is not going your way you can reinforce it fast. This flexibilty is surprisingly useful
Scare the crap out of your opponent – Play the psychological game with your opponent, if at the end of your turn 1 you have a couple of Bloodthirsters, 2 Maulerfiends, 10 Hounds, 6 Bikes, 5 Raptors, 3 Spawn and a Juggernaut lord all within charge range your opponent will freak out and panic, often he will have a knee jerk reaction to take out whichever unit is closest to his strongest unit and forget about the rest. I have seen players pump an entire army of shooting into a couple Bloodthirsters in an attempt to save thier riptide… little did the know the rest of my army was ready and capible of munching multiple units.
Here are some of my personal favorite units to include in a fast and furious list:
Bloodthirster of Insensate Rage – Swoop them turn 1 so they are all up in your opponents face, this will also keep them safe from round 1 shooting, people will be so scared of the Strength D attacks they will probably try to shoot you down anyway. Try to engage as much of thier army with your other units before you switch to gliding mode
Maulerfiends – I absolutely love Maulerfiends, fast, strong and tough to crack… use them to counter enemy Monsterous Creatures and other walkers. With their Lasher tendrils you will likely reduce your enemy to 1 attack and that will take them aages to kill a Maulerfiend. Combine with other units for a dual assault you cannot lose! Just remember that the mauler will reduce your attacks to if you are base to base so plan your charge carefully
FleshHounds – It is no secret that i love flesh hounds, take a Gorepack with 4 units of 5 and scout them up the table, you can be within 1″ of your opponent turn 1 and really make him sweat! if you want to hear more about how to use Flesh hounds to win you games check out part 2 of this series!
Bikes – Unit of 3 with 2 melta guns and a combi melta on the champion pants for 106pts makes a scary anti tank unit, take 4 of these in your gore pack and watch mech lists shit thier pants when you are in melta range turn 2.
Spawn – Fantastic distraction unit, take units of 1 and they will almost always be ignored for the larger threats, these guys are cheap and a great way of grabbing backfield objectives
Rhinos – They have thier own slot now… so you can just take an empty rhino and park it on an objective.. they are still best when taken as a dedicated transport for a troops choice so they benefit from Objective Secured
Subscribe to our newsletter!
Get Tabletop, RPG & Pop Culture news delivered directly to your inbox.
Heldrakes – These guys generally serve as my insurance policy,  focus on grabbing objectives with the rest of your army and use the heldrake to make sure you still have units left at the end! Once dedicated AA has been dealt with your heldrake becomes damn near invincible.
Here is an example of a fast and furious list:
Combined Arms Detachment
HQ
275 – Bloodthirster of Insensate Rage
275 – Bloodthirster of Insensate Rage
TROOPS
80 – 8 Bloodletters
80  – 8 Bloodletters
FAST ATTACK
170 – Heldrake, baleflamer
170 – Heldrake, baleflamer
HEAVY SUPPORT
140 – Maulerfiend, lasher tendrils
140 – Maulerfiend, lasher tendrils
GOREPACK
106 – 2 Bikes, 2melta guns, 1 champion, 1 combi melta
106 – 2 Bikes, 2melta guns, 1 champion,  1 combi melta
106 – 2 Bikes, 2melta guns, 1 champion, 1 combi melta
106 – 2 Bikes, 2melta guns, 1 champion, 1 combi melta
80 – 5 Flesh hounds
80 – 5 Flesh hounds
80 – 5 Flesh hounds
1996 points
Armylist Battle Report
This list is very powerful, but do not take my word for it! check out this battle report and witness the carnage in action!
Here is the list for the army used in the battle report: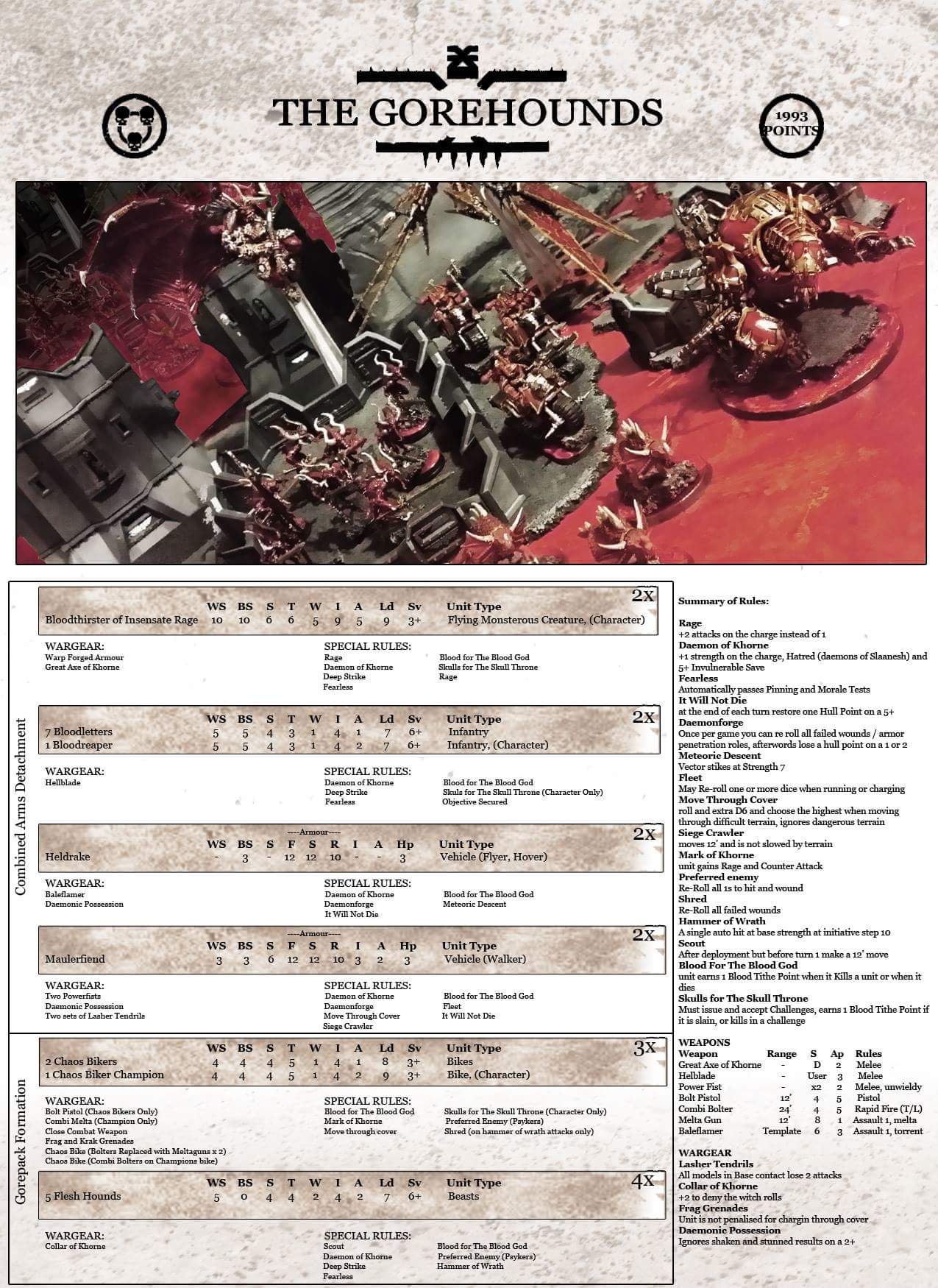 Thanks again for tuning in! Make sure you keep your eyes peeled for the next instalment of Tactica: Khorne Daemonkin! and while you are at it head over to Blog for the Blood God, give me a like, and join in on the other great content! Everything from Battle Reports to Hobby Tutorials, Rules discussions and tactics to Animated movies and 40k based comedy (wanna see a full review / unboxing of the Limited Edition Khorne Daemonkin Codex?)
Thank you all for your time!
Dae'vros The Gorehound – Signing out!