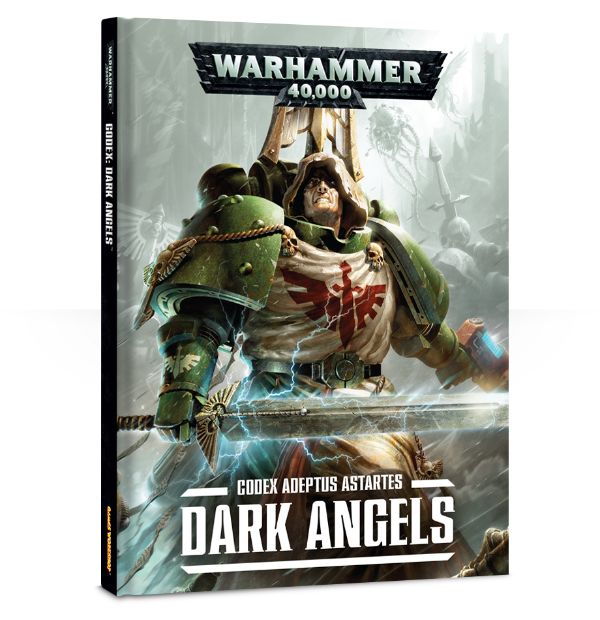 The New Dark Angels Space Marines are HERE. Come see what's all new with the Unforgiven!
Their new codex while being a 'templated' copy of the Space Marine book from just a few weeks ago, still appears at first glance to be their best set of rules since Third Edition Warhammer 40k (circa 1999).
Here's the biggest changes I've found from digging though the codex image leaks from Wednesday.
10) Power Field Generator is gone, BUT Azrael's 4+ INV from the Lion Helm confers to any vehicle he's embarked on.
9) Dark Angels New Psychic Chart Called Interromancy (teased in the Dark Angels Advent Calender formation)
8) Lions Roar (Azrael's Combi-Plasma Gun) is now a separate Relic option.
7) Deathwing Terminators weapons are Twin Linked when they teleport into battle. They also lost Deathwing Assault except for one use in one formation.
6) Dark Angels are base 14 points for Tactical, Assault, and Devastator Space Marines. Those same Tactical and Devastator Marines can get Heavy Grav Cannons like their Space Marine cousins.
5) Enemies can not overwatch units within 6″ of Darkshroud speeder. (similar to a Dirge Caster)
4) Vehicles squads of three get the special rules like their Space Marine cousins. They also have access to Fast Attack Drop Pods as well!
3) Azrael is now a Lord of War but costs the same points as last book.
2) Lions Blade Strike Force gives you free transports similar to the Gladius Strike Force like Space Marines.
1) 'Ravenwing' Special Rule models can re-roll their jink saves (and the Command and Black Knights have skilled rider). That plus a formation in the book let's them fire at full BS after doing so. So it is a real possibility that we'll see 3+ re-roll jink bikes that can fire at full Ballistic Skill on the table top very soon (bump that to a 2+ Jink when near a Darkshroud).
Interestingly enough once again the Grand Master Character can not take a bike as wargear, but the Techmarine and Chaplains can. They however do not get the 'Ravenwing' Special rule.
Most Characters come with the Deathwing Special rule standard, but the only HQ unit that has the 'Ravenwing' special rule is Sammael. That makes filling the Ravenwing Strike force detachment HQ spots with anything but Sammael a little tough. FAQ please?
What's your favorite change?