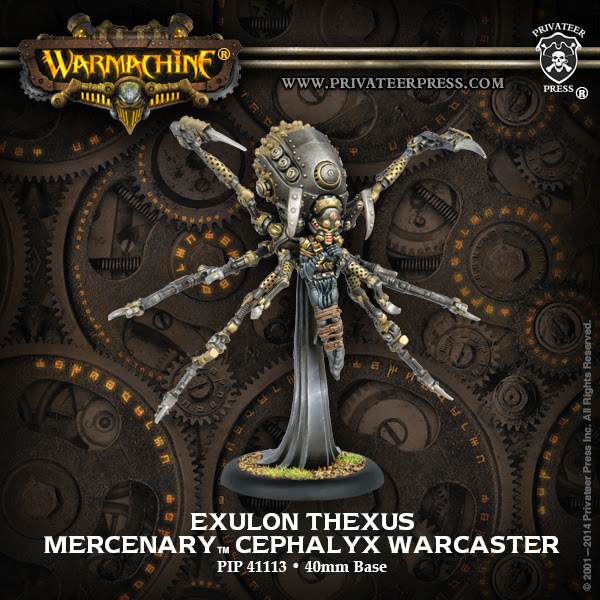 The rarest and most sinister of getting into Warmachine is coming to a store near you.  Meet the Cephalyx deal you won't believe – SERIOUSLY!
Privateer says this one is going to rare and a very limited production run.  Run and preorder your Cephalyx army if you want one.
WARMACHINE All-in-One Army Box—Cephalyx
$144.99
The quickest and easiest way to storm the battlefields of WARMACHINE!
A perfect entry point for new players and an amazing value for seasoned vets looking to start a new faction, this All-in-One Army Box contains everything you need to quickly field a complete and competitive army suitable for every battlefield engagement—from casual games at home to organized leagues and tournaments. The conveniently sized rulebook containing the full core rules, along with the included strategy cards, will equip you with all you need to lead your army to victory!
This box (PIP 41121) contains a complete 35-point army with the following models:
Warcaster Exulon Thexus (resin & white metal)
Warden Heavy Monstrosity (plastic)
Wrecker Heavy Monstrosity (plastic)
Cephalyx Mind Bender & Drudges Unit (10)(plastic)
2 Cephalyx Mind Slaver & Drudges Units (10)(plastic)
3 Cephalyx Agitator Solos (white metal)
Pistol Wraith Solo (white metal)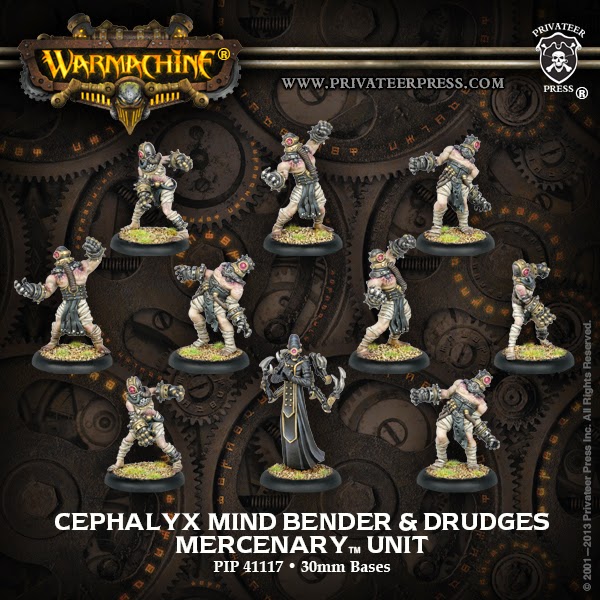 Also included in this box:
Digest-sized WARMACHINE rulebook with complete core rules
Strategy cards with tactics and tips for your army
SPECIAL NOTE: This limited edition All-in-One Army Box is a special introductory offer aimed at new players as well as existing players wanting to add a new faction to their collection. It is available through distribution in EXTREMELY limited quantities. This All-in-One Army Box is over a $300 value with an MSRP of $144.99, representing a 52% savings off MSRP. The Cephalyx All-in-One Army Box is available in even more limited quantities than previous All-in-One Army Boxes, so orders will be allocated to distributors based on past ordering volume history.  Distributors will be notified shortly on how many boxes they will be allocated.  Please keep in mind it will be significantly less than what you have received on previous army boxes due to the limited quantity.
These boxes are VERY aggressively priced and are aimed squarely at increasing marketshare of new players into Warmachine/Hordes.
Note the steep MSRP discounts, and inclusion of the cards and minirulebook. You can walk into a store, drop @$140 and walk out a Warmachine player with rules and a complete army.
All in One Army Box Samples
Here are box examples of one of the  All-in-One Army Sets.  We're sure the Cephalyx box will follow this format.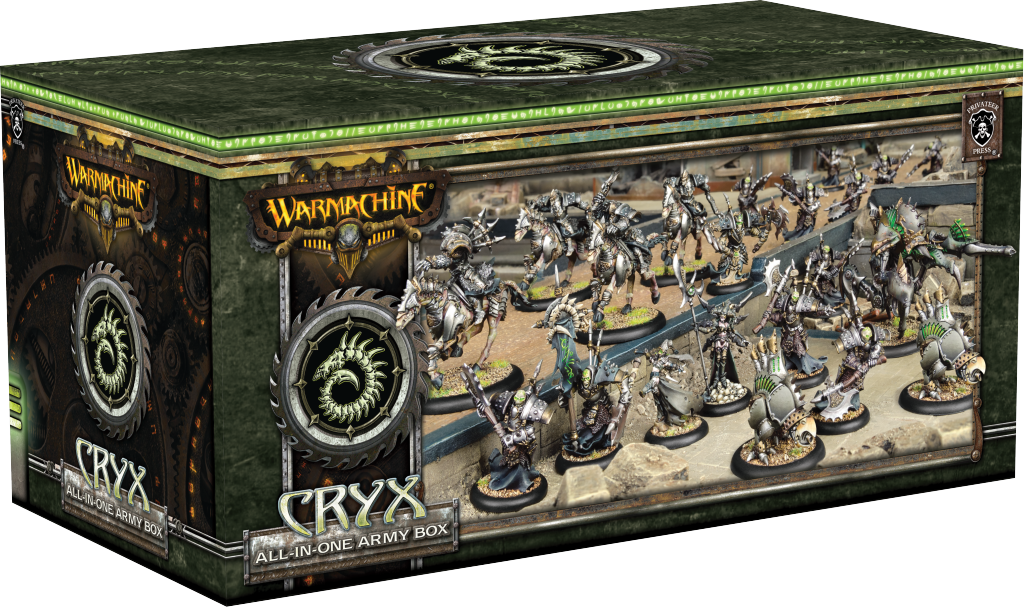 ~ The invisible hand of the market is at work again…  Look for the Cephalyx army box to show up in Q3.