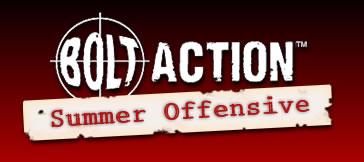 Warlord Games is kicking off their global Bolt Action campaign.  Get your army ready for action – it's time to sign up and move out!
Take it away Warlord Games:
Last month, Warlord Games announced the Bolt Action Summer Offensive – a huge global online Bolt Action campaign that allows you to play loads of battles and register the results online to influence the course of the war!
Registration is now open for the Bolt Action Summer Offensive campaign! Head over to the site now to sign-up and look around.
The official start date is Monday but feel free to make a pre-emptive strike and play battles this weekend!
The Campaign Starts Monday!
You'll be asked for a handful of key details to log you onto the system…
The campaign is due to run for 6 weeks over summer – with each week representing one year of the war;
Week 1 – 1939 – 1940
Week 2 – 1940 – 1941
Week 3 – 1941 – 1942
Week 4 – 1942 – 1943
Week 5 – 1943 – 1944
Week 6 – 1944 – 1945
Each week, you can play games of Bolt Action using the new rules we'll be introducing during the course of the campaign and a specific scenario each week to represent the era being covered. Players then log-in, and register their results.
Once one player logs their results, their After Action Report is automatically sent across to their opponent – who checks the details, and confirms them. The results are then logged into the system, the numbers crunched, and the website maintains a real-time record of the global victories and losses overall, and for each Theatre.
Along the way, there'll be special rewards for players. As you play more games, and log more results, you'll be rewarded for your bravery and, of course, we have some surprises planned too…
So – get ready for combat, soldier! Lace your boots, replenish your canteen, gather the troops, WAR IS DECLARED!