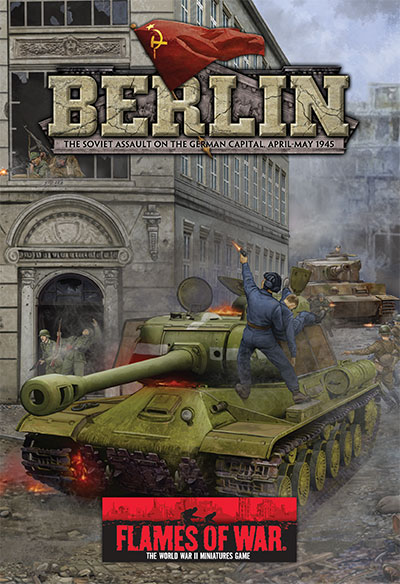 The Soviet Assault on Berlin has arrived! Flames of War launched a new campaign book – Check it out!
The last days of the war are upon Berlin and this new Flames of War book covers it all.
via Battlefront Miniatures, Gamewire
The long-awaited culmination of the Late-war period in Flames Of War is here. The Berlin intelligence handbook focuses on the Soviet assault on the German capital city of Berlin, the battles to encircle it, and the final desperate defence by the by the rag-tag German forces.

By April 1945 the Soviet Red Army had pushed all the way to the Oder River, just on the doorstep of the German Capital, Berlin. On 16 April 1945 the Soviets launch the Berlin Offensive across the Oder with the goal of taking Berlin and bringing the war to a conclusion. Stalin's two leading Marshals, Zhukov and Koniev, then raced to be first to enter Berlin and to take its symbolic seat of power, the Reichstag. The German defence of the city was improvised, but stubborn. Street battles raged from block to block as regular Heer, Waffen-SS, and Luftwaffe troops, as well as auxiliaries like the Volkssturm and Hitlerjugend, fought to hold back the red tide.

Berlin is an 72-page book that includes:

The history of the Soviet Berlin Offensive and their drive to take Berlin.
Background and history of the German and foreign defenders of Berlin.
History of the Battles to take the Reichstag.
Field a Berlin Kampfgruppe made up of all branches of the German military, including Heer, Waffen-SS, Fallschirmjäger, Volkssturm and Hitlerjugend.
Field the experienced heavy tankers of the Hero Gvardeyskiy Tyazhelyy Tankovy Polk (Hero Guards Heavy Tank Regiment) and the heavy assault guns of the Hero Tyazhelyy Samokhodno-Artillyeriyskiy Polk (Hero Heavy Self-propelled Artillery Regiment).
Field the hard-fighting Red Army riflemen of the Hero Strelkovy Polk (Hero Rifle Regiment) with Guards options and Red Army options. Included are options to field customisable specialist street-fighting Shturmovye Groups.
Inspirational painting guides and colour photos.
Available for order now in the:
The street-to-street fighting will be intense! The Soviets have a score to settle and the German army is on its last legs. If you're looking to replay the last days of the War in Europe this is the book for you!
The Soviet Red Tide has arrived and it's crushing all resistance!