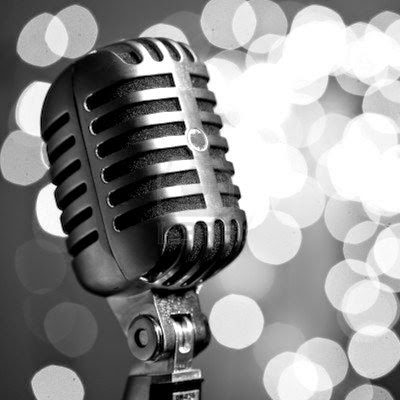 One veteran wargamer takes a deep dive into Age of Sigmar with surprising results:
A guest Editorial by BoLS Lounge Alumni Muninwing
I have a guess that the Age of Sigmar will eventually become something interesting, maybe even worth playing. But I started seeing what it was, heard that there was no WHF 9th, and wrote it off.
It took me some time to realize why.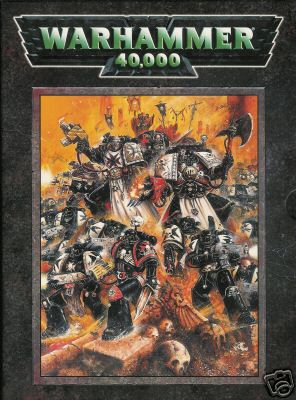 Flashback: Fall 2001: I had seen 40k as a game before, almost bought a starter set when I was much younger and my brother had gotten a catalogue, but I'd been turned off by my utter lack of painting skill, and the money I'd need to get started. A friend of mine, who would go on to co-own my LGS heard me voice my curiosity about the game, and offered me a ton of models. He'd gotten three of the 3rd ed starter sets, and as such had about 90 Dark Eldar models he had no use for. "$30 and they're yours, and I'll throw in an extra copy of the rules"
I went home that day, wondering if I should. I did some research, looking up info about the game online. I found a page that had collected transcribed fluff from various sources and hyperlinked to more fluff. I read about Sanguinius' fight with a Bloodthirster, about the dropsite massacre… I learned about the treachery of Horus and the failure of the Emperor. i learned about Magnus pleading for continuance at Nikea, and later for sanctuary when the Wolves came for his children. I learned about the nameless guardsman whose sacrifice gave the mortally wounded Emperor the chance to stop Horus, and felt as I did when reading history books of great deeds, or when reading quality fiction of depth and richness. When the sun came up, I was still reading.
And that was how I got my start in wargaming.
But I was an avid reader. I know the gravity that a good background, a good story can create. The author can either create a fully fleshed-out world, or show you enough of the world to make you believe that it is fully fleshed-out — an those hints are often far more compelling. I wanted to see Gilead before the fall far more than Camelot (I hear it's a silly place anyway). I wanted to read the narrative of Beren and Luthien as a whole story and not as snippets through the Silmarillion. I wanted to know who made the labyrinths from where the Balrog rose, or what Delirium claims is "on the other side of the sky," or what great adventures Li Mu Bai and Yu Shu Lien had with the Green Destiny, or exactly what Mance Raider saw in the frozen tombs. There's a completeness that each of these holds and creates that spins an air of weight about itself.
40k had that, for me, from the beginning. Sure, I was three editions in, and it would expand in its own way from there — sometimes in rich and interesting ways, like much of the HH novels… and sometimes, as with the "Oll Persson was an immortal" it would be obvious that the new writers did not understand why the old fluff had the significance it did. When I realized that those I played 40k with were more into WHFB, I pondered the entry into another arm of the hobby.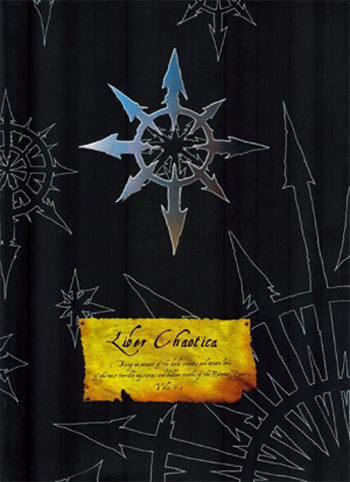 I again did research. This time it was easier — I got a copy of the old WHFRP books, and the Liber Chaotica, and similar sources so I could read up on the history of their world, and understood that it too was a fully-realized place that felt as if it was an alternate history. The rise of Ulthulan, the corruption from within, the struggles of humanity, the whispers of the primal compulsions of chaos — it all felt real.
Some people throw themselves into a fandom. I have enough students even still who come to school wearing their house colors, doodling snitches and brooms when they should be taking notes, and who look surprised when I tell them I'd be a Ravenclaw. I'm amused, and I like a good read, but I don't feel like it's my home. Even with GW worlds, I hold myself back from jumping in headfirst… but the genius of the Liber Chaotica was that it made me forget to hold back… it was as if I'd found the hidden library that inserts itself in my dreams, and I found the worst possible book to pick up and bring home to read. It felt real. and thus, the time I would invest in creating my armies felt as if I was sharing in something far larger than myself.
I bought in, somewhere around 6th, and played strongly throughout 7th. 8th saw my army severely changed, and for the lesser — I don't say for the worse, because they could still function on the table… but the arbitrary shifts they had made turned them into lesser and less important than they had once been. They lost gravity.
What I've recently realized is that Age of Sigmar has no gravity to it.
To sidestep for a bit, I should mention that gravitas — that sense of weight and significance and importance I was alluding to above — is actually hard to create. Often it takes years and revisions and alterations and a massive amount of work in order to capture that feel. Many good, experienced writers cannot do so. One of my favorite classics – The Count of Monte Cristo — has virtually no weight to it, and the same author's better-known Three Musketeers has perhaps one scene of weight (the former priest executing his totally-not-a-ninja ex-wife) amid a ton of action and fun and swordfighting. But both of them have real history to draw from in order to create that weight for them. Fantasy and science fiction have to construct it themselves.
Games do not need this if they have good rules, but without it the drive to be a part of it is largely just another fandom, just a general hobby. If it lacks depth, it lacks weight, and therefore it cannot hold my interest.
Malifaux is like this. It's a interesting system (but not interesting enough for me to want to play it too much), with an interesting background (which I'd like to read more about, but there isn't much effort made to flesh it out), and some not-terrible characters. It is, therefore to me, a novelty and not a serious game because I'll have fun and put it aside without a second thought.
Warmachine is like this as well, and Hordes. Being that they are both nation-sized games with brewing political and martial machinations, the fact that there are only really about ten people in each country that actually matter is remarkably shortsighted. It reads less like a complete and fleshed-out world, and more like a one-off module for D&D. It tries to substitute gimmick and unsuccessful tropes for quality writing. This is of course my own opinion, and others may find the depth in these that i have not, or they may have bought into the fandom which is related, but I fail to see the compelling elements in these that make me want to be a part.
More likely than not, this gravity is really just my own justification for buying in, and the "fandom" argument is nothing more than my own bias. So interpret as necessary, and insert your own as needed.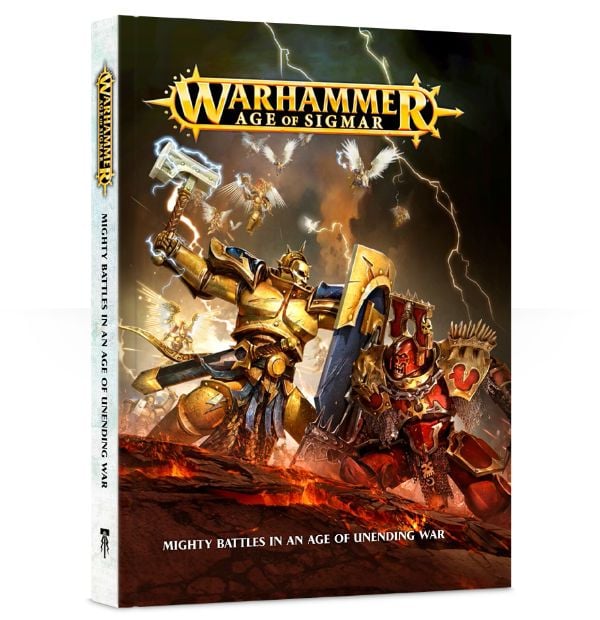 Age of Sigmar has been, from my limited perspective of fourteen years' worth of paying attention, the second-worst implementation in wargaming that I can point to. The worst — certain parts of the 5th ed 40k FAQs that forgot what a FAQ is for — is also admittedly a personal grudge of mine. Allowing the fanbase to believe that WHF 9th was coming to allow everyone to dust off their rank-and-file units and play afresh a game steeped in its own constructed and complete history, only to provide a game that is not fully imagined and plays so markedly different was asking for backlash. Plain and simple.
It might turn into an interesting game. It might develop, and enrich, and grow. It might be the very reworking that others have claimed (with far too much gusto to not be blind to the missing weight) that WHF needed.
It might not, and since it was released with so little attempt at a fully-fleshed-out setting (relying on its history and the game equivalent of name-dropping), as well as blatant gaps in acknowledging what the players truly wanted, "not" seems far more likely.
The worst thing? I'm part of the problem. WHF has been slipping, stagnating, for years. I've bought exactly three boxes of WHF models in the last five years — the Wood Elf stag riders because my wife wants to paint them, a 50% off box of Witch Elves i'll be converting to DE, and the new Bestigors when they came out just before 8th dropped. I've got 5000 points of Beasts (formerly of Nurgle, then mysteriously just… not), and another 3000 of Ogres. I've got a 3000-point High Elf army in mostly secondhand bits and pieces that I never got around to in favor of other projects. Why would I buy anything? And with that stagnation, something big needed to come out of it.
But Age of Sigmar wasn't what was needed.  
The End Times was interesting, but ultimately just a gimmick that they probably should have milked for far longer, made more of the limited models (I'd love to just assemble and paint a Nagash, or kitbash it with a Chaos Knight), and extended with a community-involved campaign. Show that the railroading at the end of Storm of Chaos was a mistake, planned out what would happen in each next phase based on player involvement, and then steer it to a slightly different end based on whoever ultimately won, tied into some design elements and game specifics of the new game.
That's why a "40k End Times?" is at heart a foolish idea to entertain — they could only do it if they wanted to poison their cash cow.  
AoS may still grow, and it may have enrichment opportunities in the future, but it had a botched introduction. Unless they put a lot more work into the next phase of the product, they are not going to keep it afloat. Alienating many of their fans was a bad idea from the start, but they still need to sell models and books to stay in business, so they need avenues by which to do these things…
But they have not realized that it's the fluff just as much as the game that makes or breaks them.
Next time: A dream Age of Sigmar Launch that may have truly fired up the community!