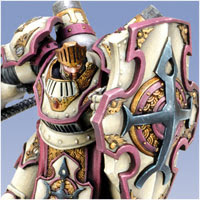 A new set of miniatures just hit the store shelves for you Warmachine players!  Come check em out:
Anson Durst is the rock on which the enemies of the Protectorate break, a bulwark to the faithful who weathers tides of violence to keep blameless Menites safe. He earned his epithet fighting alongside the theocracy's defenders to repel wave after wave of invading soldiers. Countless times he used his powers and a steel wall of warjacks to prevent harm to his men. Fueled by faith and his devotion to the code of the Order of the Wall, Anson Durst is all but undefeatable when committed to the defense of his people.

Assembled from a horrific fusion of corpses and machinery scavenged from the battlefield, mechanithralls fill the ranks of the Cryxian army. Their reanimated bodies are augmented with two heavy gauntlets powered by dark energies and steam pressure. These gauntlets greatly enhance their unliving strength; indeed, a mechanithrall's strike is nearly as powerful as the impact from a steamjack.

Tribal nomads native to the Bloodstone Desert, the efaarit are a hardy race of talented survivalists. Atop their belligerent bletcher mounts, efaarit scout teams cross even the most punishing terrain to outflank an enemy. Precise fire from their powerful hunting rifles can bring down even massive warbeasts, as these scouts target joints and gaps in their adversaries' armor with prodigious accuracy.

Mischievous and malicious in the extreme, gremlins delight in rooting around in mechanikal constructs with the intent of causing as much damage as possible for their own amusement. These mysterious grymkin are attracted to the hiss and clank of warjacks on the battlefield and have been known to bring mechanized weaponry grinding to a halt at the most inopportune times.

Coordinated groups of skilled warriors, croak raiders employ a powerful two-pronged attack. Working in pairs, one raider lobs hollowed gourds to soak an enemy with a highly flammable liquid, and then another launches a flaming projectile from an atlatl to ignite the enemy in a pyre of flame. This devastating combination has allowed them to eradicate even more numerous and technologically advanced foes.
Which one is your favorite?  I'm partial to the Croak Rdurstaiders.  I can imagine a lot of crazy paint schemes for them.