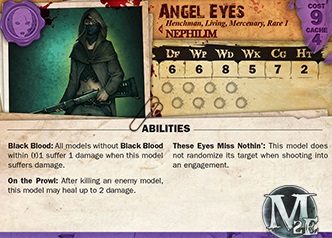 Wyrd shows of some new Henchmen included in their up-and-coming Two Player Starter Set – Check out this Preview!
Today's Monday Preview is a look at the two Henchmen from the Two Player Starter set releasing soon. These are two brand new models that will help shake up the game and provide new options for new and old players alike.

Dr. Grimwell is a Guild Mercenary that specializes in melee. While the Guild is known for its ranged attacks, Dr. Grimwell bucks that trend with two powerful melee options and Nimble to help him get in the thick of things.

Angel Eyes is a Neverborn Mercenary that brings a powerful rifle to the table. She brings the ability to shoot into combat without randomizing, adding a new ability to support the powerful Neverborn melee.

As with all the models in the Two Player Starter, these models are Mercenaries, allowing them to be taken by any Crew you find yourself playing. Coupled with two Fate Decks, measuring tapes, and a copy of the rules, the Two Player Starter contains something for everyone.
This new two player starter is sounding pretty cool. If you're interested in getting started in Malifaux now is a great time to get ready! It plays fast & clean, the models are super cool, and it uses a unique card-deck mechanic – it's entertaining and different. Plus they know how to do teasers without spoiling everything!
Gather your crew – The Wyrd world of Malifaux is calling!