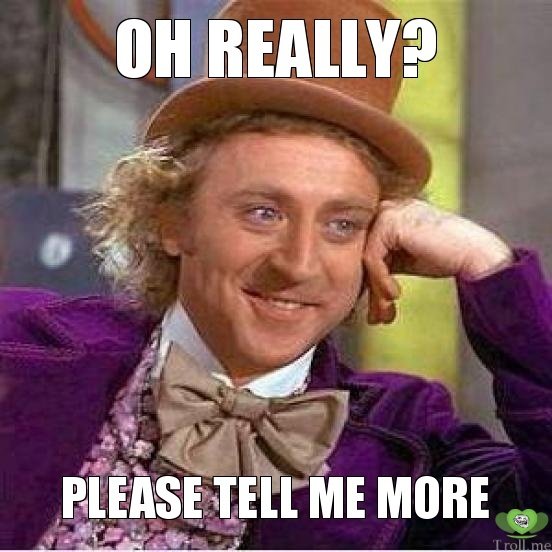 Pimpcron wonders if 40k could learn from some of the good things in AoS.
Hi people! The only robot you fantasize about, Pimpcron is here. Now that Age of Sigmar came out and the world didn't end like it was foretold by the Internet, what did they do right? And how could 40k benefit from what they learned?
What Did They Do Right?
I think that not having a codex to buy is an awesome idea on their part, being that many of the competitors already do that. This makes that buy-in price for new players drop by roughly $60 which in many cases is either a whole box or maybe even two boxes of units worth of savings. Also, giving the rules out for free is cool too but of course we all know they are doing this out of necessity because of their competition. But even so, I think it's the right move. And let all of us plastic crackheads be honest for a moment, even if they gave out codex stats for free, if they released fluff and/or formations books for our armies we'd still buy them. I've seen too many people complain about GW price gouging while their smacking their forearms for another hit and pulling out their wallet for the Newest Shiny.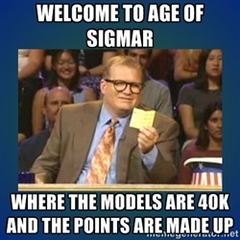 I am also a fan of the simpler rules, if only for the fact that it will bring in players much easier. Now before you hunt me down and curb-stomp me, I wasn't a Warhammer Fantasy player before AoS and I completely understand if you guys are pissed with what they did to the rules. I hope they don't do this to 40k's rules, but I do like the spirit of it. I do hope they make a stripped-down version of 40k for beginners to dip their toe in the game. We've all heard the rumors that the 4-page rule set for AoS might get an Advanced Rules version that comes out later. That would be great, and I think it's a good idea for 40k as well. But at the moment, it feels a bit like they went "full retard" on the rules if they don't plan on making more advanced rules.
Just like 40k, I think that bringing "Unbound" to Fantasy is a good idea and allows beginners to buy some of the flashy units without having to invest in the more mundane units first. Of course this is a double-edged sword and one could argue, "Why bring the regular troops at all?" I don't have an answer to that; I actually really enjoy playing with normal troops versus all-the-crazy-all-the-time. But it ultimately gives players more freedom and that's a good thing and once again, makes it easier for new players to enter.
So all-in-all I think they made some awesome moves towards opening the doors to new players, which 40k could definitely use as well. Did they go too far with simplifying it? Maybe.
What Did They Do Wrong?
Simply put, measuring from the model is stupid and not called for. Functionally it is the same as measuring from the base, until I realized that I could get more of my Lizardmen into close combat if they went in tail-first. Now I just need to finish painting my circle of old business men models so they can yell, "Butt to butt!"
Tell me in the comments if you get the reference and then pretend not to be embarrassed that you got it.
Having a whole bunch of Lizardmen backing into combat to be more effective is simply dumb. Not to mention you run the risk of chipping paint on the models by measuring from them versus the base. No reason for it.
Also, having no point costs for the units and upgrades is unnecessary and confusing, especially for new players. And being that there are no max unit sizes, according to the game rules, my 72 man unit of Kroxigors is equal to your goblin unit. What I think they should have done is give you the option of adding models to units in intervals of what they secretly deem to be, say, 100 points. Each 100 points worth of things would be a warscroll. Anything that falls short of being worth 100 points would either have its number increased or stats improved to make it effectively worth 100 points. So any given warscroll would be somewhat even with others. So a really awesome Hero might count as 3 Warscrolls or something, but there would be some semblance of balance.
This makes me feel like all of our complaining about balance caused them to just drop points all together. It's as if they said, "You think you can balance it better? Here, balance it til your hearts content and quit bitching."
Another lesson Games Workshop could learn from this whole endeavor is that they NEED TO COMMUNICATE WITH THEIR CUSTOMERS. GW is famous for being completely quiet about everything they do; especially when it comes to releases. Some may say that this builds tension as leaks come out and what-not, but I've heard of many people considering Mantic's Kings of War due to the months-long hiatus GW gave them with End Times. Even if only one customers leaves their brand because of this, it was a bad move. Because they left a huge door open for their competitors to swoop in and snatch up some of their customers just because they were either too arrogant or clueless to know that they should probably let people know they are discontinuing entire lines of models. Lizardmen players were really sweating bullets. This just seems like bad business. The least they could have done was let everyone know that their armies would still be playable during the many months that the game was up in the air.
Some of you might hate me for saying this, but Age of Sigmar has actually brought me to start playing the game. Even if I acknowledge that it is a bastardization of what you existing players are used to. The main reason why I never got into Fantasy is because the rules were close enough to 40k for me to confuse them, while being different enough for me to mess up my working knowledge of rules for both. I was just too lazy to learn both sets. But now that it feels a bit like Fisher Price is making Warhammer, these rules are different enough for me to learn them and not worry about confusing them. So ultimately they succeeded in my case, they changed things up and drew me in as a new player; which is what we need them to do for 40k.
So in conclusion, I think that AoS isn't a complete PoS. There are some things they did right, and 40k can learn from them. Mainly, the fact that all of their changes are geared towards bringing in new players. Also, I feel that 40k could also use *some* rules simplification without hurting the game.
What say you serfs? Do I make sense, or just heresy?
Want to witness my slow descent into madness first-hand? Check out my blog at www.diecforthedicegod.com