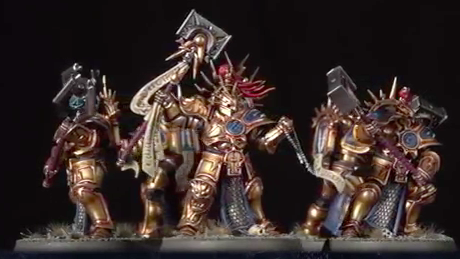 The massive two-handed wielding Paladins, and new GW terrain is here in awesome in-the round detail.  Check it out!

Th Paladins are actually fairly nice models and their scale and size of weapons really impasses.  these are the types of imposing poses that really take up space that Age of Sigmar's round bases allow.  You just couldn't easily do these types of visually dynamic models with the need to rank up.  I especially like the long elegant glaives.
On the terrain side, it's not as interesting.  The Occullum is the more distinctive of the pair, while the Dais very much looks like it has one foot set in Age of Sigmar and one still in 8th edition.
Looking good, what is your opinion on the new terrain kits?