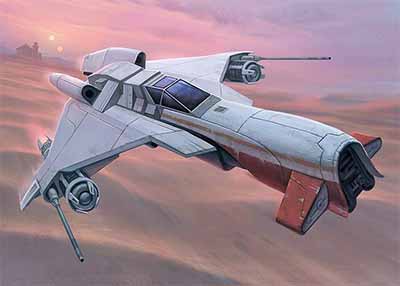 An in-depth look at the least pronounceable ship in X-Wing, the Kihraxz Assault Fighter. Load-outs and discussion abound!
Now that Wave 7 is finally released, once again we've got things to actually talk about with this game! Over the next few weeks I'll be going over the new ships, each of their available pilots, and some suggested loadouts for them.
Since I am and always will be a flavor nerd – especially for Star Wars, dear lord especially Star Wars – let's go over the history of the ship first. The Kihraxz assault fighter (or light fighter, depending on who you talk to) was developed exclusively for Prince Xizor's Black Sun criminal organization, and deliberately took its cues from the X-Wing as a one-man fighter with the engines built into the main fuselage, and was easily customizable to the point where two Kihraxz rarely looked the same. It was armed with a light blaster cannon and a Concussion missile launcher, so now you know which missile to bring for bonus geek points.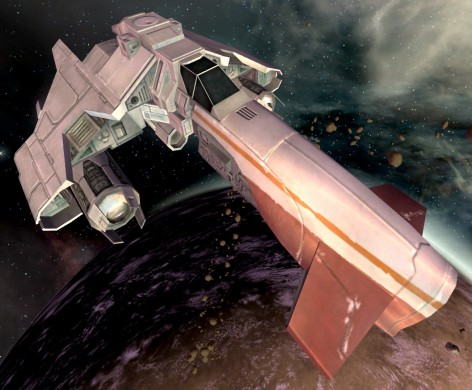 It was later replaced by the Vaksai (pictured above), which took the same fuselage design but added a medium laser cannon over the light gun and a hyperdrive, bringing it even closer to the X-Wing in design. From a cursory glance, it looks like the Kihraxz in X-Wing is actually a blend of the two, especially in its superior ability to take punishment than the 'light fighter' title would lead you to believe, and keeping a 3-attack dice shot instead of a 2-attack dice shot like other ships described as having a 'light laser cannon' would lead you to believe.
The Kihraxz has a statline very similar to that of the T-65, which has been the standard for 'workhorse fighter' since the game began three years ago, even if it has become outclassed by…basically everything not called the Y-Wing at this point, to be honest, with most of its value resting in the sheer number of named pilots.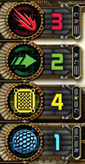 Trading in one shield for an extra point of hull, the stats are strictly worse due to suffering more frequently from critical hits. However, that's the only real downside – five health is still a lot for a fighter in the Kihraxz' price range, and three attack dice is always appreciated. Maybe I value the 3-dice attack a little more than most, since I play with a lot of A-Wings, whose 2-dice attack is sorely lacking most of the time. Given how hardy the ship is (and relatively fast), expect to see it rolling 4 attack dice fairly often.

Its action bar is…well, it's not offensive. Target locks are useful, especially seeing how many missiles don't actually require you to spend the target lock to fire them allowing for re-rolls, and Focus is basically an auto-include, but it would have been nice to see some variety here rather than another copy of the X-Wing. Maybe a barrel roll? Still, if it would bump the point cost up too much, maybe we should just consider what we've got enough.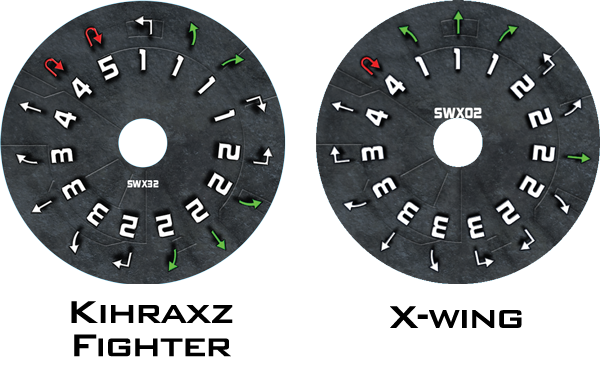 As we can see in this image courtesy of Fantasy Flight Games themselves, the two ships share a fairly similar maneuver dial, further showcasing how the Kihraxz was a deliberate in-universe knockoff of the T-65 X-Wing. In general, I think I like the Kihraxz' dial a lot more – five green maneuvers over four, two K-Turn options, and that valuable 1-Turn. After a few games, I miss the 3-Turn and the 1-Straight, but those are the only real complaints about the dial, which is basically strictly better than the T-65's. Time will tell how it compares to the T-70s (as a Canadian, I have yet to actually see the ship do anything).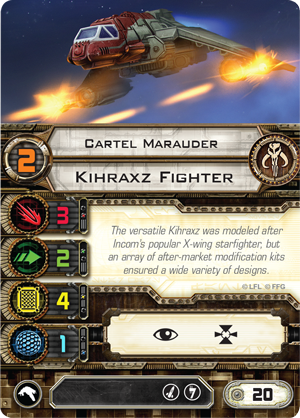 For 20 points, you get a ship with the above statline and 2 Pilot Skill. It is theoretically possible to run a list of five vanilla Cartel Marauders, although I wouldn't advise it. They would work best as escorts for large ship centric lists – sadly, it doesn't quite work with a 2xAgressor list, as it leaves only 8 points for upgrades across the board, but you can fit them nicely into any list where you would previously take a Headhunter plus upgrades and call it a day.
The real question about the Cartel Marauder is this: Is it worth taking it over a pair of Binayre Pirates? For four more points – which you can easily find – you can have two ships instead of one, with a net gain of +1 Attack Dice and +3 Health and only 1 less pilot skill on each ship. While the attack dice are more spread out, I think that more often than not you'll be taking the Pirates over the Marauder – and for 2 points more than that you can take two Black Sun Soldiers, who have higher Pilot Skill as well.
I think this leads the Cartel Marauder to be overshadowed by other, better options for a cheap escort – that may change in the future, should the dial's quality be proven more important than volume of ships, but for now I'd stick with dropping an upgrade or two somewhere and including a pair of Black Sun Soldiers. If you do want to take one, here's a few loadout suggestions that keep the points down.
Geek Points: Concussion Missiles, Munition's Failsafe (25 Points)
A relatively low point cost for a solid fighter with a decent missile attached, that happens to fit into the lore perfectly. Still, wouldn't recommend.
Alleged Interceptor: Inertial Dampeners (21 points)
Inertial Dampeners makes a good dial slightly better for one turn, and since you can use it after revealing it gains a little bit of flexibility. Since the ship's PS is so low, however, that element won't come into play – unless there's a lot of Academy Pilots running around.
One-Turn Wonder: Glitterstim (22 points)
Oh, Glitterstim. As we've said before, the Kihraxz is a perfectly good ship, it's just this pilot that sucks – however, Glitterstim turns any ship into an absolute menace for one turn, provided the dice are slightly lenient with you. The decent amount of green maneuvers on its dial should help too. Remember to target lock instead of focus if you plan to use it this turn!
Oh, this is where it gets good.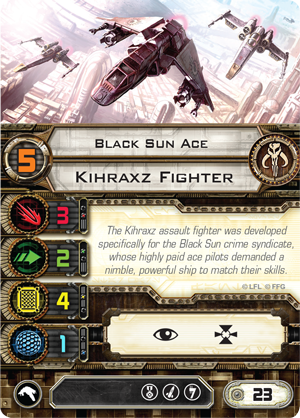 I love this ship. I love it to death. For a start, it's only 3 points more than a Cartel Space for four points of Pilot Skill – and the ability to take an Elite Pilot Talent (known as 'Elite' following the new rulebook, from what I've heard). The EPT slot is one of my favorite in X-Wing, with the sheer amount of variety and customization it brings, and 5 pilot skill is a very good place to be – not quite high enough to take out expensive named pilots, but guaranteed to be going before anything in a swarm list.
This? This is an escort ship. I recently ran a list with Bossk's Hound's Tooth backed up by a pair of these with Advanced Homing Missiles and Crack Shot (mostly to try out all the new toys), and while Bossk did most of the work in the first game, he was shot down early in the second – and these guys still pushed forward a victory. I'm not sure Advanced Homing Missiles is something I'd take again – I'd much rather have Glitterstim or something else for the points – but I love this pilot to death. Here's some of my favorite loadouts for them:
Homing Missile: Advanced Homing Missiles, Crack Shot (27 points)
The loadout I used in the mentioned battle, I'm a big fan of Advanced Homing Missiles with its chance to one-shot 2-health ships with lots of shields thanks to the Direct Hit critical card, or even just to severely disrupt your enemy's plan by stunning their pilot or similar. Crack Shot helps the missile connect, and once both of those are spent you've still got a very solid ship.
Double-Ace: Veteran Instincts, Glitterstim (26 points)
Pilot Skill 7 is really good. Like, really good. You're playing in the big boy leagues now. Sure, you're not Han, or Wedge, or Soontir Fel, but you're better than just about every unnamed pilot and as good as a lot of named. Glitterstim can turn an unfortunate looking turn into one that works out just fine.
Bodyguard: Bodyguard, Inertial Dampeners (26 points)
The Black Sun Ace is already a great escort to high-PS named ships, and Bodyguard just makes them better, especially on ones with an Agility score of 2 or higher such as IG-88, the Firespray or the upcoming Jumpmaster. Inertial Dampeners are best used to make sure you keep in range of the ship you're escorting on crucial turns – if you're escorting a YV-666, you can slam on the inertial dampeners and its innate 0-move to get all of the ships lined up nice and neatly.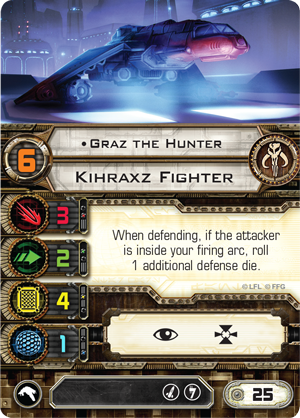 Graz the Hunter is basically just a loadout for Black Sun Ace. It's as if they got his ability and +1 Pilot Skill as an elite pilot talent for 2 points – which, honestly, isn't bad and with the Kihraxz' dial its ability is going to trigger more often than not. The lack of versatility compared to the Black Sun Ace isn't nice, though, and I find 25 points a bit of an awkward place for a PS6 ship to be – it is a quarter of your list after all. I've not played much with this pilot, and only came up with one build.
Actual Interceptor: Engine Upgrade, Inertial Dampener (30 points)
Congragulations! Your ability is GOING to trigger. The value of using Boost over Focus in order to guarantee your ability's activation is debatable and I'd need to sit down and do that most dreaded of activities – actual math – but it probably evens out, and the Kihraxz is actually kind of terrifying with that kind of movement. Inertial Dampener, as always, is a cheap filler point that can give you one really good turn of movement options.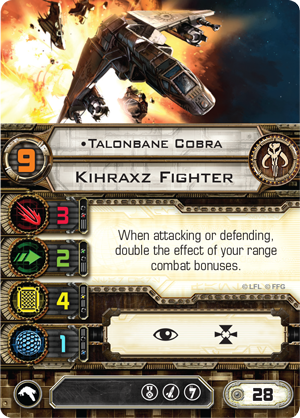 Let's just get this out of the way now – this ship is AWESOME. 4 Agility dice at range 3 and FIVE attack dice at range one?! It hits harder than…well, pretty much anything, really. And it keeps the EPT slot from the Black Sun Ace, AND it's in that valued Pilot Skill 9 slot! As a long-time fan of Wedge Antilles – the character and the ship – this thing demands comparison. Actually, let's just compare him to Wedge right now.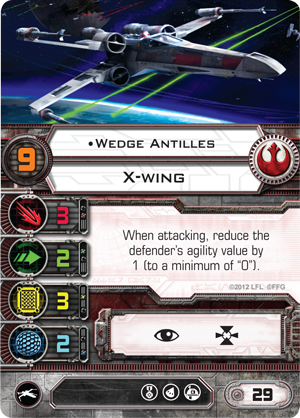 So, for one point more, Wedge loses access to missiles and illicit, gains Astromechs and Torpedoes, loses a hull point, gains a shield and gets his ability over Talonbane. Honestly, I think Talonbane's is better, if only because it increases his own defenses at the same time – and comes with the superior movement dial (the 5-distance K-Turn is especially notable, as it's fairly likely to get you back into Range Band 3). The only real advantage I see Wedge having is the Astromech slot, which is very strong – missiles seem to be generally better than torpedoes right now. Man, I can't wait to play with this guy some more – here's a couple of ideas I've had.
One-Turn Killer: Crack Shot, Glitterstim (31 points)
Budget Talonbane, based around having one just insanely effective turn that is probably going to kill something. Get to range one, have a target lock, pop glitterstim, shoot five dice re-rolling blanks and auto-converting focus symbols into hits, cancelling out one evade result. This will kill a decent chunk of small ships, and put a severe amount of hurt onto the larger ones.
Room Clearer: Predator, Shield Upgrade, Assault Missiles (40 points)
Surviving the sheer amount of firepower that a TIE or headhunter swarm can pour out in the early turns, forcing them to seperate or risk multiple hits from the Assault missile when he reaches his Range 2 weak spot, and then just ripping through the low PS ships once he reaches range one.
Consistent Killer: Marksmanship, Experimental Interface (34 points)
Like the one-turn killer, slightly more expensive, forces you to use Green maneuvers a lot more often – hardly a problem, the Kihraxz has a good selection of them to begin with. This is currently my favorite build, as consistent marksmanship triggers in addition to target locks will make Talonbane's killing power significantly more efficient.
I'm still working on a build that makes use of Talonbane's defensive possibilities, but it's harder to stay at Range 3 than it is at Range 1 – that element should mostly be viewed as a side effect of his main use, and to guarantee he gets up close and personal faster.
Which ship do you want to see next? How have your experiences with the Kihraxz been? Leave a comment below!