CMON: Rum & Bones Expansion & Heroes Set Available Now!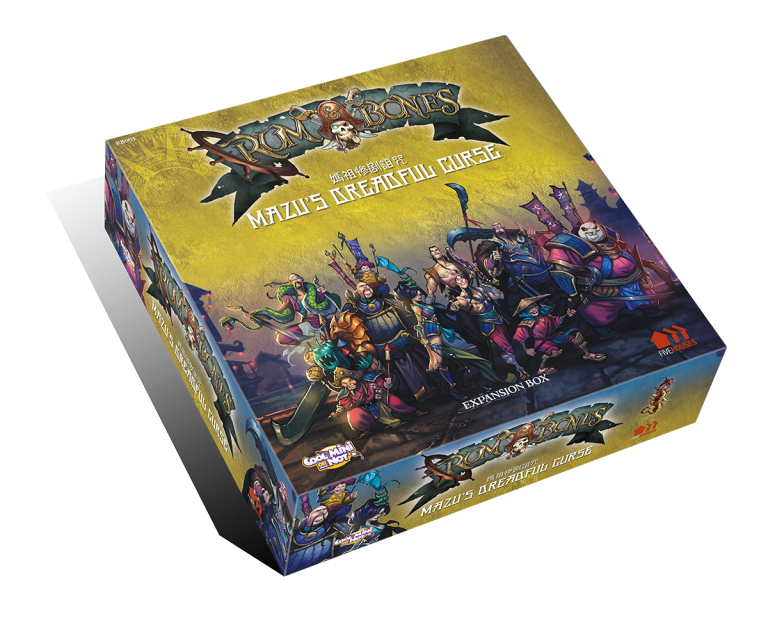 Attention Pirate Captains: It's time to get your JUNK on! Maze's Dreadful Curse is Cruising to a tabletop near you.
Hello Pirate aficionados! If you're not playing Rum & Bones you're missing out. It's a really action packed game and it's blast to play with your (gaming) crew. The first expansion for the game has been announced and is currently available to order.
via CoolMiniOrNot, Gamewire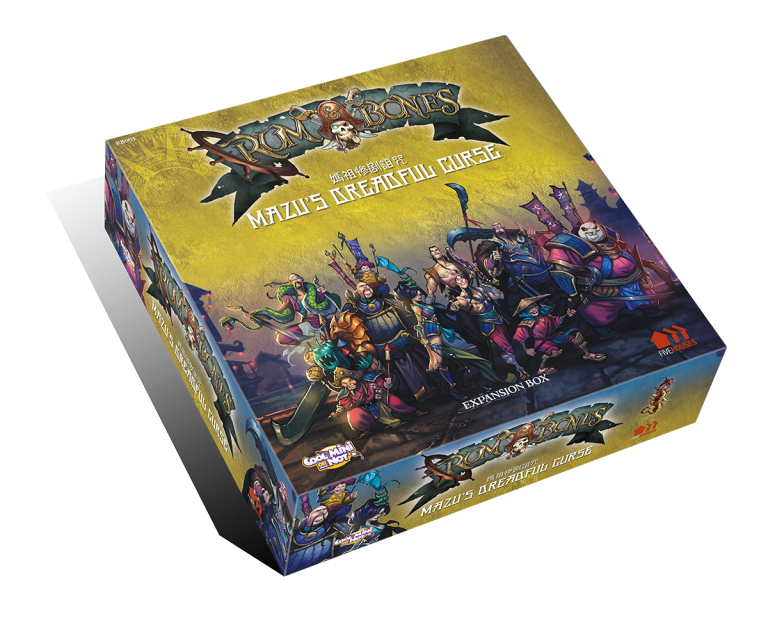 Those that sail the goddess Mazu's waters and seek to prey on peaceful people will eventually be tested by the pirates known as Mazu's Dreadful Curse. On the high seas, few factions enjoy such amazing luck with tide and wind as the Curses. And now, with Davy Jones' treasure scattered across the world and the Locker up for grabs, nowhere is safe from these raging nightmares from the Far East!

This expansion for Rum & Bones introduces the Chinese pirates of the Mazu's Dreadful Curse faction into the fray! These mystical pirates from the Far East encircle their enemies with three small junks, using magical Windgates to swiftly move between their ships. Their sea legs are unequalled across the Seven Seas, surprising their opponents with astounding mobility.

The Mazu's Dreadful Curse has it's roster of Heroes, each with their own set of unique attacks, abilities, and reactions. They also have access to their unique Tide Deck, Filled with fantastical powers granted by the Chinese gods. Harness the eastern winds with Mazu's Dreadful Curse!

Components:
35 Highly-Detailed Plastic Miniatures

Subscribe to our newsletter!

Get Tabletop, RPG & Pop Culture news delivered directly to your inbox.

10 Miniature Bases

5 Hero Cards

30 Tide Cards

3 Ship Boards

3 Tiles

6 Tokens

1 Rules Booklet

Contents:
3 Miniatures
3 Hero Cards

Captain Shu Ming, the Merciless – Shu Ming's Story is similar to so many women that take to the sea: an arranged marriage gone wrong led to her flight from her father's palace. But Shu Ming was the youngest daughter of Emperor Gao Ming, the Ironhanded. Pursued for years, she became adept at evading or destroying her father's ambushes, giving no quarter to the poor fools sent to bring her home. Her success drober her father to the brink of madness, and led to his downfall at the hands of the rival Gor-Dawn dynasty. Upon receiving the news, Shu Ming is said to have laughed and said 'All according to plan.'

Lien Hua, the Flower of Death-Swashbuckler – Lien Hua was born in Japan, the daughter of an exiled family. Her father earned their living by teaching Chinese fighting arts, but unfortunately fell into a protracted feud with a rival Japanese instructor. The feud was settled when the local prefect commanded that they exchange children as hostages for ten years and one day. Thus, the pre-teen Lien Hua spent much of her formative years under the instruction of a Japanese swordmaster, and earned her title as the Flower of Death.

Ai Fei, Favored of Mazu-Brute – It's whispered that Ai Fei may enjoy a divine origin. Few women of such exceptional intelligence and beauty can boast the strength of ten men. Her only parent was her father, a humble fisherman from Singapore whose ship never returned one fateful autumn day. Ai Fei prayed to all the gods for guidance and knowledge, and Mazu answered with a vision of her father scrubbing decks in chains. Subsequent visions led her to the Dreadful Curses, despite her lack of sailing knowledge.
This is all really great news for Rum & Bones fans. I appreciate that CMON is supporting this game with not just new miniatures but new ways to play as well. Those new Chinese Theme Junks sound like a neat mechanic and I want to see it in action. I also really like they way they broke up the Expansion and the Hero set. It sounds like if you just want to "dip your toe in" you can grab the hero set to expand your crew options. Or if you want the full "keel-haul" experience you can jump off the plank and buy the full expansion and get 6 different heroes to play with. Great stuff!
Rum & Bones: Drink responsibly – but play like a pirate!
Latest News From BoLS: