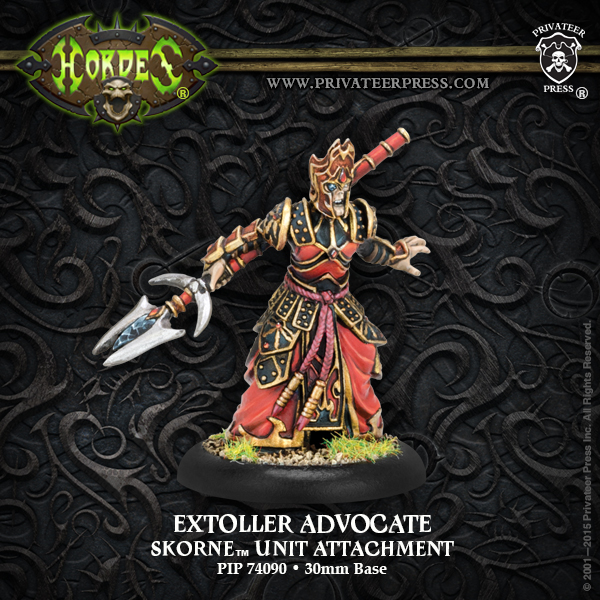 Privateer Press pulls the covers off of the latest upcoming minis for all your Warmachine and Hordes players.  Let's take a look:
Having shown a keen aptitude for communing with those preserved from the Void, extoller advocates are sometimes chosen to play a more direct role in the empire's conflicts, employed to coordinate exalted on the battlefield. In addition to bolstering the combat effectiveness of immortals in their charge, extoller advocates will not hesitate to put themselves in harm's way in order to fulfill the sacred duty of recovering and preserving sacral stones from fallen immortals and guardians.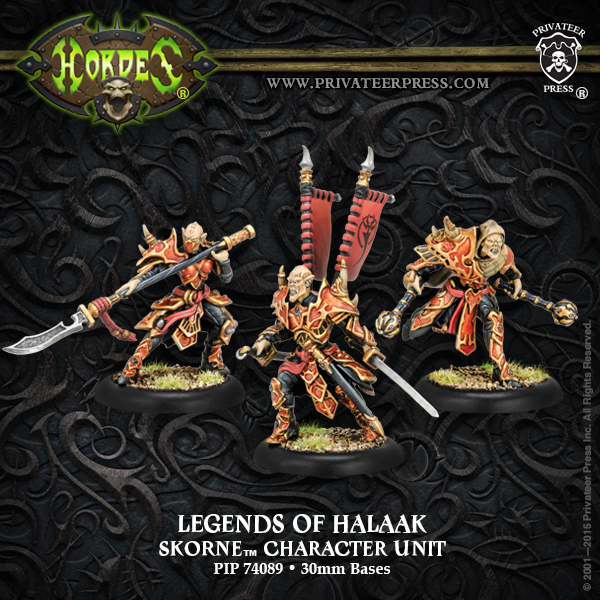 Once respected members of the warrior caste, the Praetorians now known as the Legends of Halaak spent the early years of their careers clashing with one another in house feuds. It was not until their houses were destroyed that Valgesh, Cidaar, and J'Deth would join forces and earn greater acclaim. When Supreme Archdomina Makeda overthrew Vinter, this trio of renowned warriors went west to offer their services to House Balaash.

Even among the Tharn, night witches are regarded as the epitome of Devourer worship. As priestesses and ranking practitioners of the bloodweaver arts, they move across the battlefield within a veil of gore and carnage. With ruthless animosity they leave behind a trail of butchered opponents, taking from each one tokens of meat and precious organs to fuel their own powerful blood magic.

Shrike
$14.99

(Cryx)

The Shrike soars against the weight of its great tempered-steel wings by virtue of the roaring fires of its necrotite engine and the dark spells woven into its frame. Following the predatory instincts instilled in its cortex, the Shrike surveys the field of battle from aloft before plunging into the formations of the living to scythe through the ranks with its bladed wings. The appearance of Shrikes is often a precursor to a larger Cryxian force.

~Whice one's your favorite?  I think the Shrike is kind of cute for Cryx model.