Privateer Press: Final Season of Path of Devastation!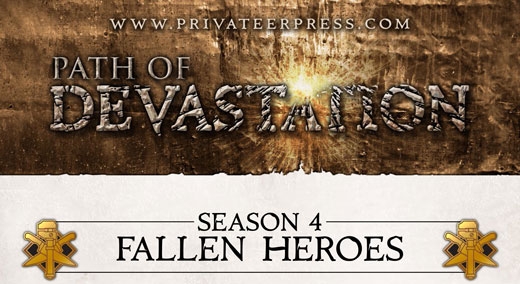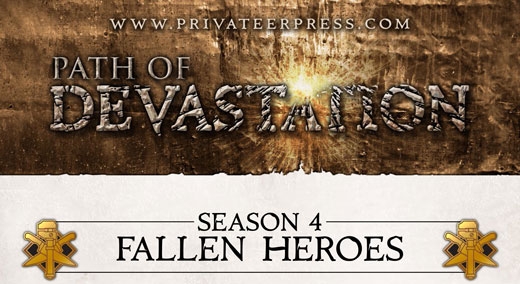 The "Path" to greatness is before you – Come leave your mark on the Iron Kingdom!
It's the last season of the Path of Devastation from Privateer Press. If you've been following along Immoren is in a world 'o' hurt as her greatest heroes continue to fall to nefarious threats. But all is not lost…yet. You've got a chance to leave your gift (or curse) on Immoren for years to come!
The final season of Path of Devastation has begun!

Fallen Heroes completes this year's narrative league as players try to cement their legacy within the Iron Kingdoms and bring glory to the Heroes of their armies.

The rules for this season include unique narrative scenarios that allow players to experience WARMACHINE & HORDES in a fresh way. Each scenario will require players to reach deep into their favorite faction's tactical options to carefully craft an army ready to rise to the challenges presented.
League players are given an opportunity, unique to the Path of Devastation rules set, to customize their own Hero character model for use in their games of WARMACHINE & HORDES. Each time a player fights a battle, paints a model, and participates in a league, that player will earn experience points that can be used to purchase new abilities and upgrades for his or her Heroes. In the Fallen Heroes season specifically, players won't be creating heroic soldiers or troopers but instead will craft warjacks and warbeasts into their own personal engines of destruction.

In addition to all the league rules for games of WARMACHINE & HORDES, players can also find special rules for games of High Command, adventures for the Iron Kingdoms Full Metal Fantasy Roleplaying Game, and special opportunities for creative miniature hobbyists. No matter how a player wishes to participate in the league, an option awaits!
For more info on the events check them out on Privateer Press' Events page!
Subscribe to our newsletter!
Get Tabletop, RPG & Pop Culture news delivered directly to your inbox.
Get in on the final season and stem the tide or usher the devastation along – It's up to you! The Iron Kingdom Calls!