Hordes: Doomy 3 Theory and List Building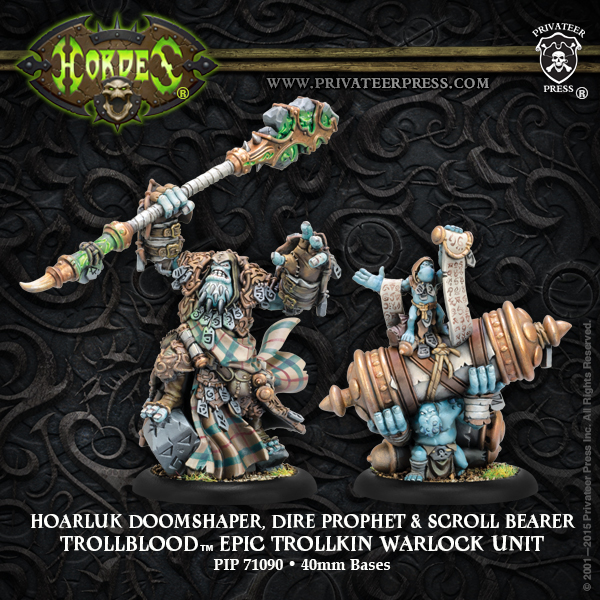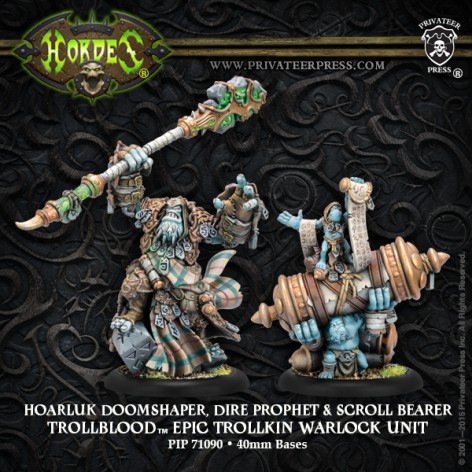 Let's take a look at the latest incarnation of Hoarluk Doomshaper and see how he holds up to his predecessors.
Few casters are fortunate enough to get three incarnations. Hoarluk is joining an exclusive club along with the likes of Haley, Stryker, Nemo, Deneghra, Goreshade, Kreoss, Lylyth, Makeda, Vlad, The Butcher and Asphyxious. That's quite a list. They're some of the most respected casters in the game, and Doomshaper stands up quite well in this company.
Doomshaper3 takes it back to his roots as a support/toolbox caster eschewing the aggressive assassination orientated role his second incarnation played. His spells are a mix of helpful buffs for his warbeasts and debuffs to throw at your opponent. His Scroll Bearer buddy is where it really gets interesting though. With this guy around, every warrior model gets an extra die on attack rolls dropping the lowest. That's just one of three abilities you can choose for this guy to use every turn. He can also let your warbeasts cast their animi for free, or force your opponent to pay double to cast or upkeep spells. It would be too good to be true, but the little pyg is pretty easy to kill, and to use his abilities he has to stay base to base with Doomy.
Doomshaper3 brings a pretty amazing tier along with him. While you can only take Pyg units, these are some of Trollblood player's favorites. Pyg Burrowers are an obvious choice, but you can also bring Fire Eaters since there is a Pyg model in the unit. Then there are the Bushwhackers which are suddenly a little more interesting with their new mortar/officer UA. You won't be able to take some of your favorite solos but the Scroll Bearer can help make up for the loss of a Fell Caller, and any characters you might want to take will likely play just as well in another list. The bonuses it offers to beast SPD and ARM first turn are perfect for the kind of aggressive play you want to win games through objectives. The discount to Gargantuans is also pretty useful given that Doomy3's feat will make them nearly unkillable for a turn, and one of the Scroll Bearer's abilities will let them cast their Animus and shoot a bunch of boosted ranged attacks.
Here's my first go at a Tier 4:
Hoarluk Doomshaper, Dire Prophet – WB: +3
– Scroll Bearer
– Glacier King – PC: 16
– Glacier King – PC: 16
– Pyre Troll – PC: 5
Troll Whelps – PC: 2
Krielstone Bearer & Stone Scribes – Leader & 3 Grunts: 3
– Stone Scribe Elder – Elder 1
Pyg Burrowers – Leader & 9 Grunts: 6
Northkin Fire Eaters – Leader, Grunt, and Pyg Buddy: 4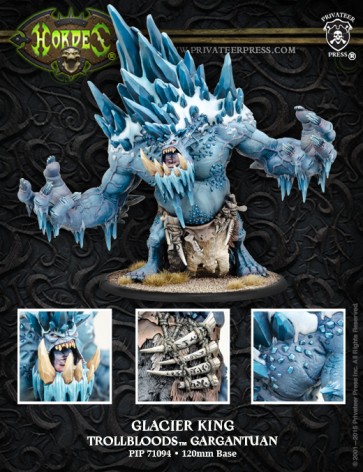 All the beasts will get a buff to SPD and both units can Advance Deploy. This means this is a list that will be able to make it up the field fast. If it looks like doing so will put your two gargs into charge range, no big. Doomshaper's feat will protect them. On your next turn, with the Pyre Troll animus and Repudiate to wipe any ARM buffs, the two Kings should be able to clean up just about anything. It's a pretty nasty trick that should be hard to counter. The downside is that if you feat defensively, you'll miss out on the boosted attacks from Blood of Dhunia. Running first turn means the Mountain Kings won't be able to use their Animi so they might get bogged down with jamming infantry. Of course they could always charge and animus if you don't mind missing out on four inches.
There is a downside to taking two Gargantuans and just one other beast. You don't get much use out of Goad, Implacable, and Admonition. And of course not everyone will want to buy two Glacier Kings. I think the bonuses Immovable Mountains offers are too good to pass on, but I only think the Glacier Kings are worth it if you take both.
Subscribe to our newsletter!
Get Tabletop, RPG & Pop Culture news delivered directly to your inbox.
Here is another list, just Tier 3 this time:
Hoarluk Doomshaper, Dire Prophet – WB: +3
– Scroll Bearer
– Dire Troll Mauler – PC: 9
– Mulg the Ancient – PC: 12
– Troll Axer – PC: 6
Troll Whelps – PC: 2
Krielstone Bearer & Stone Scribes – Leader & 5 Grunts: 4
– Stone Scribe Elder – Elder 1
Northkin Fire Eaters – Leader, Grunt, and Pyg Buddy: 4
Pyg Burrowers – Leader & 5 Grunts: 4
Pyg Bushwhackers – Leader & 5 Grunts: 5
– Pyg Bushwhacker Officer & Mortar – PC: 2
Northkin Fire Eaters – Leader, Grunt, and Pyg Buddy: 4
This list focuses more on Doomy's ability to buff infantry, while having a strong alpha strike component with Mulg, Goad, the Axer Animus, and (if you play your cards right) Admonition. It's almost as fast and the two heavies will be almost as difficult to kill on feat turn as the gargantuans. Looking at it now, I think it might still need to be tweaked a bit. I'd love to squeeze in an Earthborn but I'd have to take out a lot to make it happen.
I think Doomshaper 3 will also work splendidly outside of tier, but the range of models you could field with him is so vast I'm having a hard time pinning the choices down. Do you go Fennblades since you don't have to worry about spending the points on a Fell Caller, or run Scattergunners just because you can? There is one unit of note that he can't take in his Tier: Bone Grinders. Fortunately all Doomy's spells have a long enough range that I think he can get by without them.
Both of the lists I've presented do have a notable weakness. Other than the huge bases in the first list, there's nothing there to really protect Doomshaper. Admonition can help keep him out of trouble, but he'll have to leave his pyg pal behind when he moves. And it won't do anything to protect him from ranged attacks. Tough notwithstanding, Doomshaper is possibly the easiest caster in the game to kill. I'm curious to see if I end up having to find room for a Bouncer in these lists once I've tried them out a couple of times.
~Hope you enjoyed the article. How would you run Doomy 3?