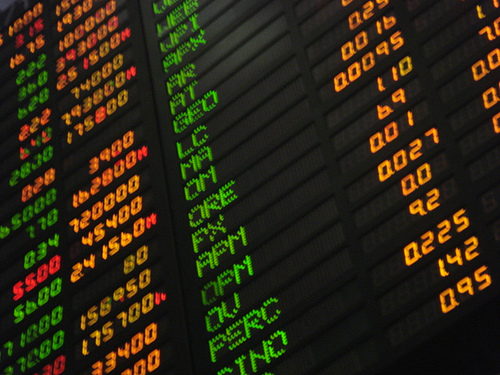 Games Workshop's Half-Year numbers are out – Get ready for a bumpy ride!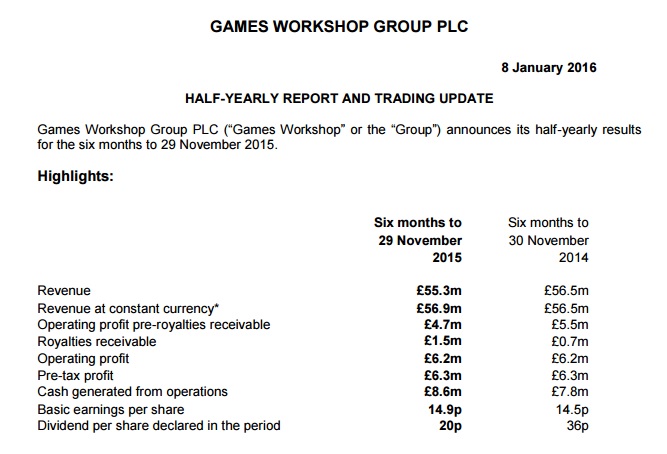 Kevin Rountree, CEO of Games Workshop:
We have made some good progress on our strategic initiatives all focused on delivering long term growth. Whilst we are disappointed with the decline in return on capital reported in the period, we are all confident that we are focused on delivering the necessary changes to address this decline.

In the period we launched some great new products and our new visitor centre has performed well.

December sales were below expectations across the Group. At this stage in the Company's financial year, the Company's internal projections indicate that pre-tax profit for the year to 29 May 2016 is unlikely to exceed £16 million. A further update will be made when appropriate.
via GW Investor Relations
We're going to take a quick look at the report for now in a "just the facts" manner – We'll take a deep dive in the days ahead.
Games Workshop Half-Yearly Report (Six months to November 29, 2015)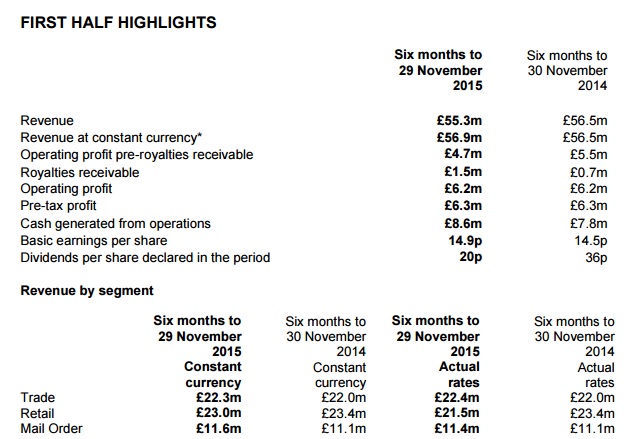 Sales Reported sales fell by 2.2% to £55.3 million for the period.
On a constant currency basis, sales were up by 0.7% from £56.5 million to £56.9 million;
Sales Channel Split:
Retail: £23.0 million (2014: £23.4 million)
Trade: £22.3 million (2014: £22.0 million)
Mail Order: £11.6 million (2014: £11.1 million)
Excerpts from the CEO:
Retail

This channel showed growth in non-core retail but was offset by declines in our core retail business. However on a constant currency basis sales were broadly in line with last year. We opened, including relocations, 22 one man store format stores and three multi man format stores in the period. We also started our trial of four multi man format stores in high footfall locations; Sydney, Munich, Paris and Copenhagen. After closing 13 stores, our net total number of stores at the end of the period is 430.

The key priority is store manager recruitment. On 9 November 2015, I appointed an expert in recruitment to my management team. This person will ensure we have a constant supply of retail store managers and trade recruiters and account developers. She will also work with me to review our global people strategy.

Trade

All key territories were broadly in line with last year. In the period, our net number of trade outlets increased by 61 accounts. To broaden our core trade product reach, in the period, we have designed a small new product range and are at present actively signing up distribution agents to sell this product into North America. We continue to work on other product formats to optimise other opportunities.

Mail Order

Sales in our online shops were up 5.3%.

Non-core

This includes licensing, digital, export, the visitor centre, non-strategic trade accounts, book trade, magazine and mass-market opportunities. Non-core sales were down by 2.5% from £7.8 million to £7.6 million due to declines in sales in digital, export and the book trade offset by growth in visitor centre and non-strategic trade sales. In the period, royalties receivable from licensing increased from £0.7 million to £1.5 million.

Operating Profit

Core business operating profit (operating profit before royalty income) fell by £0.8 million to £4.7 million (2014: £5.5 million). On a constant currency basis, core business operating profit increased by £0.1 million to £5.6 million. The net impact in the six months to 29 November 2015 of exchange rate fluctuations was a loss of £0.9 million. It is not the Group's policy to hedge against foreign exchange exposure.

Operating expenses increased by £0.3 million due to an investment in sales facing activities relating to new retail store costs. Costs remain a key area of focus.

Projects

We have three major projects being implemented currently: European ERP system replacement (enterprise resource planning) – on track. Forge World mail order store – this store was launched in August 2015 on time and within cash limits. Mail order warehouse system replacement – complicated project currently postponed until after the busy December trading period.
What's your take? Numbers don't lie but try to keep it civil!