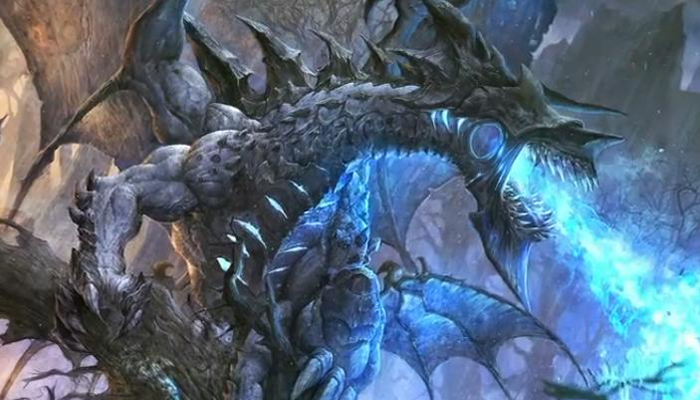 Today Immoren Loremasters, we delve into the vile spawn of the Dragons – a curse to all the Iron Kingdoms.
Dragonspawn are malformed, eyeless creatures spawned by dragons from their own blood. These twisted beasts defend the dragon and hunt its enemies to extinction. Though they are alive in the most basic sense of the word, dragonspawn are more like organic constructs created to serve their masters.
Spawn
Dragonspawn are created by dragons at will – never spontaneously – from their own blood. The number of spawn a dragon can create is limited by the power of his athanc. To create spawn, a dragon releases some of his blood which metamorphoses into a creature. New spawn are stringy, ravenous creatures compelled by a need of a great quantity of flesh.
Behavior
Dragonspawn are unswerving servants of the parent dragon. They act essentially as an extension of the dragon's form and will, and are willing to sacrifice themselves without hesitation to fulfil the will of their parent. When not under direct control, dragonspawn act according to violent instincts, hunting, slaughtering and feeding on other creatures.
Because the presence of spawn betrays a dragon's presence, they might choose not to create or create very few tightly-controlled spawn to avoid discovery.
Physiology
No two dragonspawn are alike: those birthed for speed might grow wings or assume the form of a lithe serpent, while those created to guard a dragon's lair may manifest multiple limbs. The only consistent elements across all kinds of spawn are a complete lack of eyes, thick bony scales and natural weapons. Despite the lack of eyes, spawn can detect their environment via blight-sensitive means.
Dragonspawn need food, but not sleep or other aspects of normal animal life. They can endure without food far longer than ordinary creatures, atrophying but not expiring. When given food, an emaciated dragonspawn can restore to full vitality and size with alarming speed.
Dragonspawn manifest traits of their progenitor. These manifestations vary between spawn and mark each of them as a servant of its parent. This is often the most reliable way to determine the parent dragon of a spawn because of their otherwise erratic anatomy:
Lexicanum
~Have at it, and contribute to the Warmachine Wiki here!