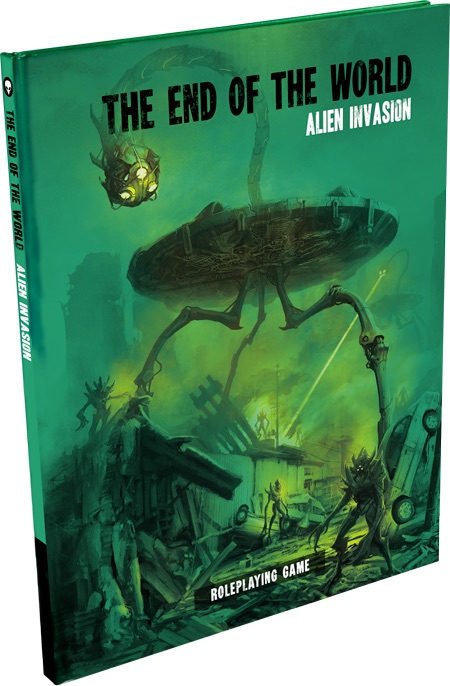 Would you survive the End of the World: Alien Invasion? Fantasy Flight Games wants you to find out!
Hey BoLS Readers! If you're an avid RPG player (or even an occasional one) Fantasy Flight Games has a really fun series you should check out. It's their "End of the World" Roleplaying Games. We've talked about them before. We just got our hands on the third book in the series which is the Alien Invasion version. Check it out:
Like I said last time:
While most RPG's have strong fantasy or sci-fi influences on the setting, the EotW series asks, "what would YOU do in this scenario?" Yes, you play yourself – or a slightly different version of yourself – in this game. And while many of you might be thinking of White Wolf and their system, what makes these scenarios different is that they literally drop you and your friends in to these End of the World situations and ask if will you survive.
This scenario is no different: How would you survive the Alien Apocalypse? But it doesn't end there! This book also has follow-up scenarios of how would you survive after civilization has "stabilized"  Post-Alien Invasion. This book doesn't just focus on one type of Alien – there are 5 different types of Alien Invasions with their corresponding post-invasion scenario. The campaign rules aren't that different from the previous versions because the core gameplay is based off the EDGE system. It is a very solid narrative driven RPG system so you can focus on story telling and not the mechanics.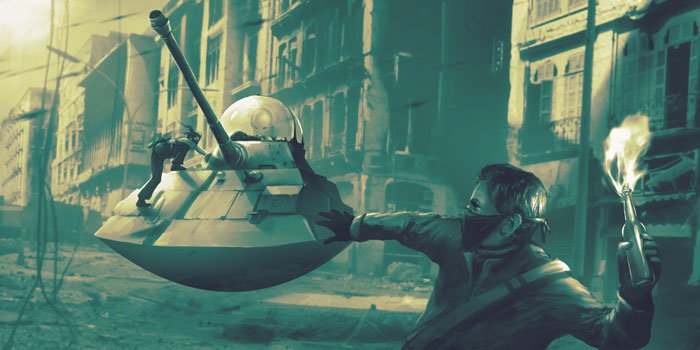 Most of the checks are simple matters of selecting the relevant stat, creating a dice pool based on positive and negative modifiers (more or less dice) and then you roll. If you have at least 1 dice that equal or lower to the stat, it passes. Obviously there are lots of ways to get those modifiers (situations, gear, assistance, etc) and that can add some drama to the roll – but for the most part this system is designed to be about ROLE play and not ROLL play. The core mechanics are less than a third of the book – and that includes character generation, stats & skills, and an introduction for people who have never role played before. So it's very clear and concise and I appreciated that!
The book itself is chalk full of cool art and LOTS of background/narrative info. It's hardback and it has the same high-quality production value we've come to expect from FFG. The 5 scenarios and their post-invasion stories reach deep into the Sci-fi roots of the pulp movies in the 40's and 50's. It's got some classic call outs to Orson Well's The War of the Worlds as well was the Sci-fi Horror Classic THEM!  and also Invasion of the Body Snatchers. Or if you are too young to know what those things are – then it's got aliens like in XCOM and THOSE giant Ants like in Fallout 3 and where we got the meme of that guy pointing and freaking out: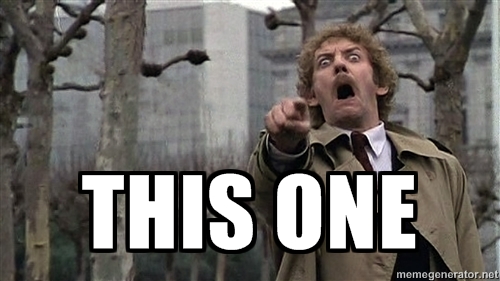 It also has some great throw-backs to more recent Alien tropes like Reptile Invaders and the Rise of Atlantis. So if you're more of an alien conspiracy theory fan then it's got scenarios for that, too! I really like this system and I especially like these scenarios. What's great about these is that your Game Master isn't supposed to tell you what type of aliens you're dealing with – you go in blind and just have to figure it out. That's part of the FUN! So go check out the End of the World System and the associated books from FFG:
via Fantasy Flight Games

Journey straight to the apocalypse with The End of the World roleplaying line, four settings of horror and survival set amid humanity's last days:
Zombie Apocalypse

Wrath of the Gods

Alien Invasion

Revolt of the Machines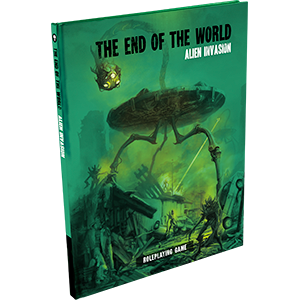 Earth has come under attack from extraterrestrial lifeforms! Mars may attack our civilization with a devastating invasion, or the aliens that live far beneath our oceans may enact a plan to flood the entire world. You may discover that your neighbors have been secretly replaced by alien copies, or that Earth is ruled by an Illuminati society of reptilian aliens. You may even do battle with massive alien ants that seek to transform the world into a colony.

Countless adventures await in the five scenarios included in Alien Invasion, the third book in The End of the World line. Orginally designed by Álvaro Loman and José M. Rey, this roleplaying game features an elegant, narrative ruleset that keeps the focus on the story. What's more, this book offers you the unique chance to play as yourself in the midst of the apocalypse, fighting for survival in your own hometown. A unique scenario structure makes Alien Invasion perfect for playing a single session or a far-reaching campaign. Make first contact and prepare for an alien invasion!
Welcome to Earth!