Privateer Press has a bunch of brand new products and minis on the shelves now.  Take a look!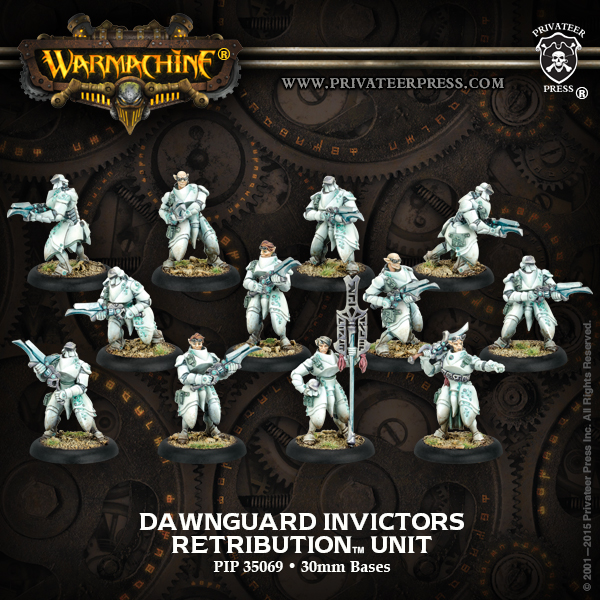 Invictors make up the bulk of House Nyarr's Dawnguard order. When supported by the formidable Iosan myrmidons, invictors are unsurpassed on the battlefield. Firing their weapons as they close, the invictors are ever ready to charge into the ranks of the enemy and cut them down with the heavy blades set into their rifles.

Dawnguard sentinels charge into the enemy as an overwhelming tide of cleaving blades. These heavily armored knights use their great swords to expertly carve through any adversary willing to stand against them. Sentinels embody sheer determination made tangible in flesh and steel and consider themselves guardians of the ideals of the Dawnguard.

Steelhead Mercenary Companies often include hardened horsemen, providing the speed and power of heavy cavalry at a reasonable price. Though they demand more than Steelhead infantry, employers consider the horsemen a bargain. The cavalrymen have a reputation as tough veterans who seek out the greatest risk because it brings them the best pay. Though some citizens in war- torn areas accuse them of banditry and looting, Steelhead officers insist their men are professionals who take only the normal liberties expected of any red-blooded soldier in a time of war.

While most equate gobbers with an aptitude towards the mechanikal, they are a race with varied talents and interests. Gobber Chefs are extremely creative, if unconventional, in their choice of ingredients; and many find themselves run out of town when too many local pets go missing. These misfit cuisiniers often turn their attention to the care and feeding of warbeasts embroiled in battle, far from their natural food sources. Most commanders welcome their presence, as fresh recruits are far more easily replaced than costly rations and supplies.

Privateer Press Experience Bundle
$127.99
More aliens are about to invade with the upcoming release of LEVEL 7 [Extreme Prejudice], the sequel to one of Privateer Press' most popular games ever, LEVEL 7 [Omega Protocol], a game you will love! So, what's more exciting than aliens? Getting those aliens—along with monsters and zombies— at a discount. The Privateer Press Experience Series bundle includes the following:
LEVEL 7 [Omega Protocol] – Comes with three promo cards and three promo figures
Iron Kingdoms Unleashed Adventure Kit – Comes with four promo cards
Zombies Keep Out! – Comes with two promo cards
~These are on store shelves NOW – so go get em while they are hot folks!  I'm loving that Gobber Chef myself!