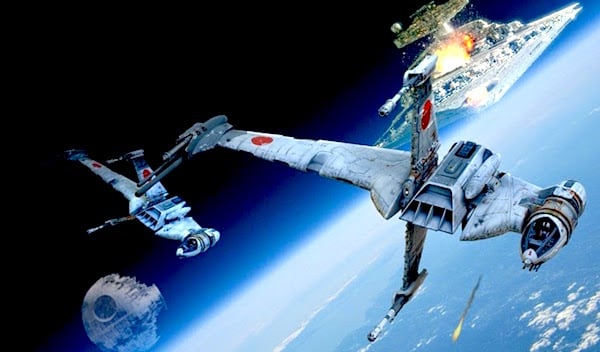 Admirals, today we're going to look at which capital ships benefit Rebel squadrons the most, and how to outfit them.
In part one of our series we reviewed the various squadrons available to any admiral of the Rebel Alliance in Star Wars: Armada.
Conventional wisdom will tell you that there are three rebel capital ships that pair best with squadrons: the imposing MC80 Command Cruiser, the nimble Assault Frigate Mark B, and the audacious Nebulon-B Escort Frigate. Each of these has a squadron value of 4, 3, and 2 respectively, which is arguably the most important thing to consider when looking at how you want to move/fly squadrons, and how many you want to bring to the table.
The MC80 Command Cruiser
The MC80 Command Cruiser can equip the Independence title, which vastly improves your slower squadrons, namely B-wings. This title emancipates B-wings from their usual role of a defensive fighter screen (good for warding off those black dice throwing, rerolling, Demolisher titled Gladiators and raider corvettes). A Independence MC80 can now launch 4 (5 with an expanded hanger bay) B-wing squadrons at your enemy with extreme prejudice, sending them off at speed 4. That's nothing to shake a stick at! This ability pairs well with Adar Tallon, too, allowing you to activate said slow squadrons a second time in a turn. Personally, I'd equip this thing with boosted comms every time. That lets you control those squadrons at long range, allowing you to stay at medium/long range of those enemy star destroyers, throwing out your red and blue dice with abandon. A wing commander filling your officer slot isn't a bad option either, especially if your squadrons are the focus of your fleet design. As I've mentioned before, Engine Techs are almost a necessity on the MC80; otherwise you may be stuck in the front arc of an ISD for longer than you'd like.
Assault Frigate MkII B
Many will argue that the Assault Frigate Mark II B is the best medium-sized carrier in the game, and I wouldn't disagree. It is fast (speed 3 heyoo), reasonably tough, and can equip the same squadron focused upgrades the MC80 can (namely the boosted comms and wing commander upgrades). The Gallant Haven title is fantastic and can save your squadrons from imminent death, but it's expensive at 8 points, and really only useful if you're flying your Assault Frigate in close with your squadrons, due to the 'distance 1' limitation. I've seen it come into play in the Hyperspace Assault scenario though. Flight Controllers are also very nasty, especially versus squadron-heavy fleets.
Here's a thought: three Assault Frigate Mark II B's all equipped to ensure your bombers getting feisty with your opponents capital ships. Nice.
Nebulon B Escort Frigate
Finally we have the Nebulon-B Escort Frigate. The cheapest of the bunch but still decent with a squadron command value of 2, it can equip the Yavaris title, which is really, really good. This title is probably the best of the bunch, especially if you use it in conjunction with Dutch Vander and Wedge Antilles for that crazy one-two punch. Ouch. Unfortunately boosted comms has changed the name of the game when it comes to carrier fleets, and the Nebulon-B can't take it, having to get up close and personal with your opponents capital ships if you intend on guiding your bombers in for the knock out blow, and the Nebulon-B with it's 3 red dice in the forward arc and fragile hull/shield values (especially in the side, oh gosh) really wants to hang back and snipe ships from a distance.
When it comes to objectives, I find that carrier fleets really want to play to a scenario, and as such an initiative bid is essential. Precision Strike and Superior positions both allow you to use your squadrons to score you some much needed extra points, and Hyperspace Assault lets you position an assault frigate and a good chunk of your squadrons to your opponent's oft vulnerable rear.
Example Carrier List
Here's a fun, effective carrier list that I've flown with a good deal of success:
Faction: Rebel Alliance 
Points: 395/400 
Commander: General Dodonna
Assault Objective: Precision Strike 
Defense Objective: Hyperspace Assault 
Navigation Objective: Superior Positions 
Assault Frigate Mark II B (72 points)
–  Wing Commander  ( 6  points)
–  Flight Controllers  ( 6  points)
–  Boosted Comms  ( 4  points)
–  Electronic Countermeasures  ( 7  points)
CR90 Corvette B (39 points)
–  Tantive IV  ( 3  points)
–  Leia Organa  ( 3  points)
[ flagship ] MC80 Command Cruiser (106 points)
–  General Dodonna  ( 20  points)
–  Adar Tallon  ( 10  points)
–  Engine Techs  ( 8  points)
–  Boosted Comms  ( 4  points)
–  Electronic Countermeasures  ( 7  points)
4 Y-Wing Squadrons ( 40 points)
1 A-Wing Squadron ( 11 points)
1 Dash Rendar ( 24 points)
1 HWK-290 ( 12 points)
1 X-Wing Squadron ( 13 points)
How do you fly your rebel squadrons? What capital ships do you pair them with? Let us know in the comments below! Good luck and good hunting, commander!
Jonathan is a sci-fi author and a X-Wing Miniatures and Star Wars: Armada fanatic. You can visit his website and check out his recent novel and other writings at: