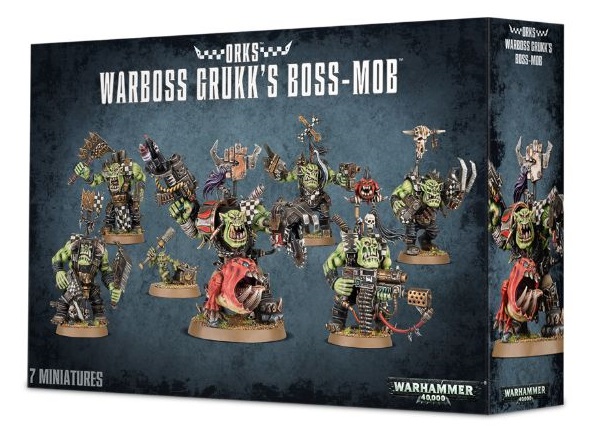 The Tabletop Spotlight is on Warboss Grukk's Boss-Mob!
Get ready for some Kruppin' – Da Orks is BACK! Our friends at Dragon's Lair Comics & Fantasy brought over Wars Grukk's Boss-Mob. This kit brings back one of the coolest Ork Warboss miniatures GW ever put out. If you missed picking him up from Stormclaw now is your chance:
Not only does Grukk coming in a new box, he brought some friends along! The Old School Ork players out there might recognize the Nobs coming with Grukk. They are the same orks from the Ork Nob kit, which is a pretty great kit to begin with. At the price point, this basically saves you around $5 – If you were needing some extra Nobs and a cool new Warboss. Grukk probably could have been a solo clam-pack miniature from GW for $30. Instead he's packaged with the excellent Ork Nob Kit and they all come with some extra rules for the Legendary Ork Warboss' crew as well.
The models themselves are exactly what we've come to expect from Games Workshop – so no complaints there. I really love the Attack Squig! I almost wish that was on it's own base because it's such a cool doodad. There is also a sneaky ammo runt running around with these guys, again, another great mini. Again, GW managed to squeeze ton of stuff on the sprue so you have a lot of options to build your Nobs with – I do love all the options. If you're an Ork player or thinking about getting into Orks you can't go wrong with another Warboss and 5 more Nobz!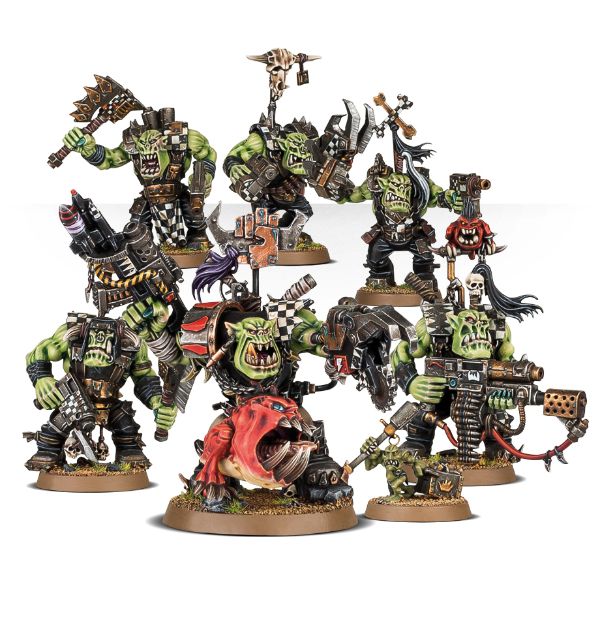 A huge brute even by ork standards, tall, muscular and imposing, Grukk Face-rippa is an absolutely terrifying sight. Hard as iron, with a fearsome reputation for absolutely stunning violence, many orks consider him blessed by Gork himself. Naturally, such a massive and killy ork draws others to him inexorably – accompanied by a coterie of nobz, he runs roughshod over the galaxy, conquering every planet he sees and leaving nothing behind but fearful whispers – even the orks he commands are utterly terrified of this enormous, roaring force of nature.

This box set contains Grukk Face-rippa's Boss Mob – including Grukk Face-rippa, armed to the teef with a kombi-weapon and his notorious power klaw; an ammo runt and five Nobz featuring a host of ramshackle weapon and customisation options.
We don't fight fer food, or fer teef, or guns, or cos we's told to fight. We fight cos we woz born to fight. And win.