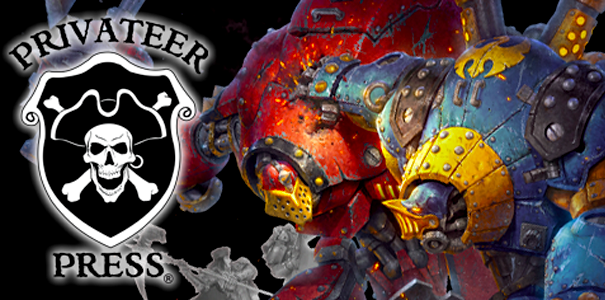 We've all been waiting for it – new editions of Warmachine/Hordes are coming very soon.  Here's the details:
Privateer Press Announces All-New Editions of WARMACHINE and HORDES
Bellevue, WA, April 11, 2016 — Privateer Press has announced new editions of its award-winning WARMACHINE and HORDES tabletop miniatures games. The new editions will be released worldwide in independent hobby game stores on June 29, 2016. Privateer Press will release the new Core Rules for each game for free online on June 12, 2016. Players will get their first chance to play the new edition at Lock & Load GameFest 2016 in Bellevue, WA, held June 10-12.

"The current editions of the games are now six years old," said WARMACHINE and HORDES creator and Chief Creative Officer Matt Wilson. "During that time we've accumulated a tremendous amount of knowledge and experience from observing, listening to, and interacting with our worldwide community of players and retailers about how to continue to improve their experience with our games. After years of intensive work, we're finally ready to share the outcome of that process and give our community what they've been asking for in our games."

The new editions of WARMACHINE and HORDES have been updated and redesigned to be quicker to learn while providing a more intuitive game play experience. Releasing alongside the new core rulebooks—WARMACHINE: Prime and HORDES: Primal—will be twelve new Faction Decks, one for each faction in the games. Each Faction Deck contains copies of every stat card previously released for that faction, updating a player's entire card collection to the new edition.

Additionally, nine new Battlegroup Starter Boxes will be available at launch, and each one will introduce a new warcaster or warlock character to the games along with all the models needed to form a complete starting battlegroup. Warcasters and Warlocks are the leaders of their factions and greatly influence the performance of the player's army on the tabletop. The Battlegroup Starters, offered at $39.99 MSRP, will also contain a Rules Digest, a Basic Training Tutorial Guide, four dice, model stat cards, a Battle Map, an obstacle card, tokens, a flexible 18" ruler, a 22-page Introductory Guide featuring army building advice, a hobby painting tutorial, a faction strategy guide, and new fiction about the warlock or warcaster in the box.

German and French language translations of WARMACHINE and HORDES will also be available through their partners Ulisses-Spiele, Victoria Games, and Cerberus Entertainment upon launch on June 29th and at localized events like the Lock & Load Outposts on June 11th.

Privateer Press is a recognized industry leader in creating a wide variety of engaging casual and competitive Organized Play experiences. Along with new books, faction decks and Battlegroup Starter Boxes, Privateer Press will unveil refreshed Organized Play offerings, including a worldwide Full Steam launch event at participating independent hobby game stores, new casual Journeyman and Narrative leagues, and competitive Steamroller events.

The launch will feature different promotions throughout the world. In North America three different launch kit bundles will be offered through Privateer's distribution partners, each designed for a particular community size and stock volume of independent retail stores. Launch kits will ship with a special Field Kit promotional giveaway bundle that includes a branded dice bag, glue, card sleeves, and a dry erase marker with the purchase of a new Battlegroup Starter Box. Launch Kits also include a free Journeyman League Kit to get new players started in the game and four demo battlegroups that can be used to teach and promote the games. Deluxe and Premium launch kits will also ship with additional upgrades, including replacement card decks and a Full Steam Launch Event Kit. Premium launch kits will also include a free a demo table and one free, signed, limited-edition copy of WARMACHINE: Prime and HORDES: Primal.

Privateer Press will be releasing much more information about the all-new editions of WARMACHINE and HORDES leading up to Lock & Load GameFest 2016 at PrivateerPress.com, and on Facebook and Twitter.
As Privateer said – this one has been a long time coming.  V2 is 6 years old and was starting to get a bit tattered about the edges with so many rules and units all over the place.  It will be great to see the game get it's 3rd edition and a tune-up and rebalance.
Privateer has a new site set up for the announcement here:


~More as we get it.