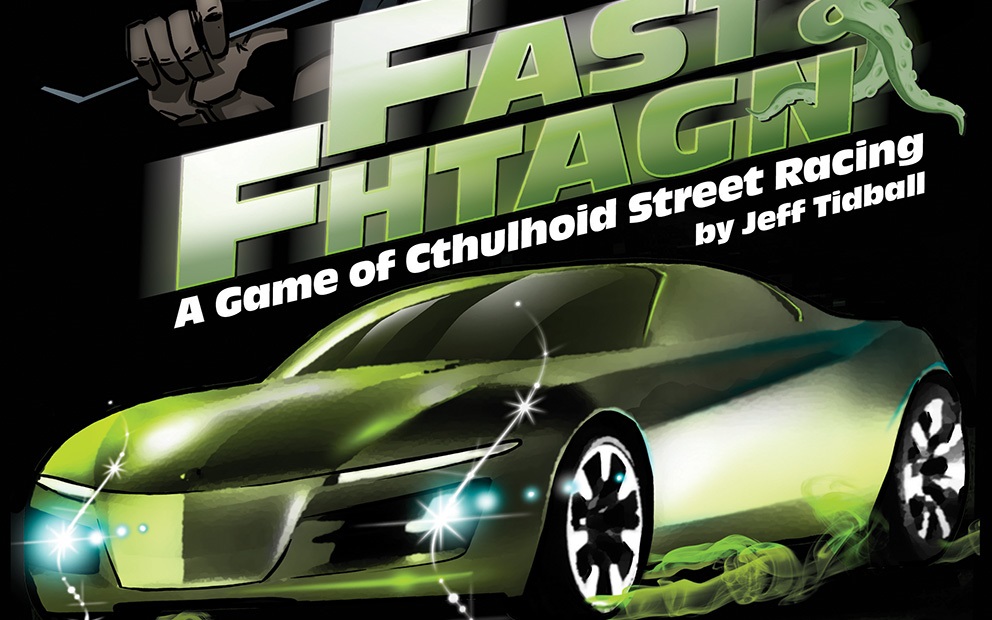 The Tabletop Spotlight is on A Cthulhoid Street Racing Game: Fast & Fhtagn!
Yes folks, you read that right – I can't make this up. Our Friends over at Dragon's Lair Comics & Fantasy busted out the MOST Cthulhu inspired Street Racing Game I've EVER seen…really the only one I've seen…It's Fast & Fhtaghn:
I'm not really sure how to tackle this one other than to say it's actually a bit more complicated than you might think, but not so complicated that it's unfun or boring. This game actually has some good mechanics for a very light street racing simulation. It's just also happens to have a Cthulhu theme! And they do have some fun with that theme. It's very light hearted and full of puns so I wouldn't take this game super serious.
The components are pretty well done for what is basically a card game with some extra fancy inserts. There are a couple of different decks which you use to generate Actions or Mods on your Cars. There are also some specialty Crew cards that have in game effects as well. Some of those include names like "Fin Diesel, Deep One" and "Bikini Model Of Curious Proportion" – again, this game is very tongue-in-cheek.
I would say that the game play is fast and furious – but it's actually more strategic than you might think. The racers (players) are basically driving in an illegal street race (with rules of on-coming traffic and all). You're trying to jockey for position while keeping your car from getting wrecked and avoiding street obstacles like pits to the void. The art style is fun and there are plenty of H.P. Lovecraft jokes as well.
Honestly, I never thought that a card game based on street racing could be this…good. But coupled with the theme it all kind of works together and it's a fun pick-up game. Just toss on your favorite Fast and/or Furious movie, grab a cold one and a few buddies and have fun – it's not like you're going to summon an old one in your living room for playing it, right?

Fast & Fhtagn is a component rich card game where players jockey for position on crowded, dangerous city streets. As the pack hurtles through an everchanging urban landscape, racers must squeeze out their adversaries, accumulate style points, and keep their vehicles running smoothly even as dangers rain down and other drivers plot inhuman violence against them.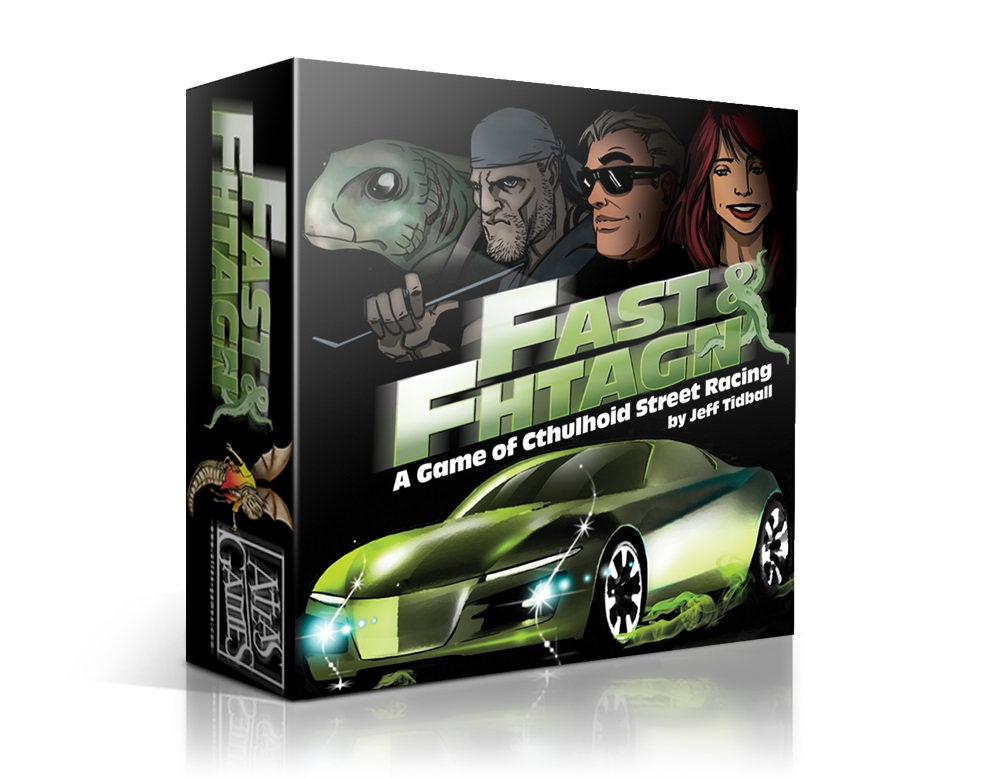 Diverse strategies keep Fast & Fhtagn exciting.
When oncoming lanes are clear, they're a great way to get ahead, but if an unanticipated median lies around the next bend, you might get stuck in oncoming traffic.

The sidewalk's another option, but it's impossible to tell when the roadside might be blocked by radioactive waste or a portal to another dimension.

Pulling over at a chop shop might help you install the mod that'll put you over the top, but will the time you you're standing still give away an insurmountable lead?

And then there are your opponents, who'll gleefully sideswipe you off the road, into civilians, or worse.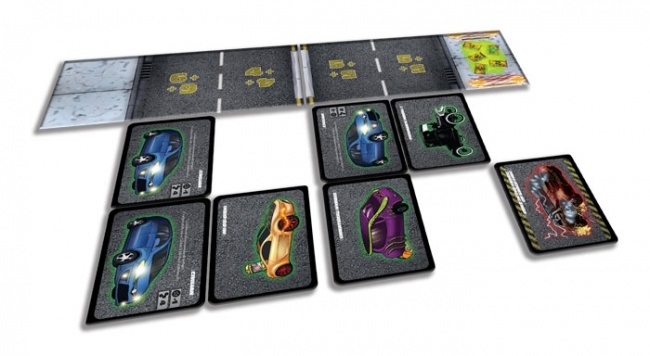 Climb aboard your Cycle of Self Doubt. Open a canister of Hypnos Oxide. Plant a lucky kiss on your Perverse Bobblehead of Ulthar. If disaster strikes, perhaps there'll be a Welder Thing at the chop shop up ahead.

Be fast! Get fhtagn! Winners bask in glory, losers get fed to the Great Old Ones!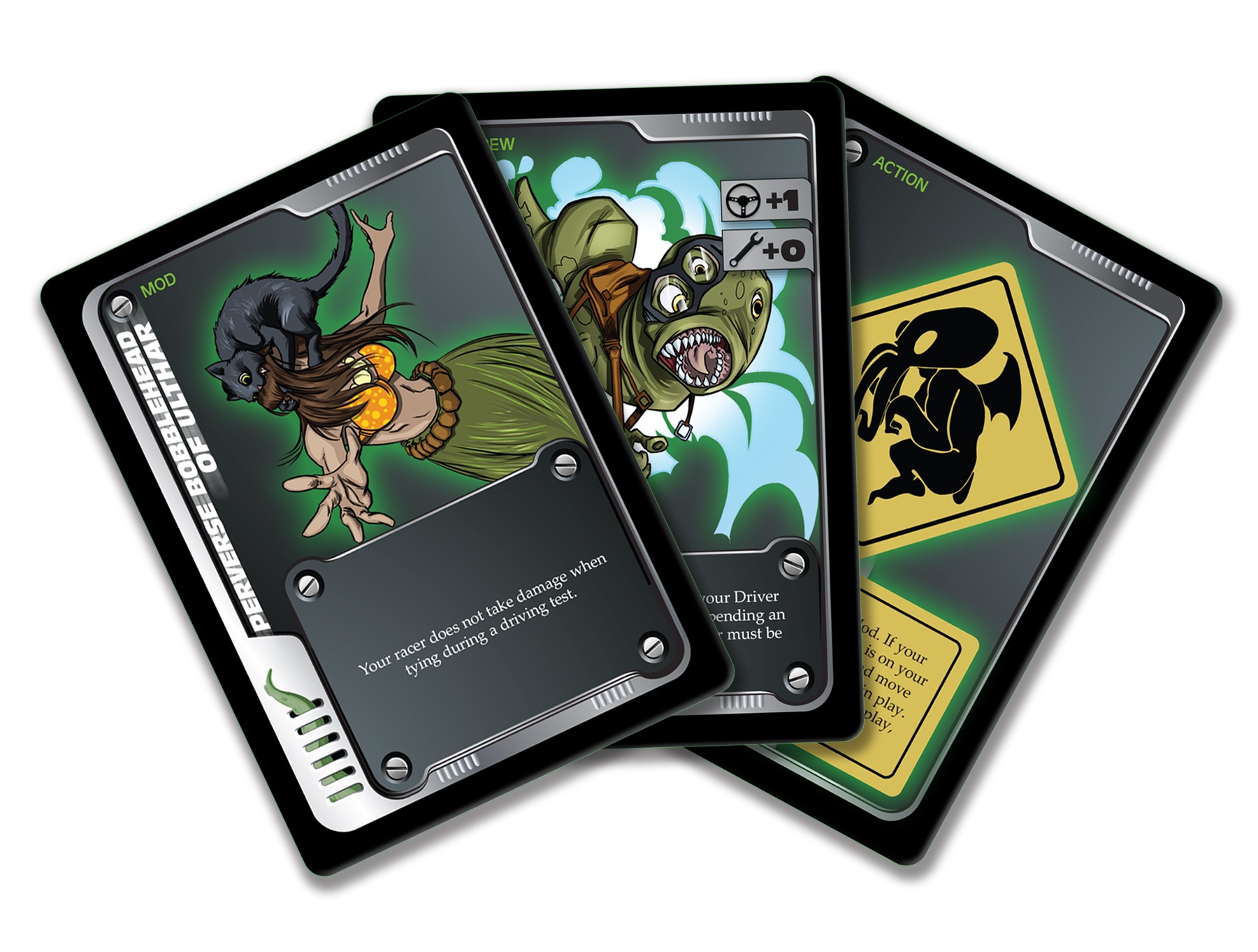 It doesn't matter if you win by an inch or a mile…