40k SN Battle Report: Eldar Corsairs vs Tau Empire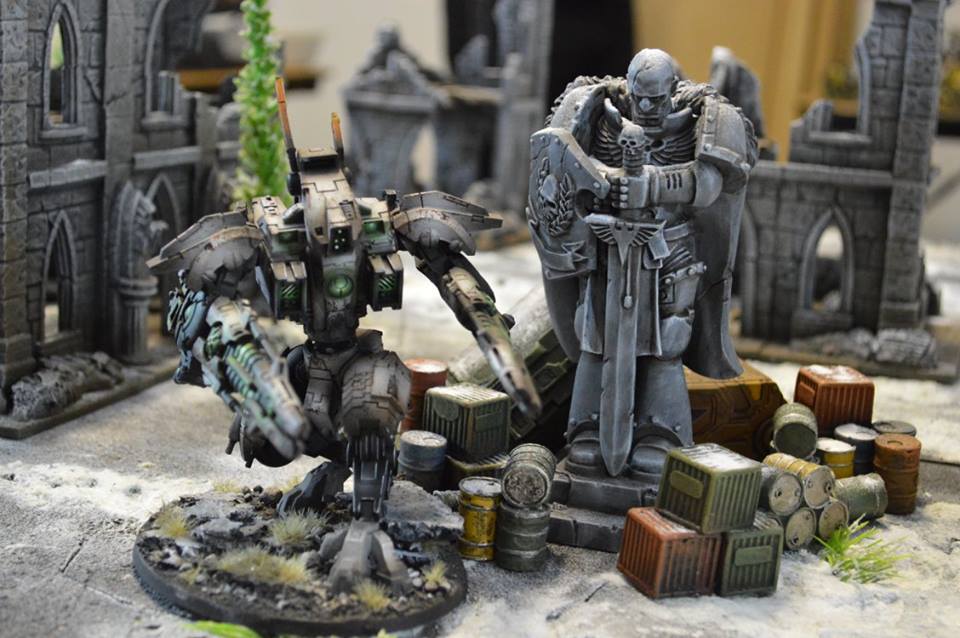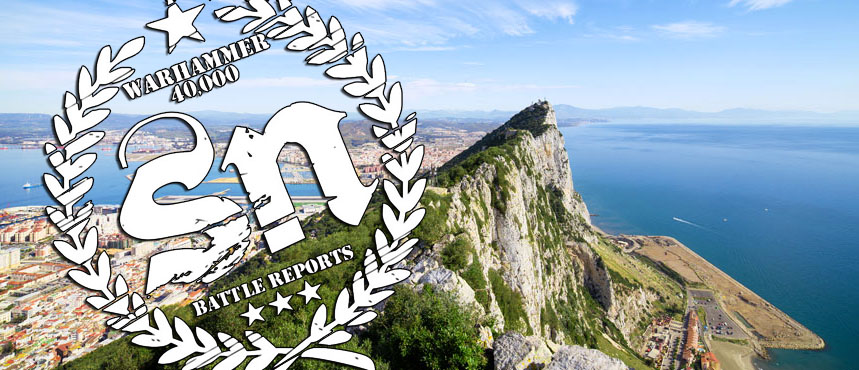 SN Battle Reports brings you their 50th Battle Report!
The lumbering XV107 knelt down, a pneumatic hiss revealing the Shas'vre under its armoured carapace. Climbing on to his battlesuit's shoulder, Vral surveyed the scene before him. An expanse of ruined Imperium buildings met his gaze. The burnt out husks of Craxis were once part of a bustling neo-gothic Administratum complex long ago visited by an unknown end. The Fire Warrior's mission was simple: protect the Gue'la cargo container in the ruins of the centre plaza until relieved by a Strike Team and support .The honour of being Monat came with a great responsibility, Freedom Of One was not granted lightly by the Shas'O.
The XV107 R'Varna Battlesuit is a rare and formidable example of Tau technology and ingenuity. The R'varna could at a moment's notice deploy its fearsome long range firepower on any given target. Perfect to bring the mission at hand to a triumphant conclusion. Vral was conscious of the great trust placed in him by his commander, the distinction of piloting this wonder of Earth Caste engineering was not lost of him, or on his peers.
On the other side of the ghost-city, raiders assembled. Eldar Corsairs of the Void Dragon fleet had been tracking the Imperial cargo containers for weeks and had now made planetfall on Craxis, determined to recover the hastily dropped Imperial merchant consignment. The Corsair jetbike scout squadron sped ahead at the behest of Prince Authul, weaving through the wrecked buildings, fast approaching their coveted prize.
Mission: Central Objective + Kill Points
Points: 1750pts
Deployment: Hammer & Anvil
Corsair Raiding Fleet Company:
–Command Crew–…
Corsair Void Dreamer
Corsair Jet Pack, Mastery Level 1, Shadow Field
Subscribe to our newsletter!
Get Tabletop, RPG & Pop Culture news delivered directly to your inbox.
–Coterie–
Sky Burners
HQ
Corsair Baron
Corsair Jet Pack, Shadow Field
Troops
Corsair Reaver Band
Corsair Jet Packs, 3x Corsair w/ Lasblaster,
2x Corsair w/ Fusion Gun
Corsair Reaver Band
Corsair Jet Packs, 3x Corsair w/ Lasblaster,
2x Corsair w/ Flamer
Fast Attack
Corsair Nightwing
Corsair Kinetic Shrouds
Corsair Phoenix Bomber
Corsair Kinetic Shroud
2x Nightfire Missile Launchers, Pulse Laser
Heavy Support
Corsair Warp Hunter Squadron
Corsair Kinetic Shroud
2x Corsair Warp Hunters
–Coterie–
Head Takers
HQ
Corsair Prince
Corsair Jet Packr, Shadow Field, Survivor of Endless Darkness, Void Sabre
Troops

Corsair Cloud Dancer Band
3x Cloud Dancer w/ Scatter Laser
Heavy Support
Corsair Balestrike Band
Corsair Jet Packs, Corsair w/ Lasblaster,
4x Corsair w/ Shuriken Cannon
–Coterie–
Night Hunters
HQ
Corsair Baron
Corsair Jet Pack, Shadow Field
Troops
Corsair Reaver Band
Corsair Jet Packs, 3x Corsair w/ Lasblaster,
2x Corsair w/ Fusion Gun
Heavy Support
Corsair Balestrike Band
Corsair Jet Packs, Corsair w/ Lasblaster,
4x Corsair w/ Eldar Missile Launcher
HQ
Commander…
2x MV7 Marker Drone
XV86 Coldstar Battlesuit
Shield Generator, Stimulant Injector
Elite
XV25 Stealth Battlesuits
Stealth Shas'ui with Burst Cannon, Stealth Shas'ui with Burst Cannon
Stealth Shas'vre
Fusion Blaster
XV95 Ghostkeel Battlesuits
Ghostkeel Shas'vre
Counterfire Defence System, Cyclic Ion Raker, Stimulant Injector, Twin-linked Fusion Blaster
XV95 Ghostkeel Battlesuits
Ghostkeel Shas'vre
Counterfire Defence System, Cyclic Ion Raker, Stimulant Injector, Twin-linked Fusion Blaster
Troops
Strike Team
10x Fire Warrior with Pulse Rifle
Strike Team
10x Fire Warrior with Pulse Rifle
Fast Attack
Barracuda Air Superiority Fighter [FW]
Disruption Pod
Pathfinder Team
9x Pathfinder
Pathfinder with Ion Rifle
Ion Rifle
XV9 'Hazard' Close Support Team [FW]
2x MV1 Gun Drone
Hazard Shas'yr
Stimulant Injector, Twin-linked Burst Cannon, Twin-linked Burst Cannon
Heavy Support
XV107 R'varna Battlesuit [FW]
2x MV84 Shielded Missile Drone, Stimulant Injector
XV88 Broadside Battlesuits
Broadside
Early Warning Override, Twin-linked High-Yield Missile Pod, Twin-linked Smart Missile System
Broadside
Early Warning Override, Twin-linked High-Yield Missile Pod, Twin-linked Smart Missile System
Please feel free to like, share and comment! ENJOY
More info on No Retreat 3 at www.snbattlereports.com