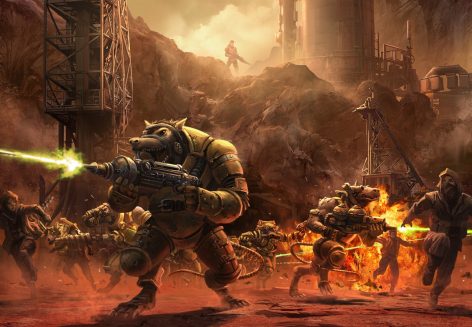 Want to add some flavor to your Veer-Myn strike teams? Check these options out…
Let's discuss how to incorporate models from the Veer-Myn Faction Booster set into your strike teams. When playing your games, don't feel bound to use the lists I presented, be bold and experiment with different models to better suit your play style. Come join the Mantic forums to share your lists and strategies!

Growing the Nest

In addition to the Brood Mother and Night Terror models already included in the Queen of Terror list, the Veer-Myn Faction Booster also provides a Rumbler weapon platform and 5 Maligni to further fill out your Strike Teams. Though it is difficult, it is possible to include a Rumbler in a 100 point list. The super heavy chem spitter provides the Rumbler with an R8, AP2 suppression weapon. Even better, the weapon comes with Weight of Fire (1) assisting with the platform's shoot value of 5+. Alternatively, you could use the super heavy chem thrower, an AP2 weapon that hits every model in the target cube. Keep in mind however, that this weapon only has R3 and makes the platform Volatile as well.

Maligni are the shock troops of the Veer-Myn, outfitted with more powerful weaponry than common troops. The chem thrower is a short-ranged flamethrower style weapon, cheap but highly effective against crowded cubes. The chem spitter is a R6 weapon with AP2. Its Rapid Fire ability can be used for additional suppression if needed, though it is usually better utilized in targeting high armor targets. The chemical grenade launcher sacrifices the usual AP of Veer-Myn weaponry for indirect (4). This allows you to shoot at models you cannot draw line of sight to, as well as causing the usual frag effects of throwing and pinning any hit models. Don't forget that Indirect weapons cannot target any models within 2 cubes of the shooter!

 

Flood of Filth

Progenitor
– Chem thrower
Leader
34
Nightcrawler– Ray gun
Troop
12
Nightstalker– Ray pistol
Troop
10
Nightstalker– Ray pistol
Troop
10
Nightstalker– Ray pistol
Troop
10
Malignus
– Chem thrower
Specialist
18
Grenade
Common Item
6
Total
100

Veer-Myn don't enjoy being outnumbered. With two chem throwers and a grenade, you shouldn't have too much trouble dealing with clustered enemies. This forces your opponent to spread his forces, making them easier targets for your Nightstalkers to rush in and gang up on them. While extra shoot actions with the chem throwers can be quite effective if your opponent hasn't learned to spread his forces, the short range of this list's weapons generally makes shoot action command dice less helpful. Rerolling for additional move or splat dice will help you get close quickly, at which point +1 dice and fight dice will probably be more useful. Extra activation dice are also useful for trying to secure the initiative.

Give the grenade to the Nightcrawler and keep him close to your Nightstalkers as they advance. At worst, he will incentivize your opponent to spread his models thinner, and at best he can drop a grenade into the middle of a cluster of enemies. If nothing else, he adds an extra body to a combat providing +1 dice to friendly model fight actions. Don't forget about his ray gun. While not especially powerful, it does have both Weight of Fire (1) and Rapid Fire. None of the models in this list are wearing armor, so it is important to hug terrain and prevent your opponent from firing as often as possible. When they do shoot, try to make sure they never have full line-of sight.

Queen of Terror

Brood Mother
– Chem Staff
– Claws
Leader
38
Nightstalker– Ray pistol
Troop
10
Nightstalker– Ray pistol
Troop
10
Nightstalker– Ray pistol
Troop
10
Night Terror– Scythes
Specialist
26
Smoke Grenade
Common Item
3
Smoke Grenade
Common Item
3
Total
100

This strike team ignores meaningful ranged combat in favor of melee. Three Nightstalkers form the backbone of the force, granting cheap melee options as well as potential fodder for the Brood Mother's Bodyguard ability while she slowly makes her way toward the enemy. The Night Terror should reach the enemy rather quickly if you can make sure he survives the trip. This is what the smoke grenades are for. Equip two Nightstalkers with them and have them follow your Night Terror to help protect him. Line-of-sight cannot be drawn into or through a cube with smoke in it. Additionally, drawing line-of-sight through a cube adjacent to a smoke-filled cube grants a -1 shoot penalty.

Move action command dice will be very important, both for getting into combat early and often, as well as for trying to move the Brood Mother toward the enemy as quickly as possible. You should almost always reroll shoot action command dice, in favor of fight, +1 dice or +1 activation dice. Also try to keep a splat dice around to protect your Brood Mother, especially if your opponent fires a high AP weapon at her.
The Veer-Myn Faction Starter and Faction Booster for Deadzone are available for pre-order now!