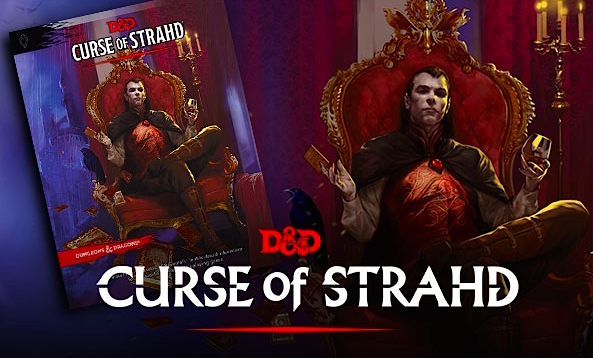 The Tabletop Spotlight is on The Curse of Strahd Dungeon Master's Screen!
Hello again BoLS Readers! If you've played D&D you know the importance of a good DM Screen, doubly if you've run your own game. Well, Gale Force 9 has paired with Wizards of the Coast to put this DM Screen together and our buddies at Dragon's Lair Comics & Fantasy brought it over to show off:
I'm a big fan of the Curse of Strahd setting. This is the perfect DM screen for running a "Strahd" game. Why? Because it's got MAPS! It's got full color maps on the inside of the screen – just like the ones that were included with the book (or on the poster inside the book). On top of that it also has some handy charts for the DM to quick reference. Unlike other DM screens, it doesn't have a ton of the quick reference rules. That's not a bad thing because that's mostly generic info and the charts on the screen are specific to Strahd.
It's also a much longer screen that I'm used to – it's got an extra section (4 total) vs the more traditional 3 section screens. I liked the added "hidden" surface area this creates for the DM. It's perfect for hiding your notes, rolls and maybe even your laptop behind it!
And speaking of laptops & computers, I know there is a push by a lot of DMs to just run everything from their computer screen, so why use the DM Screen? Ambience! Character! Mystery! There is something special about having that screen up there that teleports the players into a magic world of RPing. That and the sweet artwork on the cover! What better way for Strahd to taunt the players than a constant reminder that he's out there with his face plastered on the DM screen. If you've read through the book/campaign you know how Strahd likes to mess with players.
Overall, I think this DM screen is a nice complement to the Curse of Strahd campaign and books. If you're a player think about picking one up for you DM as a way to say "thanks for running the game!" If you're a DM, demand your players buy this for you or you'll kill there character G.R.R. Martin style…Okay, maybe that's a little too far. Either way, its worth picking up for your D&D games and it's in stores now, Go check it out!
This screen is the perfect companion for those Dungeon Masters running the Curse of Strahd adventure, or any trek through Barovia. The front includes contrasting images of Count Strahd von Zarovich while the back provides maps for Castle Ravenloft and surrounding Barovia, as well as random encounter tables for both.