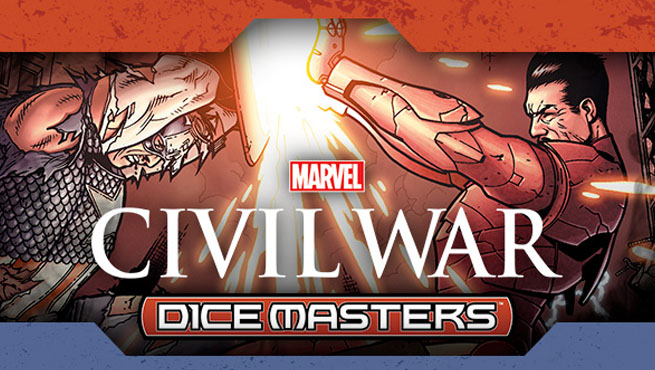 The Tabletop Spotlight is on Marvel Dice Masters Civil War Collector's Box – Who's side are YOU on?
Hey BoLS Readers! With the Movie out and it smashing the competition it's no surprise that Marvel's Civil War is hot right now. One would expect to see a lot of tie-in products related to the movie. This is actually NOT a Movie-tie in product. As our friends from Dragon's Lair Comics & Fantasy were pointing out, this is actually related to the comic event and also Dice Masters. Take a look:
This box is designed for the Dice Masters Collector in mind. If you're not familiar with Dice Masters it's a pretty neat/quick game. If you've ever played a collectible card game, replace the cards with dice and you've got a good start understanding what exactly a "dice building game" is.
Wizkids actually has a quick How To Play video as well:
Now, as for the actual contents of this Collector's Box – this box adds another 20 custom dice, a bag 10 more action cards a pair of dice storage trays and a whole lot more. The art work is all from Marvel so you know it's going to be comic book quality as well. The dice storage trays are actually really, really important! Why? Because Dice Masters is a collectable game – that means you get "boosters" with random cards and dice.
Where do you store all those cards and dice? Well for anyone who's played a CCG you know you'll have binders and deck boxes for your stash of cards. But those dice…That's where this Collector's box comes in! Those dice trays let you easily organize and store you collection. Plus they have plastic tops that prevent the dice from rolling around. This may seem like an unimportant thing to the inexperienced, but if you ask any serious collector they will tell you – it makes storage and transport a LOT easier.
The box also includes 4 Marvel Dice Masters: Civil War Foil Packs – when we unboxed the contents, we weren't 100% sure if they were random or not. We only had the single box so we didn't have a way to really check and the WizKids website was not clear either. On the plus side this collector's box is a great way for a single player to jump in to playing Marvel Dice Masters: Civil War. You could also buy the starter set and have a fairly substantial collection ready to play. Either way both products (as well as the booster packs) are in stores now – so go check it out!
The Marvel Dice Masters: Civil War Collector's Box is a great space to store your Dice Masters collection! It has a limited edition Full Art promo card and everything one player needs to get started*! Improve and complete your team to crush the competition by collecting more cards and dice in foil packs and other sets!

Each Marvel Dice Masters: Civil War Collector's Box contains:

20 custom dice
1 felt dice bag
10 Basic Action Cards
4 Indicator Cards
1 Full Art Promo Card
4 Marvel Dice Masters: Civil War Foil Packs
2 dice storage trays that hold over 300 dice
*Additional boosters are recommended to complete a team.
Marvel Dice Masters: Civil War – putting the "Civil" back into throwing dice at your friends. Wait a minute…