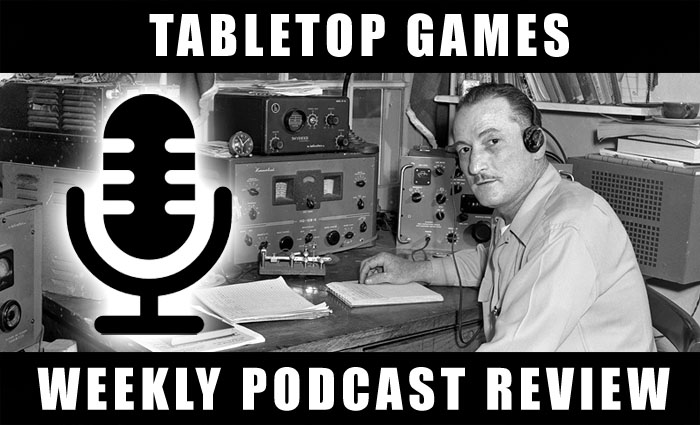 Hey all, Bahkara here for another week of reviews! 
This week we are seeing a lot of talk about Death From the Skies and more Warmachine Mark 3 talk. So let's get on with the reviews!
Combat Phase Episode 146 – This week they interview author Guy Hayley again. Although last time they talked in general terms, this week they focus more on his latest book for The Beast Arises series, Throneworld. Again, they discuss the work that goes into the writing of the book and it's relation to the other books in the series. If you are interested in the author, subject matter or the whole series, then this episode is worth a listen.
Forge the Narrative Episode 147 – This week they have Reece and Frankie from Frontline Gaming on to discuss the potential effects the new GW FAQ may have on the game once they go final. It's an interesting conversation as you have a couple of people that have a large influence on the competitive side of the hobby. Even if you don't play, or like, the ITC, it is a good listen to hear their reasoning behind some of the rulings that had been made in the ITC and to get their initial thoughts on how it will affect them.
Life After the Cover Save Episode 177 – The duo have a talk with Carl, from the Independent Characters, about their recent trip to the UK, Salute and Warhammer World. An interesting note, to me, was that at one point both Blake and Ed discuss their current  lack of enthusiasm for 40K and the resulting shift of focus that this has caused. Burn out happens to everyone at some point and you can sometimes hear it, or not, in their most recent episodes. That's not necessarily a bad thing as they still seem excited to be playing other miniature games. I'm curious where this new direction leads.
NGC40K Episode 18 – This episode concludes their coverage of the Shield of Baal Campaign. Nice overall coverage with an extended episode of their audio drama this week.
Signals from the Frontline – Always a good listen for new and rumors on 40K and other miniature games in the industry.
Also Out This Week.
Eye of Terror Episode 19 (40K)
40K Radio Episode -5 (40K)
Allies of Convenience Episode 41 (40K)
Counter Charge X Episode 74 (KoW)
Adeptus Terra Episode 21 (40K)
Firebase Delta Episode 3 (Firestorm Armada)
Firebase Delta Episode 4 (Firestorm Armada)
Rolling the Dice Episode 16 (General)
Beerphase Episode 15 (KoW)
War Council Episode 28 (Hobby)
Ohiohammer XP Episode 126 (9th Age).
Ohiohammer XP Episode 127 (9th Age)
Ohiohammer XP Episode 128 (9th Age)
Heroic Intervention Episode 18 (40K)
Eye of Horus Episode 60 (30K)
Mayacast Episode 84 (Infinity)
Long War Episode 53 (40K)
Fully Boosted Episode 6 (Warmachine)
Mortal Realms Episode 8 (AoS)
Murder of Crows Episode 21 (Warmachine)
Crusader's Call Episode 0 (Warmachine)
Hobby Night in Canada Episode 54 (General)
JadedGamercast Episode 272 (General)
Chain Attack Episode 258 (Warmachine)
TDH60M Episode 35 (Warmachine)
Roll to Seize Episode 23 (40K)
Mom Podcast Episode 267 (Warmachine)
Mynock Squadron Episode 18 (X-Wing)
Beermachine Episode 41 (Warmachine)
Wrong Side of the Maelstrom Episode 13 (40K)
Intensify Forward Firepower Episode 21 (SW:Armada)
Leyline Episode 27 (Warmachine)
Why We Fight Episode 1 (Flames of War)
Crippled Systems Episode 161 (Warmachine)
As always, give my podcast, TFG Radio, a listen. We talk 40K mainly but delve into other game systems. This week we talkTravis' wacky game, Privateer Press' missteps, and our contest winners! Also, check out our new blog at TFG Radio!
Have a different opinion? Post in the comments below or email me at [email protected] and let me know!