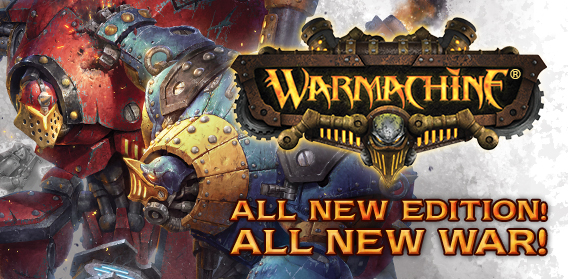 The new battleboxes have dropped and this has scuttled my return post! Let's jump straight into some summary spoilers of the new Battleboxes for WMH.
Firstly, all the information can be seen here. Full cards and a brief summary spoiler for each.
Secondly, I'm going to comment on the three factions I play – Circle, Menoth and Scyrah. I don't feel like my comments would be of most benefit to the other casters and a summary of information can be found in the above link.
Thirdly, I am keeping a track of all the reliable spoilers to date in this post here (new stuff added as it comes along). So for anyone wanting a quick read through of what we know so far, go there.
Without further ado…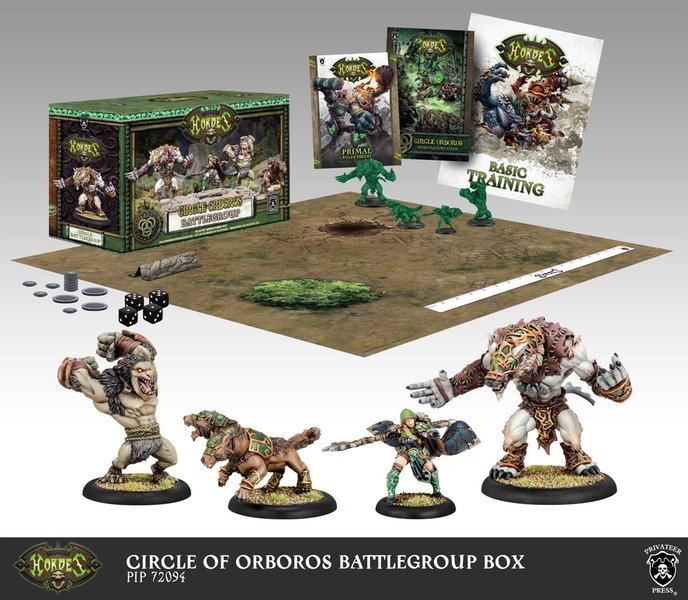 Circle – Tanith is of slightly faster speed, average MAT and RAT with 15/15 DEF/ARM with 15 boxes and prowl (so stealth when she has concealment – remember you have to be completely within terrain to gain these bonuses now) and FURY 6. FURY is a little low, particularly when we look at her amazing spell list but it's serviceable. Her gun and staff both have shadowbind (staff on critical only – read do not get her into combat) and her gun also ignores cover / concealment / elevation. RNG 10 is a bit short but to provide a 4″ AOE DEF debuff? Worth it. She also has Admonition as a spell so can scurry back a little bit as needed.
Spell wise… she has a DEF and ARM debuff. Both. On the same caster. In Circle. FURY 6 again becomes a bit of an annoying issue here but great spells to have. The aforementioned Admonition allows her or another warbeast some extra movement and bouncing ability common in Circle. If Sprint remains an animus that can be handed out… Bleed is an okay nuke to heal some damage but POW10 isn't going to make anyone run for the hills. Fine for Grunts or some solo hunting through Gallows / Geomancy. It does cost 1 less than Rift though so if you wanted to spam a bunch of POW10s through Geomancy or Gallows (assuming they stay the same), be my guest. Rift is the same – AOE4, POW13, RIP rough terrain. Again, FURY 6 hurts both of these spells a little bit, particularly if you are wanting to drop a Rift in a particular location but a decent offensive utility nonetheless.
FEAT can seem a little lacklusture as max you're gaining is 6 FURY (assuming you drop upkeeps) but the ability to channel through Warbeasts opens up some nice assassination runs or different attack vectors your opponent will need to keep in mind. All in all – great Warlock IMO.
Gorax saw little change – kept Primal which may be less necessary if Circle continues to get debuffs like Tanith but also nice to have to ensure that Warbeast hits or packs that little extra punch. Lost a FURY though so less useful as a FURY battery.
Pureblood is largely the same although lost Leadership (no more Ghostly friends), is slightly cheaper at PC17 and gained Assault. 19″ threat on the spray is pretty solid though still a little lacking in the punching department. DEF14 Warpwolves are still a thing though.
And then the Argus. The model all Circle players lament and probably finally saw field time with eKormac. Hey it's animus changed… DEF 5? to enemy models currently within 2″ of the model? That is bonkers. At 7 PC they are cheap, still relatively fast and can threaten a 2″ DEF 5 bubble up to 12″ away – not to mention any teleportation, placement or throw shenanigans. Oh and if anything survives they cannot run, charge, slam or trample for a round. This is a great assassination tool – either for actually being the assassination enabler or clearing a lane. I look forward to the perfect scenario where I can run an Argus into a high DEF screening unit, clear it out thanks to the animus, throw the Argus at a Warnoun and then drop the Warnoun. Perfect world – has to happen at least once right?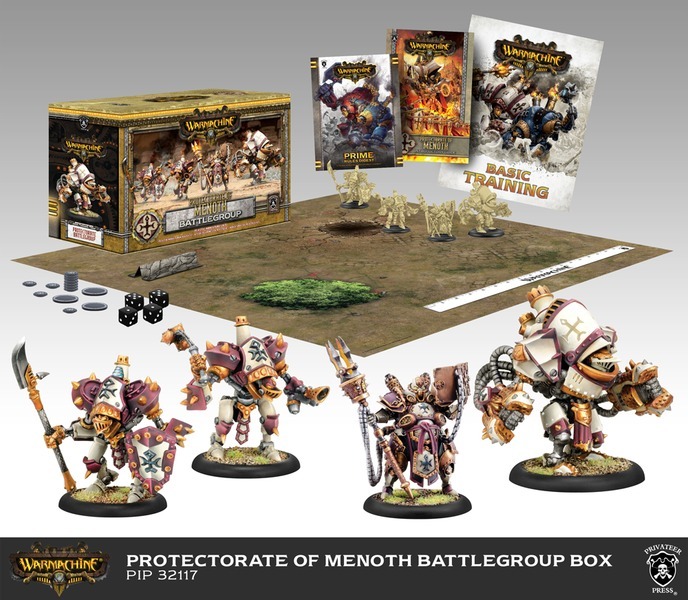 Menoth – Malekus is of average SPD, average MAT / RAT and defensive stats of 14/16 with 18 boxes and Ashen Veil (essentially concealment for 16/16 stats). Solid for a PoM caster not on a horse though no buffs in MAT / RAT does hurt when you consider how amazing his ranged attack is (SP10, POW13…). Also FOCUS 7. Spells are a pretty generic selection of normal PoM spells with Ignite (standard damage buff), Immolation (standard Nuke) and Banishing Ward (upkeep / animi hate). Banishing Ward can help out any of the units which don't have spell hate though here is hoping Menoth spell hate still exists to its standard level. We then get Scourge – AOE3; POW13; KD to all models hit by attack. AOE KD is nothing to be scoffed at – it's no pKreoss FEAT but the ability to open a shooting or movement hole in a line or put KD on a Warnoun is never to be underestimated. Final spell – Open Fire; Ancillary Attack on a stick. I hope this doesn't mean Vassal loses this option but we shall see. Regardless, ability to hand out more attacks (once per Warjack) at 2 Focus is a pretty decent affair. That could be more Reckoner shots, more Avatar / HoJ swings, more HoJ / Repenter sprays, more Revelator / Judicator bombings or more Vanquisher / Redeemer blasts. The fact this could be handed out in theory (assuming Heirophant / Wracks remain similar) up to four times in a turn (if you have four Warjacks) is a lot of extra Warjack work.
And finally, FEAT – additional damage role for all fire attacks in his control range and fire continuous effects do not go out. So first off, all fire continuous effects in his control range are now 3D6 and the first part of a feat is not a boost. It's an additional die, so you can boost on top of that. This is restricted to fire type damage only but, there are a lot of fire type damages available to Menoth. All of the aforementioned Warjacks have ranged fire attacks not to mention Zealots, Sunbursts, etc. I feel there is a lot of damage application or assassination options available with this through the use of Scourge. My initial reaction was positive, I read the forums and saw the hate from many. My second reaction was to reinforce my first. PoM is still waiting on some spoilers for their jack support to really get a handle on what sort of armies they are going to be able to run but I feel right now they are going to hit like a truck but need some accuracy help (like IDK, knocking someone down).
Castigator is a ridiculously cheap PC12 now – aka the cost of an old Crusader. Effectively it's otherwise the same although gained Ashen Veil (DEF12 vs DEF10 does make a difference; 4's and 5's now miss on MAT/RAT6 which is an extra 7 dice combinations on 2D6 to miss; that's 20%) and 1″ melee. We wait to see if the application of star actions has changed but it's essentially a beatstick with two open fists that's cheap and unlike the Crusader, can deal with infantry (and is a little faster). Going to break open the piggy bank and see all of these everywhere? No. Going to seem them as a cheap heavy that can punch things? Yes.
Repenter has no back card information! Essentially the same. I'm surprised they kept it at 8PC (4PC doubled) but oh well. Will probably see less use but under the new Jack Marshal rules (Pick 1 of the following: Crush! – The warjack can make one additional melee attack during its activation this turn. Additionally, it gains +2 on all melee damage rolls during its activation this turn. Hurry! – The warjack can run, charge, or make a power attack without spending focus during its activation this turn. Additionally, it gains +2 on charge attack rolls and slam attack rolls during its activation this turn. Strike True! – The warjack gains +2 on all attack rolls during its activation this turn. Take Aim! – The warjack must forfeit its Normal Movement to aim during its activation this turn. Additionally, it gains +2 on all ranged damage rolls during its activation this turn.) could be a good Marshal target depending on what the new Jack Marshal turns out to be. (at time of publishing we now know it to be the Reclaimer)
Someone did some recent math and identified that a Warjack with Jack Marshal and one focus (from say, Empower) is more effective walking in and hitting that a Warjack with three focus walking in and hitting so the options there are going to be pretty solid considerations to alleviate some focus strain on Warlocks for armies that have Empower.
Revenger is still an Arc Node, is 10PC so cheaper, gained the extra POW on the shield and lost two boxes (Arc Nodes not longer count as Extra Armor). Nothing really earth shattering here other than that steep points cost is a little reduced and makes taking one of these to Arc some spells a little less of a tough pill to swallow. Still eager to see how BoV comes out of if though…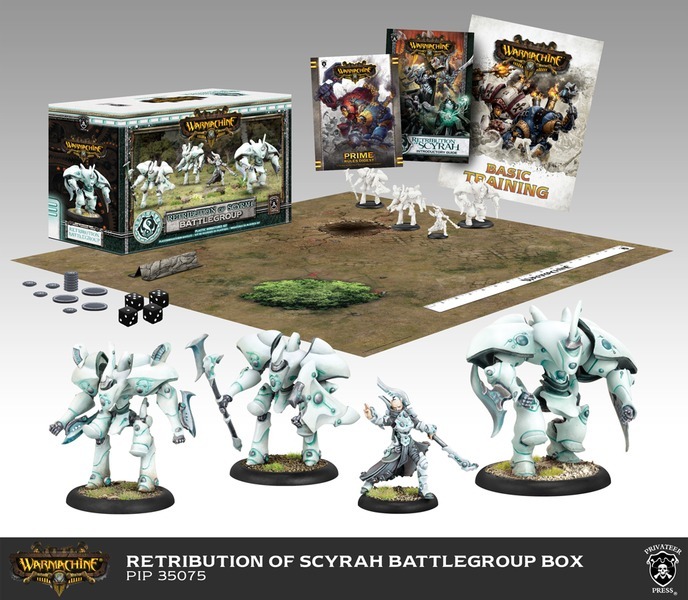 Scyrah – Helynna has a 6's statline until RAT which is 5 and DEF/ARM of 15 with 16 boxes. She's got a cool gun which makes me sad about her RAT and FOCUS 7. Since we've mentioned her gun already… can choose to not cause damage and instead do a 3″ move in any direction. Movement shenanigans are always welcome and the RNG is 12. Her melee weapon does this as well but I'd only do that to save yourself from being dead. She also has tied the best repair in the game at D3+3. Spell wise has some familiar faces and some not so familiar for Scyrah. Deceleration for +2 ARM against ranged and magical attacks is very welcome for its many infantry which often get mulched as they walk up the board while Obliteration is a nice POW15 AOE5 nuke. Pricey at 4 FOCUS though. Force Strike is another nuke, POW12 with critical KD – I'm not a fan of critical effects but a roughly 40% change to occur is not bad when boosted. The two spells that stand out for Heylnna though are what helps her Warjacks. First Hand of Destruction is basically Signs and Portents (roll extra die, discard lowest) for both attack and damage rolls against a unit / model for her Warjacks. Great for clearing an infantry tarpit (with the right Warjack) or dropping that important / hard to hit / hard to kill model (such as you know, a Warnoun). RNG 10 on this means lots of variable angles of attack to get this off with an Arc Node as well and she can hit it with her own ranged attack first to move it into a better position. Finally we have Rhythm of War – a 3″ advance move for all Warjacks once all activation have ended. Allows for some great flexibility and mobility with Warjacks. Personally, not as great as say Warpath which you can use to create different attack vectors during the turn but it can allow you to play defensively and protect models for the next turn, setup different angles of attack / threaten different areas of the board, move back into control zones or play ballsy aggressive to get some more board control. Or any combination there of (other than perhaps move away from attacks and move forward to gain more ground). I think this will really be an interesting play piece on how her army functions and moves around the table.
Her FEAT is both interesting and somewhat blurgh IMO. I feel there are times when this is going to go off and great things will happen and other times where you get very little from it (i.e. mostly the ARM bonus). It refills all Force Fields (so some free repairs, great – any pot shots that have been taken at your Warjacks are likely gone now), ignores crippled systems for models in her control range and gives +3 ARM for models in her control range. You can always bank on the +3 ARM to be useful and sometimes you're going to have a couple of nearly dead Warjacks who gain Warbeast like revival for a turn while ignoring crippled systems. I generally feel though that most opponents know this and barring dice are going to try and take our each Warjack rather than pepper them with shots (or pepper the non-Shyeel jacks so there is no Force Field to replenish). I'm sure it will feel better once I get some games in but I feel like it's really a FEAT that could do a ton or not a lot. Again though, +3 ARM, some repairs and ignoring crippled systems isn't a bad thing – just YMMV (also note, Vyre jack guns are connected to the right arm now so can be crippled).
Chimera / Griffon are essentially the same. Griffon is same cost (8PC now) and 1 more POW on shield while Chimera got the Arc Node discount (down to 8PC; yup 8PC) and lost the extra damage boxes for the Arc Node.
Manticore got significantly cheaper as well at 14PC and still keeps Force Generator and Covering Fire (though lost Combo Strike). With ROF D3, RNG12, POW12 and Covering Fire, the Manticore can be a solid piece to pick off warrior models from a unit (particularly with Hand of Destruction on it), play some board control or threaten some more important models with boosted POW12s. And in a pinch, it's still P+S20 with concentrated power / Force Generator in melee with a 1″ melee range.
—
What are everyone else's thoughts? Particularly on the other battleboxes I haven't mentioned.
I'm very excited for Mk3 and looking forward to putting all three of the above casters on the table and getting to know them better. More ideas are ever bouncing as this goes to publishing…