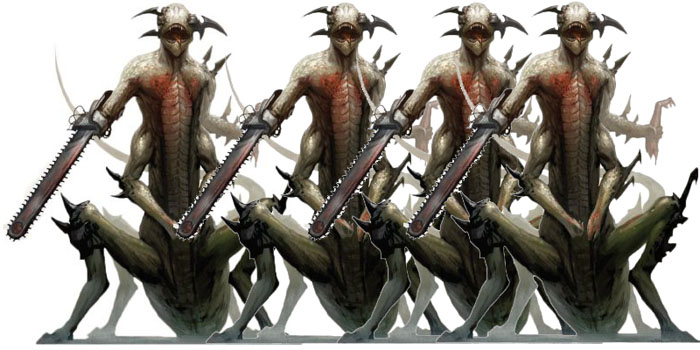 The last "new" Xenos Race is 15 years old. It's time GW gave the Grimdark some non-imperial love – and I have just the one…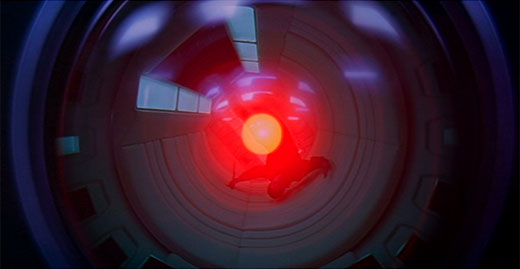 "I'm sorry Dave, I can't open the pod bay door, but here – have some Tau miniatures"
Ah 2001. The year we were predicted to get a space odyssey. The year people in the 90s were afraid would never come until Y2K proved to be no big deal. The year GW released a new Xenos race onto the galaxy.
Yep, it's been 15 years since the Tau first released for Warhammer 40,000. Since that time we've had four new editions to the game, a plethora of new codex books released introducing new armies such as Khorne Daemonkin and old revived 2nd-edition armies like Eldar Harlequins. We've even gotten the long-awaited Adeptus Mechanicus lists in the form of Skitarii and Cult Mechanicus. But…..where are all the xenos?
So the question must be asked….when are we going to get another new xenos race? 15 years is a helluva long time, and it's been filled with pitfalls – struggling financials, a shoddy CEO or two, a mass-exodus of game designers, but still….building out a game's universe is a difficult task to accomplish, and a new xenos race for 40k has to not only fit within the existing fiction, but also be large and diverse enough of a presence to justify being an army with multiple units, named characters, spacecraft or transportation technology(to justify how they get from planet-to-planet), vehicles, weapons and wargear, etc. So who could make the cut?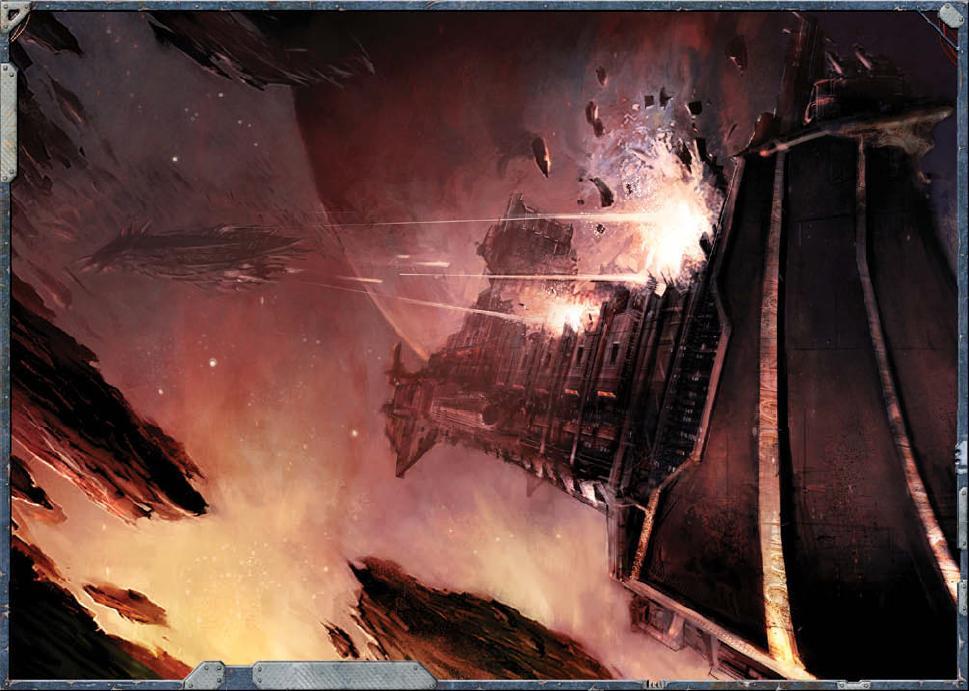 The Rak'Gol
It might seem like an odd choice, but hear me out. The Rak'Gol were introduced through Fantasy Flight Games' Dark Heresy line of Role Playing Games, specifically the Rogue Trader ones. This already begs one big question- are they considered "canon" then? There has never been a clear indication that GW has a set canonicity for publications, so we can assume for now that the series IS canonical to 40k.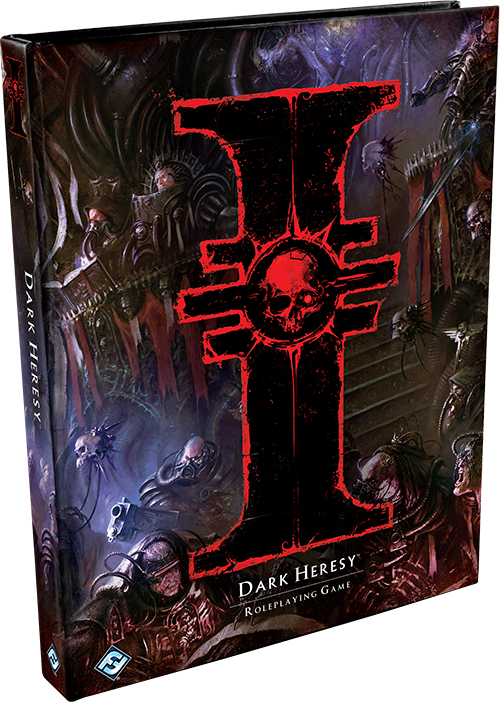 With that out of the way, let's break it down. The Rak'Gol are a large, reptilian species of Xenos from the Koronus Expanse near the Calixis Sector, described as being encountered "little more than a century ago" -if that statement was meant to be made in 999.M41 (the "present day" of 40k for all intents and purposes), then the Rak'Gol are the newest current threat to the 40k universe- as the Tyranids arrived in 745.M41 and a century before 999.M41 would be 899.M41 or so.
The Rak'Gol are raiders and marauders, attacking colonies and Rogue Trader vessels all across their home region for reasons unknown, and make use of unique weaponry. Unlike Tau, Necrons, or Eldar, who use plasma, gauss, and other advanced technologies, the Rak'Gol prefer ballistic weapons and radiation-based attacks. In fact this is one of the most interesting aspects of the species- they seem to relish radioactivity, establishing "rad-zones" on conquered planets, in which they make their encampments. They use radiation-based weaponry similar to that used in Imperial Exterminatus bombardments, as well as radioactive beam weapons, radioisotope-laced melee implements, and others. This alone could make them an interesting evil counterpart to the Skitarii if used on the tabletop in 40k. Furthermore, the Rak'Gol make use of ballistic weapons such as heavy stubbers, razor guns, and howler rifles. Many of these involve rapid rates of fire, huge amounts of ammunition, and cruelly bladed or barbed shells and slugs.
These xenos also use bionics extensively, to an almost religious extent- every warrior who has seen combat will sport at least one bionic implement. These bionics are described as somewhat crude compared to even the Imperium's augmetic and prosthetic devices, but also as "successfully merging the mechanical and biological."
On the Tabletop
Luckily, Fantasy Flight Games seems intent on making these guys a potential 40k army as well, so they have outlined unit types and even psychic powers!
HQ:
Abominations: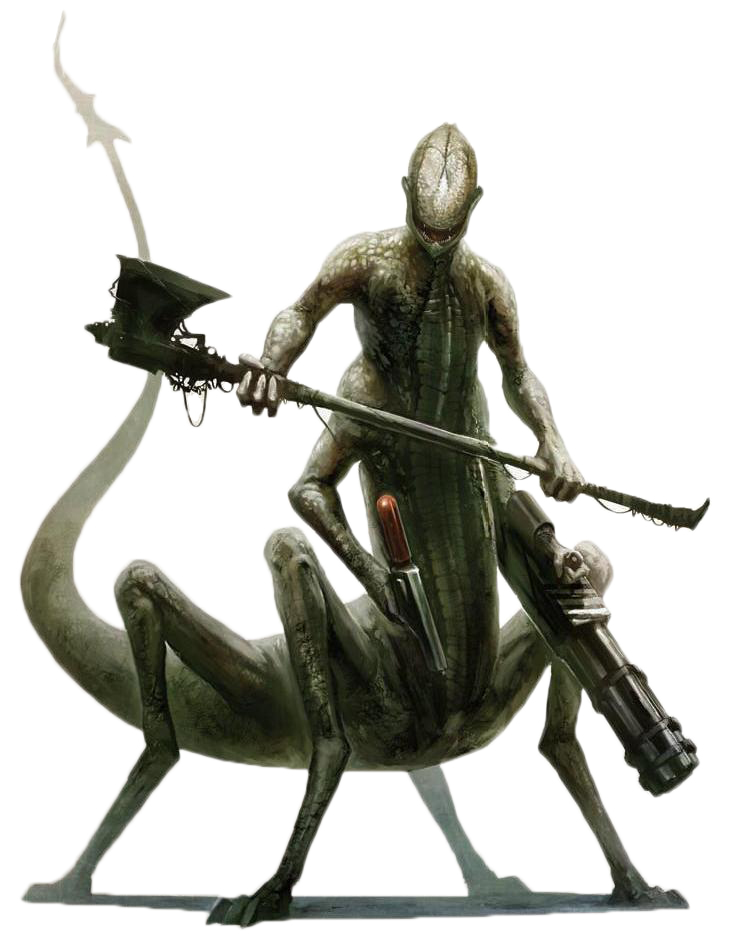 The largest Rak'Gol thus far encountered, and the rarest as well. Abominations appear to be the leaders of the species, and are heavily enhanced with bionics and cybernetics. They have been hypothesized to be both the tactical and spiritual leaders of the Rak'Gol. The image shown presents one such Abomination wielding a Rad-Axe as well as what appears to be an Assault Cannon and another, smaller sidearm.
Techno-Shaman: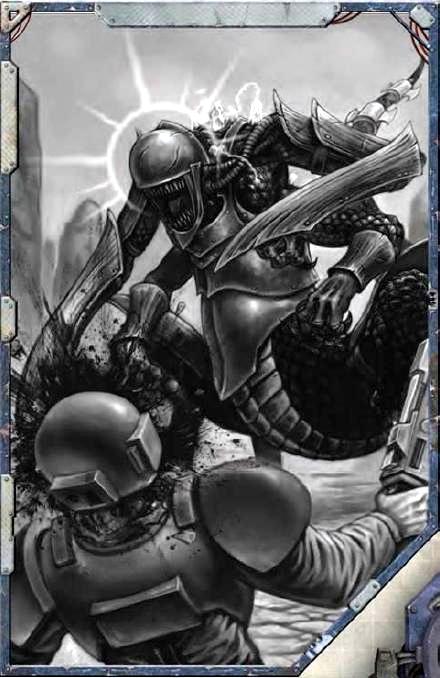 The psykers of the Rak'Gol, seen leading smaller raiding and hunting parties. Techno-Shamans are capable of corrupting machine spirits, "healing" their soldiers by weaving mechanical implements to close their wounds, and even telekinetically turning machines against their operators. If there was ever a call for a "Malign Technomancy" or similar Psychic Discipline in 40k, the Rak'Gol have it (and not the new Space Marine Technomancy that heals vehicles and does Haywire stuff).
Troops:
Troops are available in two versions- Blooded and Unblooded. Unblooded warriors are neophytes in Rak'Gol society, completely lacking in cybernetic or bionic enhancements, and thus would be a cheaper version- you could, potentially, be able to buy "blooded" status for a squad to give them FNP 6+ to represent bionics.
Carvers: Smaller than most Rak'Gol, the Carvers often spearhead the attack and specialize in melee, equipped with brutal close-combat implements.
Marauders: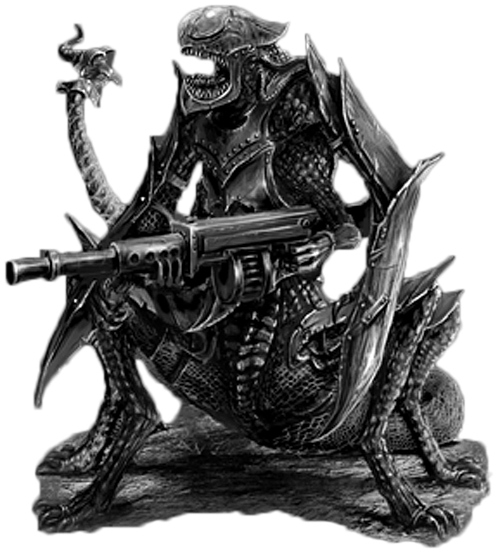 The true "foot troops" of the Rak'Gol, Marauders are often survivors of past battles, more likely to be "blooded" and thus have bionic enhancements and cybernetic implants. Their leader/sergeant option is the Clutchmaster- cybernetically enhanced Rak'Gol who captain smaller vessels and often act as enforcers in combat. The Broodmaster, would be a second leadership option, often the captain of a single Rak'Gol ship. They typically sport more bionics than the troops they lead, and are directly below the Abomination and Techno-Shaman in rank. These might be more akin to Wolf Guard or Ork Nobz, bigger, more wounds, better wargear and able to lead squads or act on their own.
Elite (or possibly Heavy Support): 
Renders: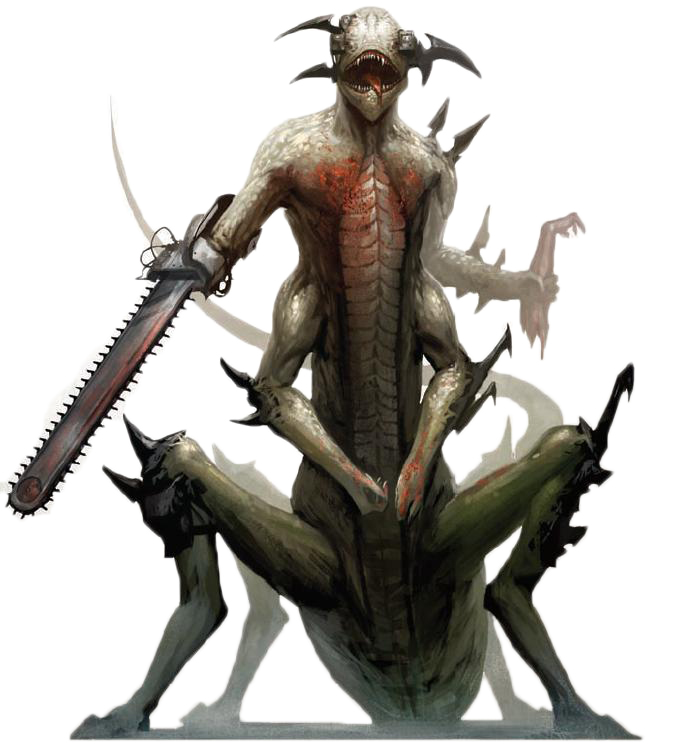 The largest Rak'Gol, almost entirely augmented with cybernetics and always encountered where the fighting is thickest. These guys have stim-injectors, bionic limbs with attached weapons, subdermal armor, the works. They're noted as being 30-45% more muscular than regular Rak'Gol, and completely forego ranged weaponry and handheld implements in favor of their bare hands, vicious teeth, and whatever has been built into their augmetics. In 40k game terms these guys would be smaller-size Monstrous Creatures (smaller size like a Carnifex or Kastellan robot, as opposed to larger sized MCs like Tyrannofexes or Riptides) with FNP (probably 4+ or 5+), a decent armor save, and probably a few USRs such as Rage, Rampage, Zealot, or It Will Not Die to represent these monsters' violently-insane demeanor.
Boom! There you have it. Those units, plus maybe one vehicle (I'd recommend a super-quick flyer/transport to suit their raiding tactics), and you've got a new mini-codex in the same vein as Harlequins or AdMech. But this time it's for a new xenos race that expands on the Warhammer 40,000 universe with a legitimate threat, a visually striking alien race with their own aesthetic and design, and new gameplay tactics to excite players.
If I were to write the codex (please hire me, GW…seriously, I'll work for free just to get my name out there), I'd say the Rak'Gol fall somewhere between the Tyranids and Orks- ballistic weaponry and close combat brutality, staying power in the form of FNP and cybernetic enhancements, and a lot of customization through different bionics or weapon options. The basic Rak'Gol is an eight-limbed, 3-meter tall reptilian predator, so as an army they would almost work like Ogres* in Fantasy** (sorry *Ogors in **Age of Sigmar) – larger based models with multiple wounds, relatively smaller number of models on the field, and big- easy to paint and convert.
~What do you think – could the Rak'Gol make the cut?
All images sourced from Fantasy Flight Games Rogue Trader sourcebooks.