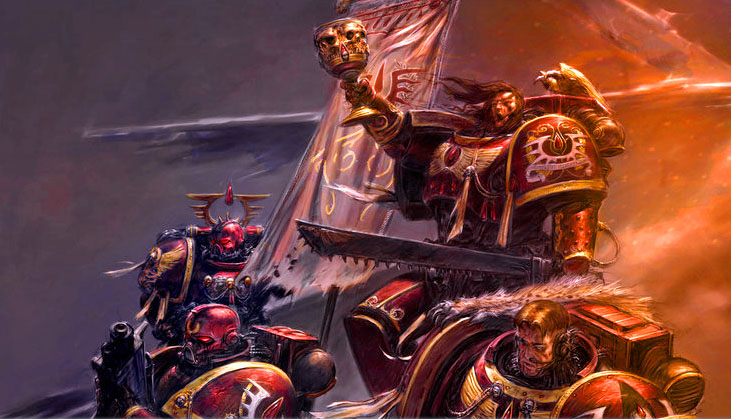 Take a look at the Blood Angel's latest tricks coming in 40K's newest Start Collecting boxed set:
Every Start Collecting set has an enclosed formation to get new players onto the tabletop with a fully legal force right out of the box.  It's a fantastic idea and with the Blood Angels getting the FAQ treatment this week what better time could there be for a new set?
Staunch defenders of the Imperium from their earliest days, the Blood Angels are a proud and noble Space Marine Chapter who fight to protect the Emperor's realm and to atone for their own hidden failings. For they hide an inner darkness, a gene-curse which reduces their most courageous warriors to raving, blood-mad beasts.

This is a great-value box set that gives you an immediate collection of fantastic Blood Angels miniatures, which you can assemble and use right away in games of Warhammer 40,000! You'll receive a ten-man Blood Angels Tactical Squad, a Blood Angels Terminator Captain, a Blood Angels Baal Predator and an exclusive Blood Angels Formation datasheet – special rules which confer certain abilities on this set when fielded together on the gaming table!
The Carmine Host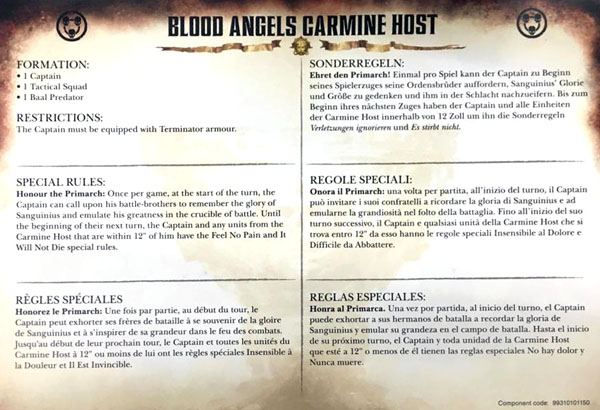 In general, the Start Collecting formation aren't going to knock your socks off, as they are aimed squarely at newcomers just entering the game.  This one however isn't that bad at all.  Basically you get a Warmachine-stype mini-feat handing out Feel No Pain and It Will Not Die for a turn.  That will make for one extra hard to erase Tac Squad – just the ting for holding that objective on the gam'e final turn.
~ For Sanguinius!