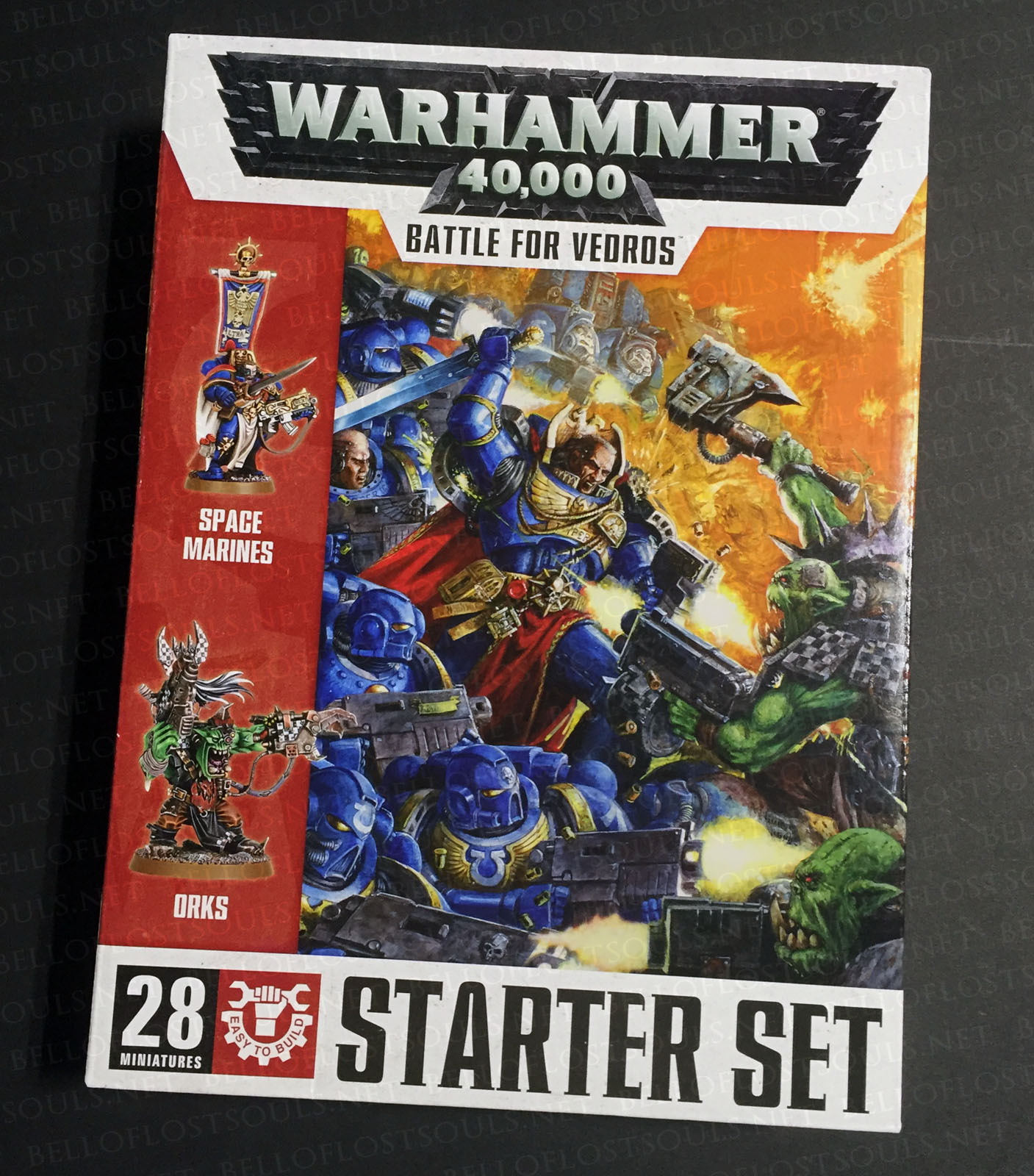 BoLS invites you to take a look inside the Battle for Vedros Starter Game. There is an all new way to get into Warhammer 40,000!
First let's get you up to speed with the basics of GW's latest introductory game for the Grimdark:
The Battle for Vedros Products
The full contents of the Battle for Vedros display are:
4 Battle for Vedros Starter Set ($49.99)

4 Battle for Vedros Paint Set (water based, $29.99)

3 Battle for Vedros Space Marine Attack Bike ($26.99)

3 Battle for Fedros Ork Wartrakk ($26.99)

3 Battle for Vedros Space Marines ($9.99)

3 Battle for Vedros Ork Boyz ($9.99)

3 Battle for Vedros Ork Gretchin ($15.99)

3 Battle for Vedros Space Marine Bike ($14.99)

Key Points
Line hits stores on June 6th
Battle for Vedros core product contents:
WARHAMMER 40000: Battle for Vedros Starter Set $49.99

Contains:
1 Space Marine Captain
6 Tactical Space Marines
1 Space Marine Terminator
1 Space Marine Dreadnought
1 Ork Warboss
5 Ork Nobz
12 Ork Boyz
1 Ork Deffkopta
1 Battle for Vedros rulebook
8 Dice
WARHAMMER 40000: Battle for Vedros Paint Set $29.99

Features the following colors:
1 Macragge Blue
1 Mephiston Red
1 Mournfang Brown
1 Zandri Dust
1 Waaagh! Flesh
1 Warboss Green

1 Balthasar Gold
1 Reikland Fleshshade
1 Agrellan Earth
1 Imperial Primer
1 Ceramite White
1 Nuln Oil
1 Leadbelcher

Also contains:
1 Starter Brush
1 Step-by-step instructions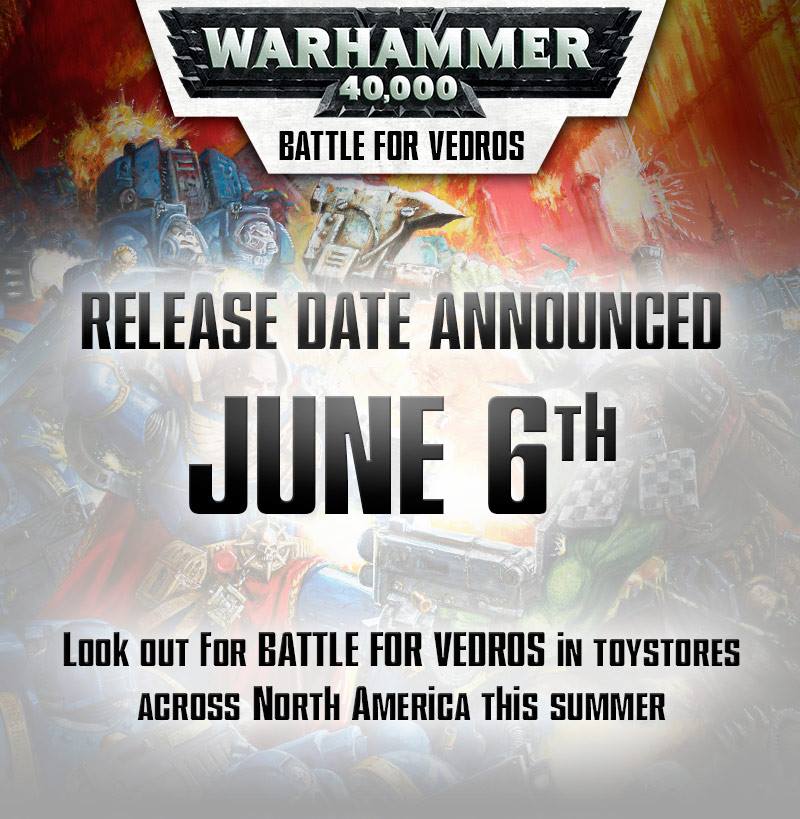 Playing Battle for Vedros
Below is the GW tutorial video for playing Battle for Vedros and the ENTIRETY of the rules.
A Look Inside the Box:
Box front and back:
A look inside: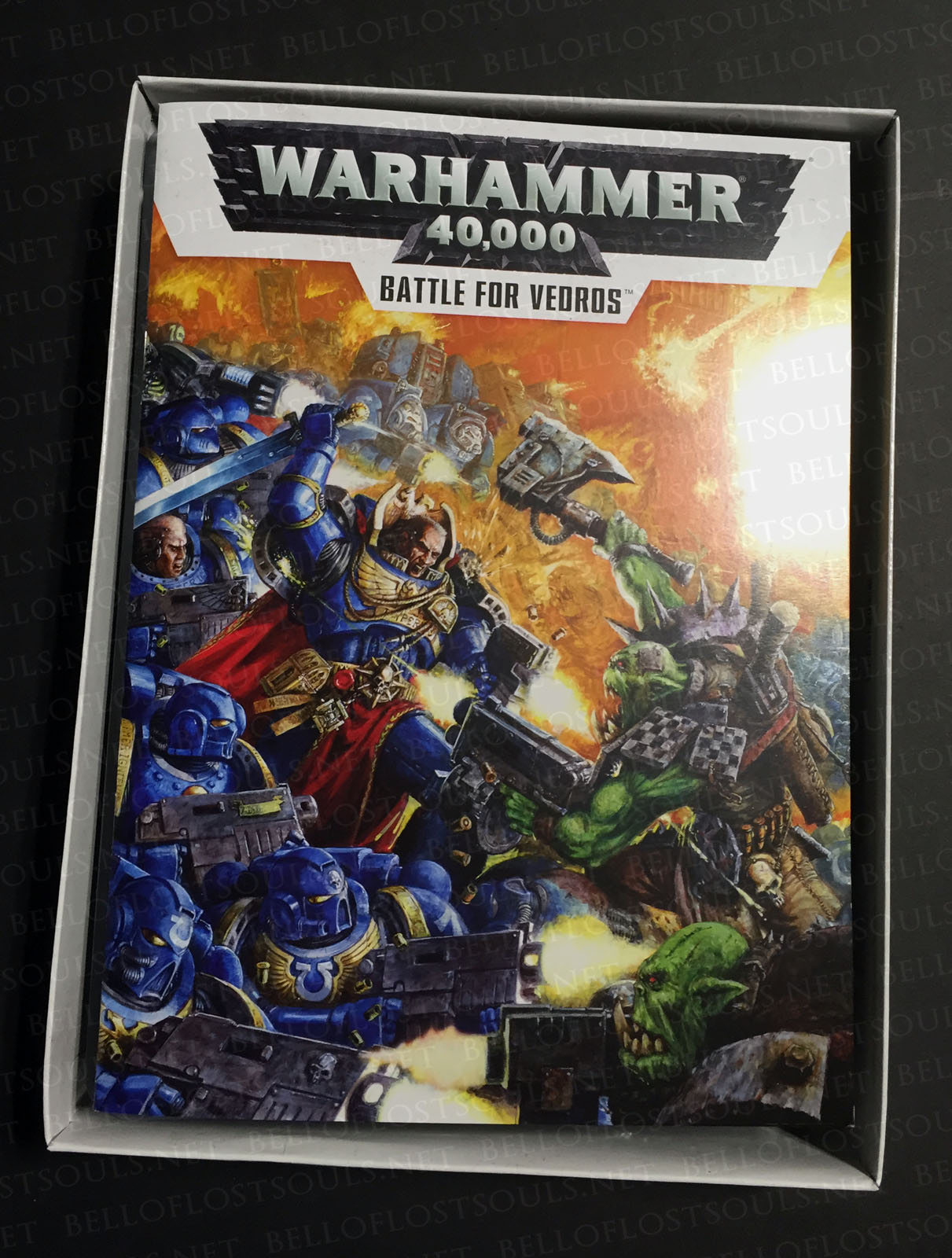 Assault on Black Reach minis are back in action: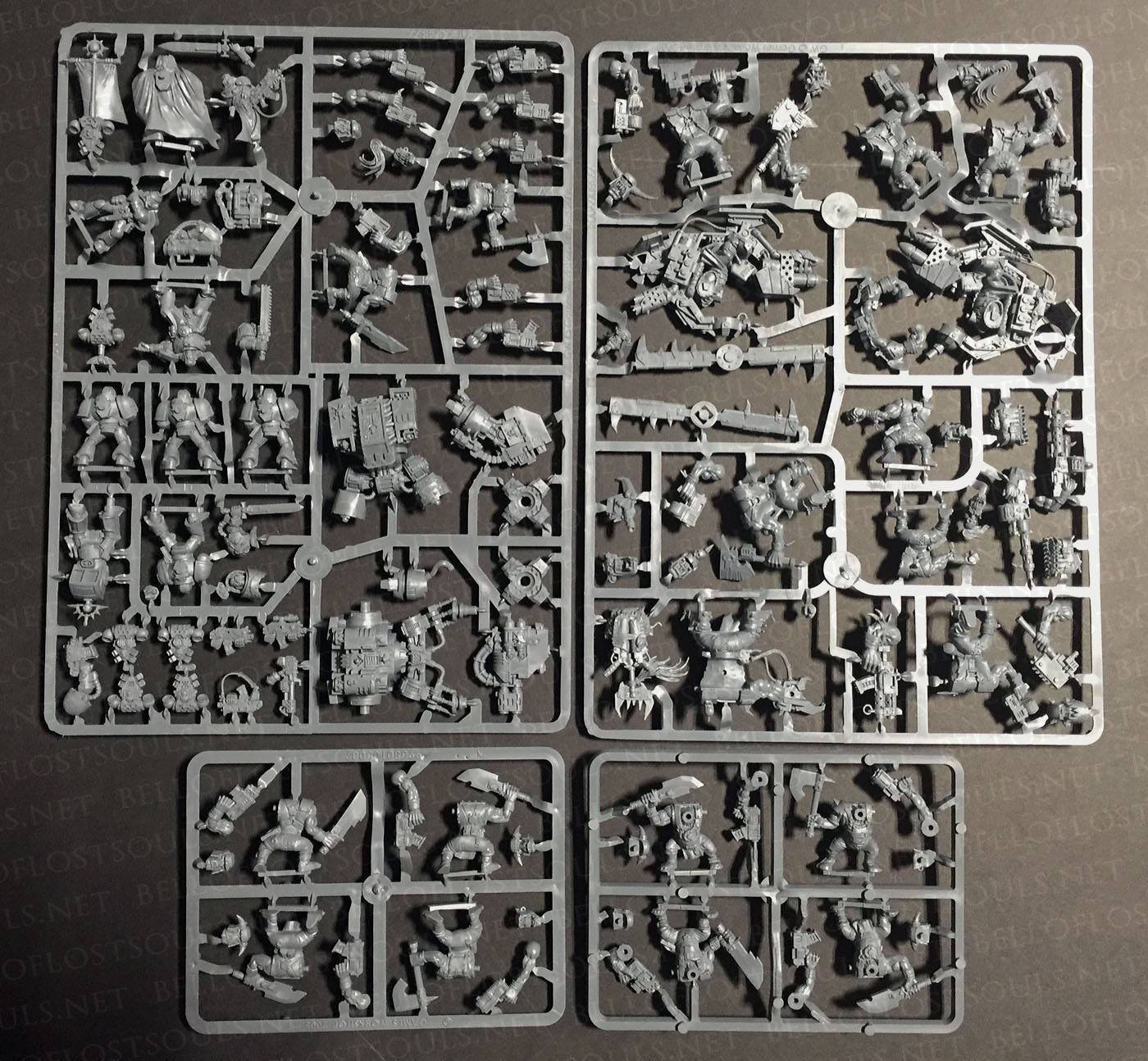 An easy to digest introduction to the Grimdark:
Battle for Vedros Painting Set
What It All Means
For months everyone has has two opposing fears and hopes for Warhammer 40,000 on thier minds.
The game desperately needs a small easy to learn introductory product for get in new blood to the player community.
The game does not need to be simplified down to the 4-page level of Age of Sigmar.
After looking over the product I can safely say that the Battle for Vedros is even simpler than Age of Sigmar – and it will all be OKAY!
What we have here is a crucial and well produced product for new gamers worldwide. The gameplay is very, very simplified – down to 2 pages of total rules and a stat sheet for the included units.  Miniatures-wise we are looking at a slimmed down version of 2008's Assault on Black Reach.  You've seen these minis before, but the intended new audience probably hasn't and the easy push together construction will get the minis together and onto the tabletop fast.
From a rules point of view, we are looking at a "DUPLO" version of 40k, with just enough to get players familiar with the core turn phases, and the hit-wound-save mechanics that will stay with them for years in the Grimdark. While there are no fancy charts for WS and BS, the fixed dice targets match up with what standard 40K Marines and Orks would be rolling. In effect this is a "training wheels" version of the full game that is perfect for newcomers. When they move up to the big leagues, they will feel right at home with the basics Battle for Vedros has taught them.
This gets me to the big point. This game isn't for you – to play.  If you're on BoLS, trust me this probably isn't meant for you as an experienced 40K gamer. HOWEVER, as an ambassador and evangelist for your beloved Grimdark, you better believe Battle for Vedros would be a perfect gift for you to give or recommend to that special someone you know.  Little brothers or sisters, friends, roommates, and the like.  THIS is the game that is purpose designed to pull someone into Warhammer 40,000 in an affordable easy manner without the shock of dropping say the full rulebook and a stack of 16 codexes on them.
The fact it will be available outside of traditional GW and FLGS retail channels is only good for the game. Speaking of which here is what GW has announced so far for where it can be found: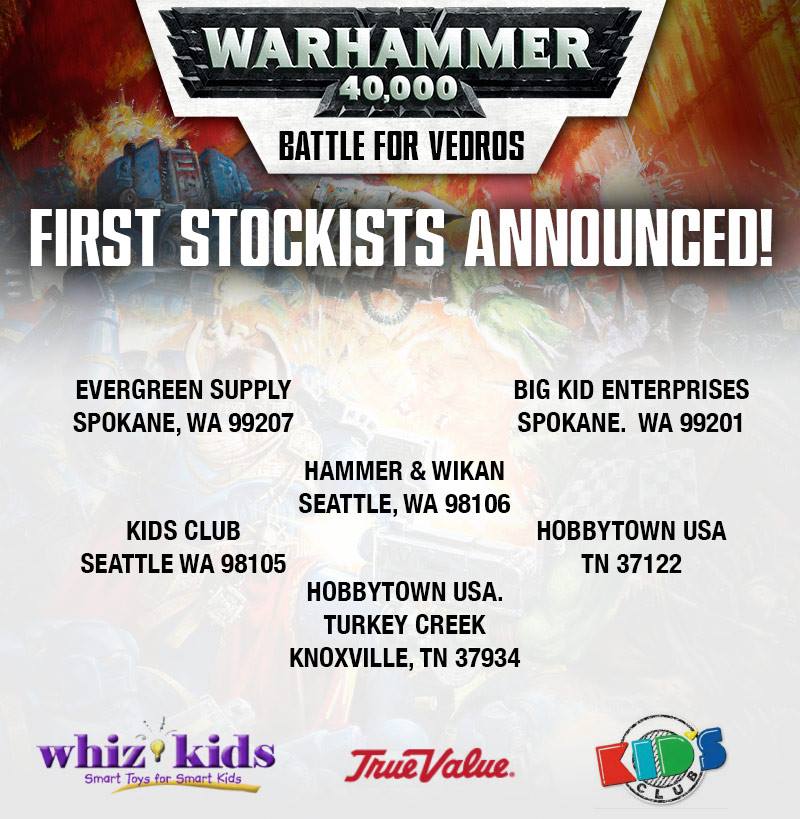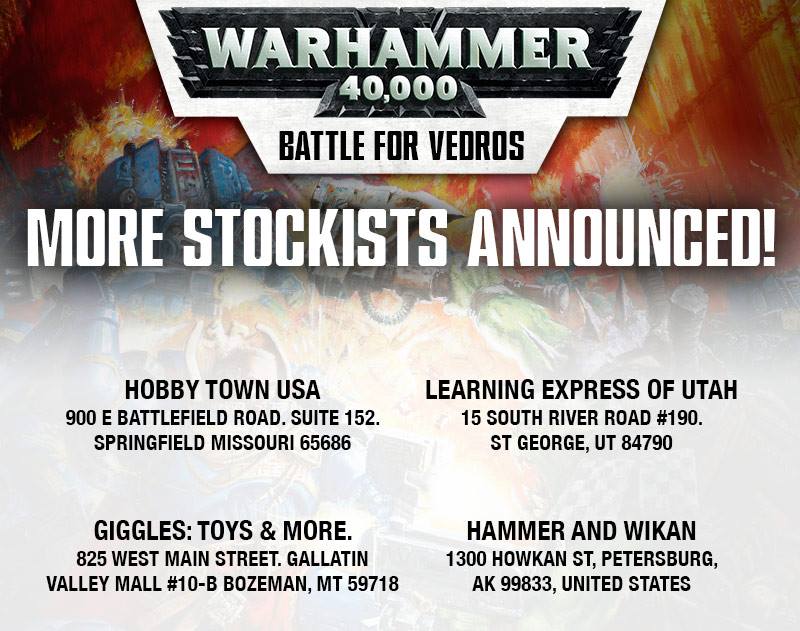 BoLS wholeheatedly endorses Battle for Vedros. We endorse it for it's value, for it's miniatures, and for what it represents for the future of the game and for it's broad availability to the public.
Battle for Vedros: 5 Stars out of 5
~If you really love Warhammer 40,000 – give Battle for Vedros as a gift to someone you know.