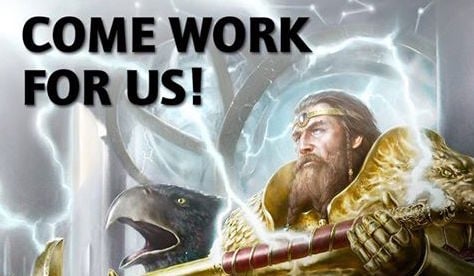 GW looks to be planning a big return to interacting with their customers.  Take a look at some of their latest moves:

Facebook or Bust
Over the last few months, GW has really turned to social media. Years back each individual GW Retail Store was required to set up and run their own Facebook pages. Then over the last year or so, the major divisions like Forge World and Black Library jumped in.
Very recently we have seen the individual product lines from the 700 pound gorilla of Warhammer 40,000 all the way down to Blood Bowl spin up thier own Facebook pages.
Ever Changing White Dwarf
If there is something GW loves to tinker with – it's White Dwarf.  Since 1977, the venerable lady has changed formats, pagecounts and publication intervals so many times it's hard to keep track.  That's before you even count the generally short-lived spinoffs like Citadel Journal and others over the years (the jury is still out on Visions). For the last two years we have seen White Dwarf move into the teensy weekly format which I do think has been a shot in the arm for the company.  Having a weekly publication that emphasizes the newest products certainly captures the customers' attention like nothing else.
But all things must pass and just yesterday word came down that in September White Dwarf was moving back to monthly publications: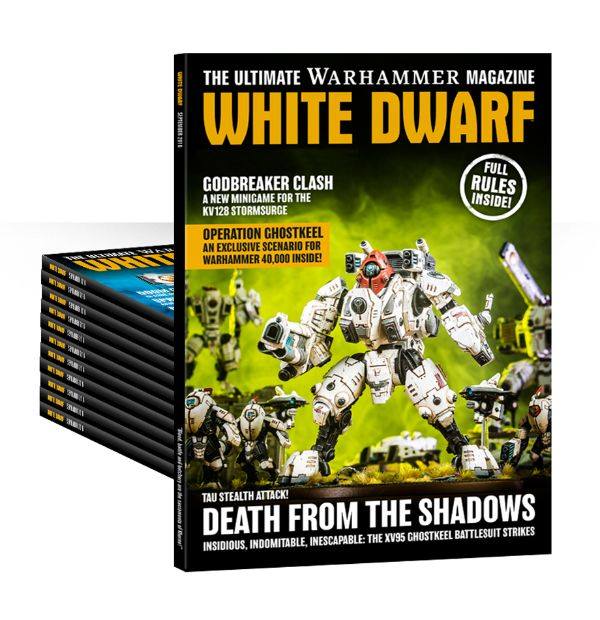 Here's an image and note the new White Dwarf's tagline:
"The Ultimate Warhammer Magazine"

A Community Website
Now comes word of a new website under development.  It's so new GW is still hiring for it.  They are looking for an:
Online Managing Editor, Community Team: Nottingham, UK
And the job has some very interesting future responsibilities.  Here is the job description:
"Do you want to drive the quality of Games Workshop's consumer content? Are you excited by the prospect of managing our first magazine-style website –  the ultimate online resource of Warhammer content?

You will be responsible for the content and delivery of an all-new Warhammer Community website. You will need to be an experienced editor, with outstanding copywriting skills and a deep understanding of Warhammer hobbyists and the types of articles they enjoy reading. You will be able to build great working relationships with key members of the Warhammer community and work with them to develop exciting, consumer led content. Working as part of the wider Communications & Marketing team, you will champion editorial standards and advise on both online and offline content strategy.

We know what makes this job hard is doing all of the above to the exacting standards our customers demand and to the daily deadlines required."
Some interesting points on this:
Note that the website is described in two ways:
Warhammer Community website
the ultimate online resource of Warhammer content
Note that White Dwarf is tagging itself as : "The Ultimate Warhammer Magazine". That is probably not coincidence.  GW has for years now had  daily blogs on multiple of thier sites and apps, so this sounds like a next step website for those types of company efforts.  For decades GW have emphasized new products and the hobby side of things in print and online resources – essentially ignoring the playing side of things.
But the most interesting tidbit to me is this:
 "build great working relationships with key members of the Warhammer community and work with them to develop exciting, consumer led content."
I am truly curious to see what this entails. For decades GW has build up a reputation as being among the most xenophobic of companies, famously even turning down an interview with a BBC reporter for a piece some years back.  I have no idea what this website will entail but from a company cultural point of view – this is almost a case of corporate transfiguration occurring right before our eyes.  They already have traditional websites that continue to emphasize the product side of things – on par with what you see form Privateer or FFG.
I have a feeling that word of this new site and removal of weekly White Dwarf are strongly intertwined. In any case, I wish the new Editor luck and good hunting – he or she will need it.
~What do you think GW will produce out of all of this?