Privateer hasn't left Hordes out in the cold – they're getting a bunch of new stuff, too. Check it out!

The HORDES Two-Player Battlebox is designed to be a complete HORDES experience for two players right out of the box. Inside, you'll find two full battlegroups and two full units, along with a core rules digest, in-depth tutorial guide, dice, ruler, battle map, and a special narrative scenario—everything two players need to jump right into the game.

HORDES is a fast-paced and aggressive 30 mm tabletop miniatures battle game set in the steam-powered fantasy world of the Iron Kingdoms. Take control of a fierce warrior-sorcerer called a Warlock and her mighty Warbeasts–massive and terrifying monstrosities–as you battle to destroy the enemy Warlock.

CONTAINS EVERYTHING YOU NEED FOR A TWO-PLAYER GAME.

HORDES: Primal Digest Rulebook, Basic Training Tutorial Guide, Battle Map, 4 dice, 18″ ruler, 30 fury tokens, 6 spell tokens, and 28 plastic HORDES models with corresponding color stat cards.
Trollbloods Introductory Guide
Warlock Ragnor Skysplitter, The Runemaster
Troll Impaler Light Warbeast
Troll Bouncer Light Warbeast
Troll Axer Light Warbeast
Trollkin Fennblade Unit (10 models)
Skorne Introductory Guide
Warlock Beastmaster Xekaar
Titan Gladiator Heavy Warbeast
Cyclops Raider Light Warbeast
Cyclops Savage Light Warbeast
Praetorian Swordsmen Unit (10 models)
And that's not all…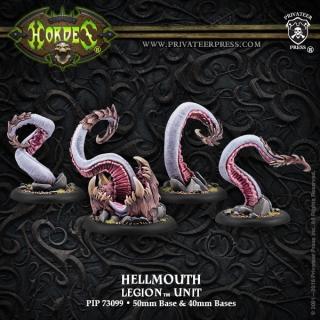 With the ability to completely mess with an opponent's battle-line thanks to its Grip ability, the Hellmouth is a powerful control piece as well as a fearsome damage-dealer that even heavy warjacks and warbeasts have reason to fear.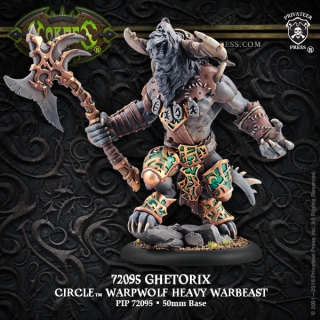 A proud Tharn king transformed into one of the fiercest warpwolves the Circle has ever known, Ghetorix has a legendary appetite for violence. With savage brutality his axe and teeth bite into flesh and bone as he feeds on the meat of his victims. Spines erupt from his hardened skeleton, protecting him even as they punish his assailants.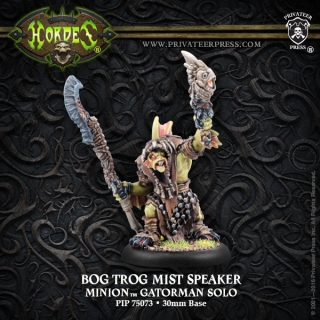 While rarely the actual leaders of their tribes, mist speakers are the spiritual advisors and counselors to the chieftains who command the bog trogs. These cunning viziers are adept at deception and misdirection. Mist speakers communicate with the spirits of the swamp, who direct them in all things and give them insight beyond the understanding of their tribal brothers. In battle, mist speakers support the tribe by wielding powerful magic that calls upon the forces of the bog trogs' swampy homes.
We've gotten a look at both battle boxes. I'm not sure which one is more tempting. We have a few months to decide – everything listed has an August 31st release date attached.
Which Battle Box are you picking up?