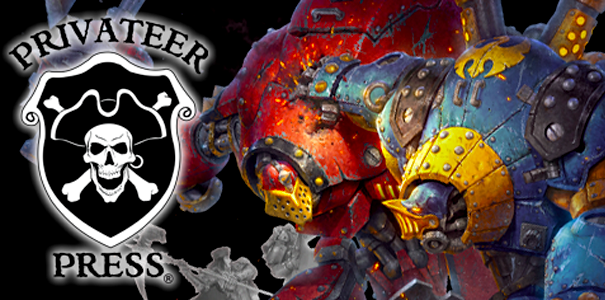 New editions mean new rules for organized play.  Download the latest free rules from Privateer and get playing!
Welcome to the new battlefields of WARMACHINE and HORDES! Whether you are a veteran player who has been assassinating warcasters and warlocks for over a decade, or you're a fresh face to the Iron Kingdoms, this is your chance to start your experience with the new edition off with a bang, a boom, and a crunch!
Steamroller, Full Steam and Journeyman 2016 rules are available now!

In Steamroller tournaments, players face off in a series of WARMACHINE and HORDES games and pit their skills against a gauntlet of opponents to determine who will emerge victorious.
Steamroller is ideal for groups of eight or more players and promotes fast and furious play while stressing the ability to adapt to a variety of scenarios.

Full Steam celebrates the release of WARMACHINE: Prime and HORDES: Primal and gives players a chance to win various prizes over the course of the day in a casual, tournament-style event.

Journeyman events are a great way for new players to begin collecting and playing WARMACHINE or HORDES, or for veteran players to take their first steps toward playing a new faction. Journeyman is primarily played as a six-week league event that guides players to build armies that begin with a battlegroup led by a warcaster or warlock and eventually end in a full 75-point army.
~Get out there – Immoren awaits!