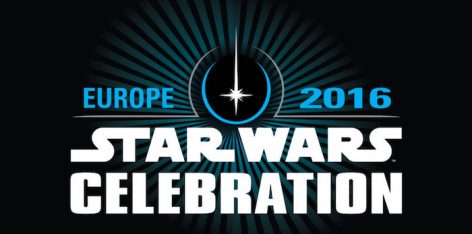 Star Wars Celebration Europe was held over the weekend and they showed off some awesome stuff. Come take a look!
There's a bunch to cover, so let's dive in…
Rogue One
Pick up shooting has been completed. The crew shared a sizzle reel filled with new characters and pyrotechnics.
Officially not worried about this movie – it's going to be amazing. December 16th needs to be here sooner.
The story panel was one of the highlights of the weekend.
Rogue One will look and feel unique from all other films set in a galaxy far, far away. "It's a style that is unlike any other Star Wars movie," Lucasfilm president Kathleen Kennedy said. She recounted seeing director Gareth Edwards, camera on his shoulder, testing shots guerilla-style as sign that this movie would be different. "I think that's what's so amazing about his style," she said. "This is going to be an incredibly immersive experience when you see Rogue One."

… The concept for the film — the Rebels' theft of the Death Star plans — dates back to the once-planned live-action Star Wars TV show, discussed around 13 years ago. The idea came from John Knoll, digital effects innovator at Industrial Light & Magic, who thought a Mission Impossible-style tale would be a good fit for the show. He dropped the idea, however, when he heard the timeline for the series, which wouldn't fit with a pre-A New Hope story. But when Lucasfilm announced the standalone series of movies, Knoll recalled his story. "I was thinking, 'That original idea could make a good standalone film,'" he said. The more people he told the idea, the more he was encouraged to formally pitch it. Finally, he did, and the rest is Star Wars history. Knoll thought, "If I don't [pitch], I'll always wonder what might've happened if I had."
We also got a new poster featuring the sunny beaches of Scarif.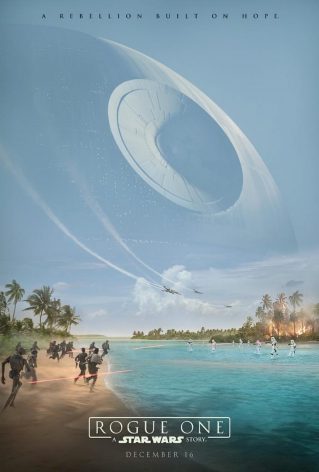 Rebels – Season 3
Mitth'raw'nuruodo is officially canon.
From the series' co-creator Dave Filoni:
Thrawn was always on the list, and we were just trying to figure out what's the right moment and how big a deal do we make out of that. The biggest thing is that, you get a character that everybody likes, that's a really great villain, you are cautious on a weekly series to put them into a, "Oh, we've lost again. Darn those crazy rebel dogs." You can't play him that way, he's way too smart. It's a very similar problem I had with Vader, which was, if our guys are around Vader too much, Vader's going to pick them out. I had to supply them with something to neutralize Darth Vader. Here, I don't really have a lot to supply to defend them against Thrawn, so it's going to get sticky because we want to treat him as a big-time villain.
Han Solo
Directors Phil Lord and Chris Miller sat in on the Episode VIII panel – along with Alden Ehrenreich, who won the role of Solo from a pool of nearly 3,000 international hopefuls. He screen tested with Chewie on the Millennium Falcon over 6 months of call backs.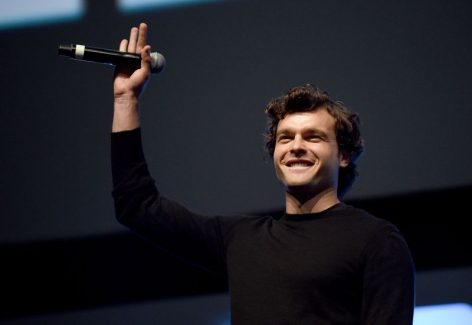 Said Phil Lord about taking on the project: "I relate to Han Solo: He doesn't want to do anything he's told, when you tell him not to do something he wants to do it more — he's very sarcastic and at the end of the day he's reasonably optimistic. That's why we got so excited about making this movie: the dichotomy between this grouchy guy with the biggest heart in the galaxy… to me, that's a great character to make a movie about."
The two directors have moved to London recently to work on the script with the Lawrence and Jon Kasdan.
In other news: the Episode VIII (production code name "Space Bear") crew has officially wrapped principal shooting. Director Rian Johnson has confirmed that the movie starts in the same place Episode VII ends. Hoping we'll see some teasers soon. In the mean time there have been a scant amount of photos leaked from the set in Dubrovnik you can theorize about…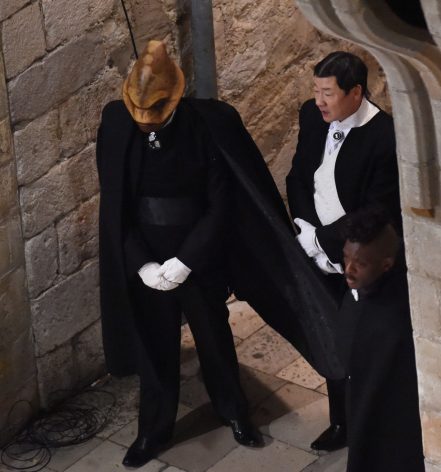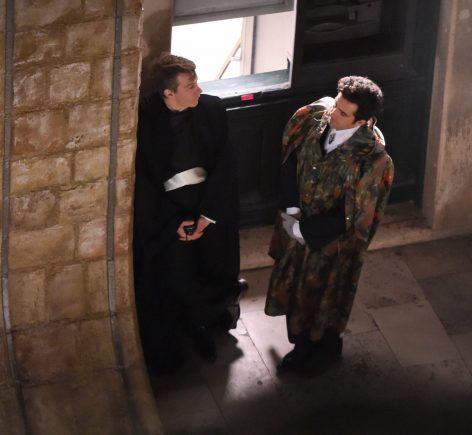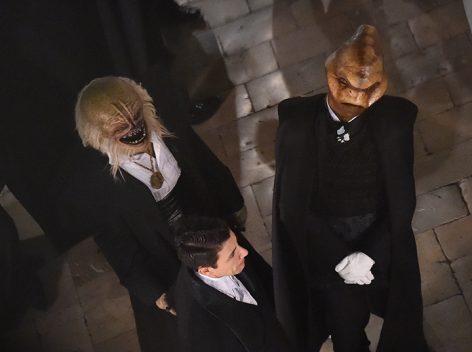 Have at – what are your thoughts on this weekend's reveals?