The End Times for White Dwarf Weekly has arrived – The White Dwarf Goes Silent…
This weekend will be the final issue of White Dwarf Weekly before it moves over to it's new monthly format. However, due to the nature of the new format, for the entire month of August 2016 there will be no White Dwarf. But Games Workshop want's you to know it's coming back bigger and better than ever.
via Scanner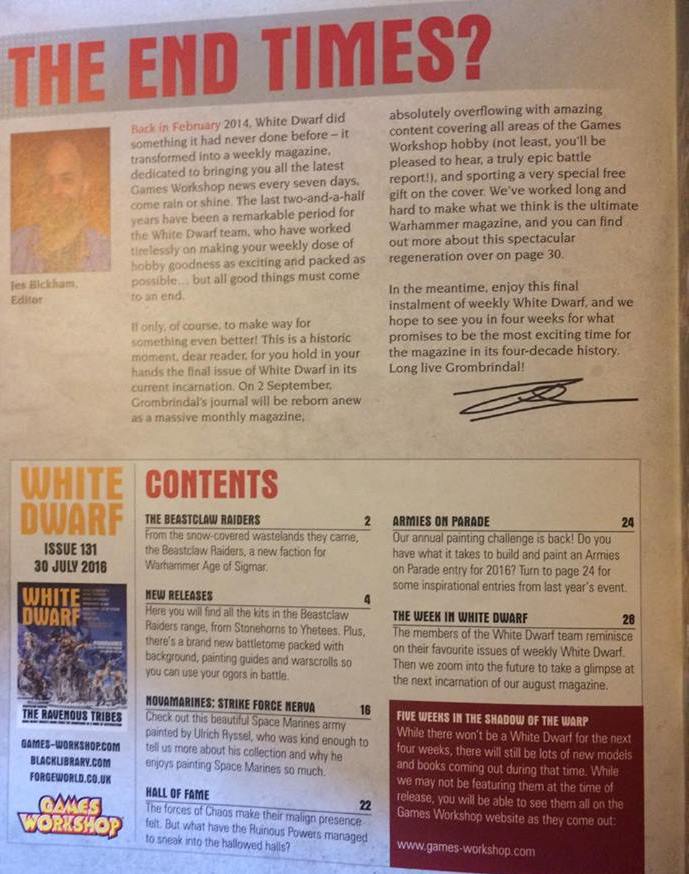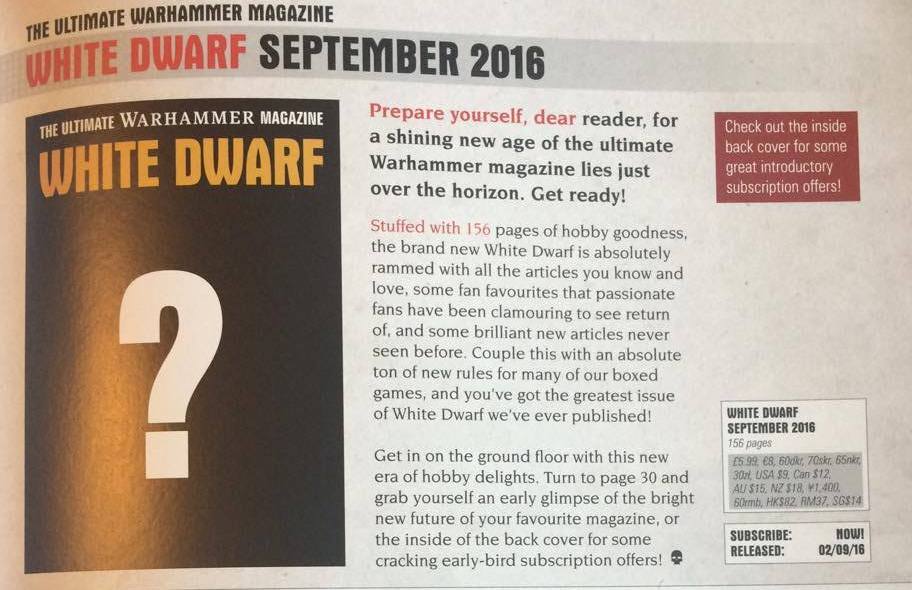 To go along with this announcement Games Workshop is also running a subscription special as well:
"It's Back! White Dwarf is returning as a monthly magazine and it's bigger and better than ever before!

From September, White Dwarf will be back as a glossy 156-page, A4 magazine with all the news, features and pictorials you know and love – and a whole chunk of new stuff you never imagined. News! Golden Demon! Battle Reports! Painting Masterclasses! Designers Notes! Exclusive games and rulesets! And of course, gorgeous photographs of the best fantasy miniatures in the world.

The first issue is out on Friday 2nd September and comes with our most amazing cover mount ever – a special gift to you to celebrate the glorious return of monthly White Dwarf.

Subscribe before 14 August and get an exclusive pre-launch price – and subscribers get their copies mailed early.

RRP of a single issue of White Dwarf is £5.99, €8, 60dkk, 65nok, 70sek, 30zł, US$9, CA$12, AU$15, NZ$18, JP¥1400

Please note, product image is for illustrative purposes only. Not actual cover of September 2016 issue."
So if you get the subscription early, you not only get the discounted price of $80 a year (or $6.66 per issue) you also get your copies earlier. And since we have a pretty good idea that you're getting a free model with your first copy it seems like a pretty solid deal to me!
And just because White Dwarf is entering a period of radio silence doesn't mean the studio will be taking a break – Games Workshop's weekly releases aren't going away, just the timing on when we all find out about them.
Anyone else looking forward to the new monthly White Dwarf A4 Magazine 156 page format? Even at $9 an issue, that's still not too shabby!